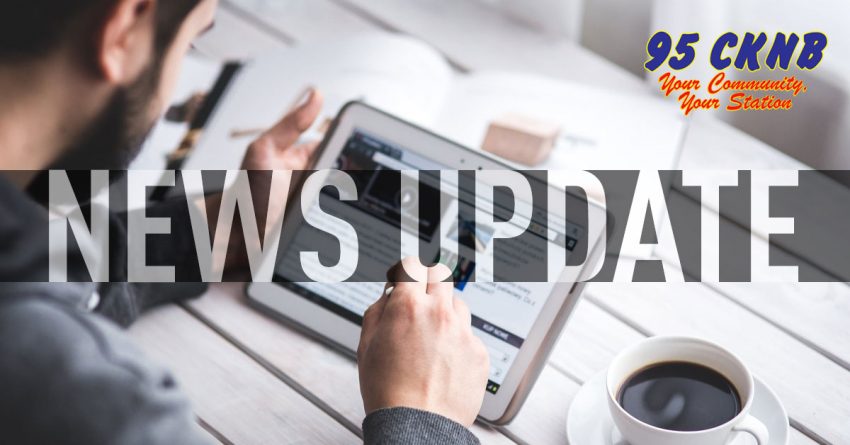 CKNB News February 4,2021
CAMP
—-
CAMP-BORDER RESTRICTIONS
Local MLA's are pushing for easier covid-19 testing at the border.
Those wishing to cross the New Brunswick-Quebec border must have weekly tests before being allowed their weekly trip to access essential goods and services.
Right now, testing is only done in Dalhousie and that requires an appointment.
Vilalite Health Network tells the Tribune that they're working to make testing available in Campbellton, but didn't provide a timeline…
Campbellton-Dalhousie MLA Guy Arseneault says the government should be more creative and flexible on testing, calling for more rapid testing in the area.
Arseneault has been calling on the government ot recognize the economic ties between Campbellton and Listuguj First Nation
–
NB – COVID UPD   – PLUS 14  GG/NB GOV (WED 4PM)
14 new cases of Covid-19 were reported in New Brunswick yesterday…four are in the Moncton region, one in the Fredericton area and nine in the Edmundston-Grnad Falls health zone. With recoveries, the number of active cases in the province dropped slightly to 264. Five people are currently hospitalized with three of them in intensive care.
—-
NB     SHOTS FIRED/ONE INURED      GG/RCMP (WED 4PM)
RCMP are ivnestigating after shots were fired at a vehicle and one person was injured in Johnville, north of Florenceville-Bristol. Polcie say tehy repsonded after multiple  shots were fired at a vehicle around 1am Sunday and found a vehicle in the ditch off Route 105. RCMP say a 20-year-old woman, who was the lone occupent of the vehicle, suffered non-life threatening injuries as a result of the shooting.
Police say they searched a residence in Johnville on Monday as part of the investigation and seized a firarm  – but no arrests were made. Mounties say the investigation is ongoing.
—-
NB-Help headed to Edmundston              (CBC CTV thur.am)
Help is arriving for struggling long-term care workers in the Edmundston area.
The COVID outbreak has hit two long-term care homes especially hard. Dozens of staff are isolating at home after testing positive leaving fewer workers to look after residents…and they are getting worn out. The call went out for help.
About 20 Vitalité Health Network employees in Zone 4 have volunteered to help out in the nursing homes. Shannex is sending some employees from its long term care homes in Nova Scotia where numbers are low. And employees from several government departments around the province have also arrived.
—-
NB-Cardy versus populists                (cbc thur.am)
Education Minister Domic Cardy went toe to toe with People's Alliance members in the legislature yesterday.
Cardy repeatedly suggested at a committee hearing about the online child care registry that objections by Liberal and People's Alliance members were inspired by online anti-vaccination activists and extremist populists. He even brought up the attack on the U-S capitol by extremist populists.
Kent South Liberal MLA Benoît Bourque, who was the target of some of the tirades, said his questions were not at all inspired by anti-vaccination
activists.   People's Alliance Leader Kris Austin shot back that asking for
clarifications is part of democracy…and there's no reason to get all wound up and defensive.
In the end, all the MLAs on the committee voted in farvour of the bill.
—-
NB-MINDY GODIN                                                                           RM / CBC                                                             THURS AM
The Man accused of killing Mindy Godin will undergo a psychiatric assessment
31-year-old Jonathan Beck Fontaine is charged with second-degree murder for the events that happened just before christmas in Edmundston
Fountaine was found fit to stand trial after a 5 day fitness assessment but was sent to Restigouche Hospital Centre for a 30-day assessment last month to determine whether he was of a sound mind when the attack occurred – those results have not been made public…
According to CBC – He's still seeking a defence layer willing to act on a legal aid certificate and has been given a month to do so
Fontaine is scheduled to return to court on March 10
—-
NB-CHILDCARE BILL
A proposed Child-care bill has gotten some push back from the opposition
Bill 3 would give the Education Department the power to collect personal information for an online registry of daycares, meaning – names, addresses, places of work, language preferences and dates of birth, as well as information about a child such as allergies, medications and other special requirements would be shared through the registry with the Health Department and the daycare operators
The Bill and online registry would allow for parents to look for available spaces in their area, register their children and calculate whether they're eligible for financial support.
Both the Liberals and the People's Alliance have raised concerns saying the information being collected is an overreach
Education Minister Dominic Cardy Tells CBC – the objections were inspired by anti-vaccination activists.
After almost four hours of debate no MLAs voted against the bill, The approval vote sends it back to the full legislature for final approval.
—-
ALL
—-
ALL-Numbers and vaccinations                 (wire Gov. thur.am)
Canada has reached a benchmark in its mass vaccination campaign against COVID-19.
The country has surpassed one million shots going into arms. But the government is also advising the provinces there will be further reductions in the number of dozes of the Moderna Vaccine arriving this month…20%-25% fewer doses.
3,200 new cases were reported across the country yesterday with the active case count a little over 48,000….and there were 142 more Canadians losing their battle with the virus.
—-
ALL/NAT-VACCINE DELAYS                                                           RM / CBC                                                             THURS AM
The Provinces are being warned of more vaccine disruptions, this time it's the Moderna shipments that have been reduced
According to CBC The company told officials the shipments for the week of Feb. 1 would be reduced by 20-25 per cent, and now this month's second shipment will also be lower than expected.
Prime Minister Justin Trudeau says the government is still expecting to have six million doses of both the Pfizer and Moderna products on hand by the end of March.
That means more than 3.5 million doses of the two products will have to be delivered in the month of March.
Conservative Leader Erin O'Toole called news a "devastating" development, citing Canada's daily vaccination rate is the lowest in the G7
—-
ALL-Nazis finally listed               (wire thur.am)
The Trudeau Government is cracking down on four extreme right-wing groups, including the Proud Boys, by adding them to its list of terrorist organizations.
Public Safety Minister Bill Blair says these groups are among 13 additions to the list along with three groups linked to al-Qaida, the Islamic State and a Kashmiri organization.
Groups on Canada's roster of terrorist entities, created after the 9-11 attacks on the U-S, may have their assets seized. There are serious criminal penalties for helping listed organizations carry out extremist activities.
(18)
—-
SPORTS   1
A light night in the NHL…no Canadian games.  The Bruins beat the Flyers 4-3 in overtime thanks to a hattrick by David Pastrnak and then he assisted on the winner in OT.