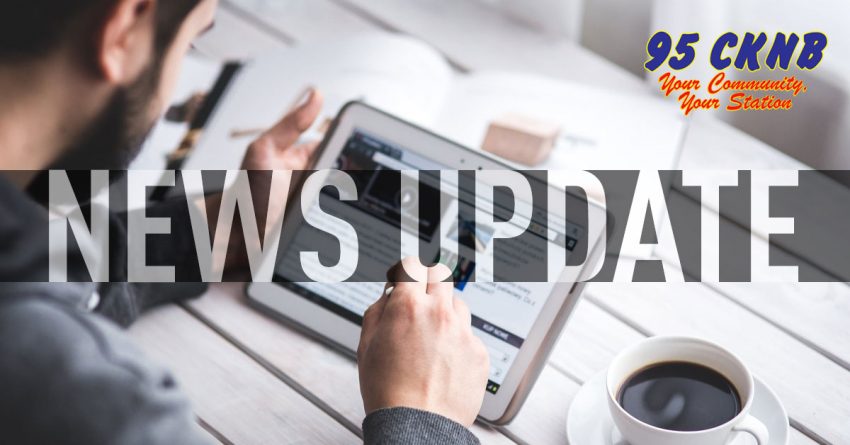 CKNB NEW UPDATE TUESDAY JULY 14 2020
—
CAM – LELAND EXIT                       BILL/TRIBUNE            MON AFT
Former Tiger's coach Greg Leland says he will definately miss Campbellton as
he heads down the road to work with the Q-league's Acadie-Bathurst Titan.
Leland tells the Tribune he's not only leaving a well run organization full
of people with integrity, but he's also leaving a community that embraces its
hockey team and supports young athletes.
The coach has brought success to Campbellton taking the Tigers to the finals
last year and setting them up for a playoff run before this season was
suspended due to the pandemic.
Leland says the offer at the next level was something he had to pursue and
says the Tigers organization is in terrific hands under the ownership of
Pierre Girard.
—-
CAM – HOCKEY HELP
Two brothers from Listuguj are stepping up to help a child play hockey this
season by removing a financial barrier.
MacKenzie and Mason Gray tell the Tribune they are putting 5-hundred-dollars
towards the cost of registration for one child that might not otherwise be
able to play.
MacKenzie says he's spent every minute of his childhood at the rink and he
can't imagine a kid not being able to do that just because of a financial
reason.
The brothers say the child they will be picking will have to have good
academics, help out their community and treat others with respect.
—-
CAM/NB – IRON MEETING
Belledune Mayor Joe Noel is trying to rally local politicians and buinesses
to work towards saving the Maritime Iron project.
Noel tells the Northern Light the company is still interested in making the
project happen and a recent meeting of local stakeholders discussed ideas to
move the project forward.
The mayor says coming out of that meeting it was felt the Premier should get
involved to see what he can do to negotiate to get the facility here… the
group has reached out to the Premier.
Since NB Power pulled out of using the Belledune Generating Station as part
of the proposed pig-iron facility, the 1.5-billion-dollar project has been
put on hold by Maritime Iron.
—-NB – SERVICE NB WAITS
Service New Brunswick Centres reopened yesterday and the lineups were long.
Government officials are advising people that if they can to wait a few days
before going in to do vehicle transfers or address changes and other
services.
Lineups were as long as five hours in places like Saint John and
Moncton…and video shows not everyone was wearing masks…or maintaining
social distancing.
—-
NS/NB – OUTBREAK in PEI
For a second straight day the only new case of Covid-19 within the Atlantic
Bubble was reported in PEI.
The two latest cases on the Island involve a health care worker in his
forties and a woman in her eighties who was treated by that worker at the
Queen Elizabeth Hospital in Charlottetown on July 4th.
Officials say while the two cases are connected, they don't know who gave it
who.
The health care worker had traveled to PEI from outside of the Atlantic
bubble under essential workers rules but had tested negative before working
shifts at the hospital.
Work is now on going to trace and test the hundreds of patients and staff who
came into contact with that health care worker to try and prevent a wider
outbreak
—-
NB/MIR-First Nations RCMP protocol
The Metepenagiag First Nation has developed a new protocol for RCMP entering
the community.
Chief Bill Ward tells the Leader the new procedures were developed during
meetings with the RCMP involving community members and the family of Rodney
Levi, who was shot by an officer last month. Chief Ward says the Mounties
agreed to contact him or a member of the community's security team before
entering, providing information about why and where they intend to go, how
they plan to do it, and how may officers will be present.
RCMP spokesperson Cpl. Julie Rogers-Marsh says the RCMP meets regularly with
community members to discuss issues of local concern. She says they
continuously work to build and strengthen the relationships with the
communities they serve, by promoting acceptance, respect and appreciation of
different experiences.
—-