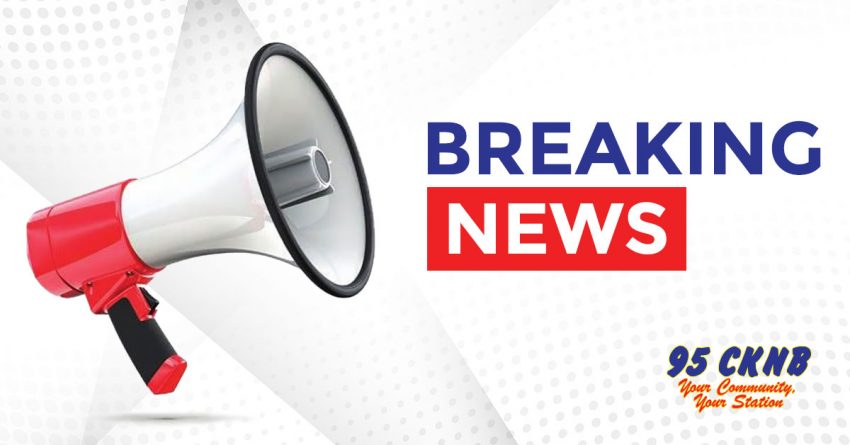 CKNB News February 25,2021
NB       COVID UPD – GG/NB GOV (THUR AM)
Two new cases of Covid-19 were reported in New Brunswick on Wednesday. Public Health says one is in the Moncton region, the other is in the Edmundston Health zone. The two cases continue a trend of low case numbers over the past week – including the province's first day without a new case in over two months on Tuesday.
With recoveries the number of active cases has fallen to 64, with two people currently hospitalized – including one patient in intensive care.
NB        NURSING BEDS        GG/WIRE  (THUR AM)
New Brunswick Social Development Minister Bruce Fitch says 600 new nursing home beds will be opened in the province over the next five years. Fitch made the comment after the provincial auditor general warned of a looming crisis if the province doesn't address a shortage of long-term care spaces. He says a new streamlined procedure to request proposals for new nursing homes should speed -up development of additional beds. However – The Coalition for Seniors and Nursing Home Residents Rights says the province should concentrate on helping seniors remain in their own homes instead of putting them in long-term care.
NB        HIGGS vs. EVERYONE      GG/CBC (THUR AM)
Premier Blaine Higgs is standing against both his own government and opposition MLA's for their support of the Auditor General.  Kim Adair-MacPherson was highly critical this week of Vestcor refusing to comply with her office and called on MLA's to support her authority to audit the body. Vestcor is the arms-length agency that manages the province's public sector pension fund, boasting assets of roughly 18-billion-dollars. MLA's of all parties were quick to join the AG's side, voting unanimously on Wednesday to call Vestcor to appear before legislators and explain itself. However, Blaine Higgs issued his own statement saying his government would not be introducing any legislation that would explicitly make Vestcor accountable to the Auditor General's authority.
NB    LEPREAU OUTAGE  GG/WIRE/CBC (WED PM)
The opposition Liberals in New Brunswick are raising concerns about the current outage at the Point Lepreau nuclear generating station. Energy critic Rene Legacy says a mechanical issue forced the shut down more than a month ago and there have been no updates on the situation. He's asking government to check on the situation and report to the public.  Legacy says he's concerned what impact the outage could have on ratepayers with NB power previously saying it costs them millions every week the Lepreau is off-line. The Nuclear generating station underwent a 2.4-billion-dollar refurbishment in 2012 and the utility has spent roughly 500-million on maintenance and other issues at Point Lepreau since then.
NB/CAM      NEW US BRIDGE       GG/WIRE/CTV ETC  (WED PM)
Officials in Maine are opening bids today from three companies looking to secure the contract to build an international bridge linking the state to Edmundston, New Brunswick. Maine's Department of Transportation says the contract for the bridge will be awarded within the next four to six weeks and construction should start in April. The bridge is expected to cost 108-million-dollars. The project will replace an existing bridge that was built in 1921 and due its poor condition had been restricted to vehicles weighing less than five tons.
CAMP    ESSENTIAL WORKER PARADE         RM / TRIBUNE                   WED PM
A parade will be held to celebrated essential workers in Dalhousie on Sunday. Those who want to be a part of the parade will meet in the Inch Arran Ice Palace parking lot at 1:30 and are encouraged to decorate their vehicles. For spectators, the parade takes place at 2pm. While the final route is yet to be announced, according to the Tribune – it will include the Sunrise Manor special care homes and Darlington Manor.
NB     FUNDS CUT/ABORTION ACCESS       GG/BNEWS (WED AM)
For the second straight year, Ottawa is cutting health care transfer funds to New Brunswick over the lack of abortion access in the province. Brunswick News reports 140-thsouand-dollars in transfer funds is being withheld over the province's refusal to allow for medicare covered abortions outside of hospital settings. The Higgs government continues to deny publicly funded abortions at private clinics while only offering access to abortions at hospitals in Bathurst in Moncton.
NB        MIN WAGE HIKE        GG/NB GOV (WED AM)
Minimum wage is going up in New Brunswick. The province announced today that minimum wage would be increasing by five cents, to $11.75 per hour as of April 1st.  Minimum wage hikes in New Brunswick are tied to increases in the consumer price index. The government says roughly six percent of the workforce, or roughly twenty thousand workers, earn minimum wage in New Brunswick.
NAT    MODERNA CHANGES        GG/CNN  (THUR AM)
Moderna has announced it's making changes to its Covid-19 vaccine to better protect against a highly contagious variant. The drug maker says it has already created an updated version of its vaccine that offer enhanced protection against the South African variant. That strain of the virus has been worrying public health officials over signs that current vaccines may be less effective against it. Moderna says its update vaccine will be offered as a booster to those who have already been vaccinated – and as a regular two-dose regimen for those yet to receive a shot. The first dose of Moderna updated vaccine are no undergoing clinical trials.
NAT/HAL/NS      WARSHIPS         GG/WIRE/CBC ETC (THUR AM)
The cost of a new fleet of warships for the Royal Canadian Navy is ballooning.
Parliamentary budget officer Yves Giroux now estimates the total bill will be around 77-billion-dollars — 17-billion more than the federal government's previous estimate.
The plan calls for up to 15 surface combatant vessels to built at Irving Shipyard in Halifax to replace Canada's aging Destroyers and Frigates. The program has already been delayed over design selection and other issues
With the new cost estimate approaching nearly 80-billion dollars – it will likely increase pressure on the Trudeau government to make changes to the ship building strategy to rein in costs – possibly by switching to a smaller design or even reducing the number of ships to be built.
In SPORTS..
Following their recent losing skid  – The Montreal Canadians have fired Head coach Claude Jullien and assistant coach Kirk Muller. Former Halifax Mooseheads head-coach Dominic Duscharme will take over behind the Habs bench on an interim basis
In the NHL last night The Leafs downed the Flames 2-1 in OT
…and in the NBA the Raptors lost 116-108 in Miami