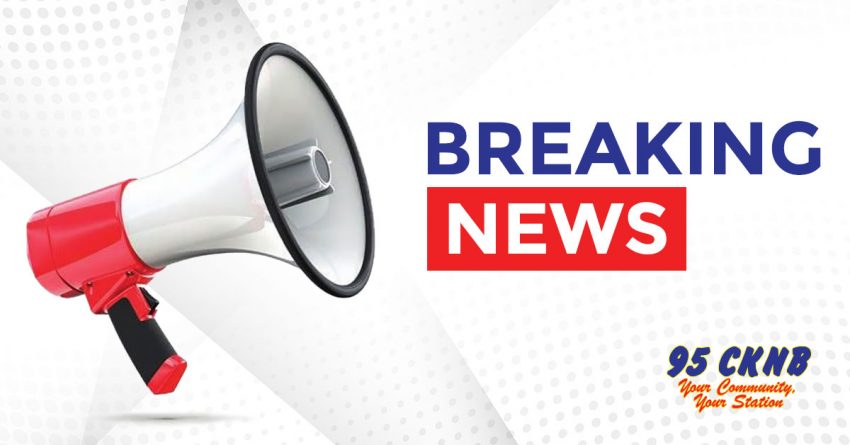 CKNB News February 3,2021
CAMP
—-
CAMP-CLOSURES CAUSED BY RESTRICTIONS
Tightened border restrictions in the province has caused a Campbellton Bar to close..
The Old Brass Rail has temporarily closed, and according to the Tribune – there's no timeline on when it can reopen or if it will…
The bar claims it lost more than 50% of its customers since the restrictions have been put in place and says other businesses in the area are in the same boat.
The only bar still open in the city us Tap's Bar on Waterstreet..
—-
CAMP-ICE RESCUE
Three Ice Fishers were rescued Monday night after the ice broke away from the shore
Emergency crews responded to the incident on the Restigouche River around 8pm where a water Rescue team from the Charlo Fire Department was dispatched.
The three men were saved, all uninjuried and dry as no one fell in the water
– according to the Tribune
The Listuguj government issued a statement after the rescue calling for all fishing shanties to be pulled off the ice due to the impending storm
—-
NB/CAM  CHIEF DEAD GUY DOCTOR  GG/WIRE (TUE 4PM)
Jerome Ouellette has been appointed as New Brunswick's chief coroner.
Ouellette started his career in 1985 as a correctional officer at the Madawaska Regional Correctional Centre.
From 2002 to 2015, he was the regional coroner for the Edmundston and Grand Falls area, and in 2015 he was named deputy-chief coroner.
He had been the acting chief coroner since 2019 and has led both the child death and domestic violence death review committees for more than four years.
NB
—-
NB-Variants arrive               (wire GG wed.am)
The province's top doctor says the UK Variantof the COVID virus has now been confirmedin New Brunswick.
Dr. Jennifer Russell says two are in the Saint John region and one is in the Miramichi region. Two are related to international travel and one to travel elsewhere in Canada.
Russell says modelling shows if the 567 COVID-19 cases diagnosed last month had been the more-easily spread variant, we could have had over  6,000 cases by the end of this month. But they say the people are in self-isolation and they are hoping they caught it in time. Premier Blaine Higgs says the province is introducing new travel restrictions and anyone entering the province must self-isolate for 14 days and if they do so in a home with others, all residents of that must also quarantine.
(The Canadian Press)
—-
NB-PROPERTY TAX                                                                           RM / BRUNSWICK NEWS                                                               WED AM
Businesses across the province are expected to ask for a property tax assessment review on the arguement the pandemic has devalued their properties.
Dispite the 1,850 businesses the Higgs Government gave assessment reductions to, its estimated about 1,300 more will also make their case for a lower assessment, accordingto Brunswick News.
Service NB says a review, by a Toronto-based international property tax institute, helped provide the one-time price drop in rates to many and now business owners who didn't make the cut have 30 days to ask for a review.
NB-FAMILY DOCTORS                                                                     RM / CBC                                                                             WED AM
Thousands of New Brunswickers are without a family doctor.
Over 44,000 people have registered with Patient Connect New Brunswick, a service that pairs residents with family doctors.
Some people in the province have reported they've been waiting 8 years to get a doctor and still don't have one.
Premier Blaine Higgs promised to provide $5 million to recruit doctors in rural areas and $4.2 million to add nurse practitioners to clinics and emergency rooms, along with hiring 32 nurse practitioners, but there's concerns they're being lured to other provinces.
President of the New Brunswick Medical Society, Dr. Jeff Steeves, tells CBC more physicians are retiring, leaving patients without a family doctor, and People are also living longer so doctors aren't able to care for as many patients because they require more medical attention.
—-
NB-GUILTY PLEA WITHDRAW                                                      RM / CBC                                                                             WED AM
A Man who pled guilty to murder is now trying to withdraw his addmission
Johnny Albert is facing life in prison after pleading guilty to murdering his father in 2016 in Baker Brook
A month later he asked to take back the admission saying It wasn;t voluntary, his lawyers had pressured him to plead guilty.
It's the second time the court denied the appeal, as no evidence suggests any pressure, and referenced the report Albert made to police, that he had shot his father.
He's sentenced to life in prison with no chance of parole for 10 years
—-
—-
NB/SJ/MIR        COVID UPD  GG/RUSTY & HIGGS SHOW  (TUE 4PM)
Chief Medical Officer, Dr Jennifer Russel delivered some soberingbut expected news at today's Covid-19 briefiing. After warning last week that new, highly contagious varients of Covid-19 were likley to find there way to New BRusnwick – Dr. Russel announced that day had arrived.
MNN-RUSSEL-TUE1 22seconds  (…UK varient)
Two of those new varient cases are linked to international travel while the third is linked to travel within Canada. Dr .Russel says the presence of the varient emphises the need to follow publichealth guidelines. She warned that the fast moving strain could have the ability to outpace both the province's healthcare and contact tracing capacity if community spread were to occur.
Meaanwhile Dr. Russel also announced 25 new cases of Covid-19 today, one is in Moncton area the rest are in the Edmundston-Grand Falls region. Most of the 24 new case in that health zone are linked to two edmundston area nursing homes, with 55 confirmed cases at Manoir BelleVue and 32 cases now confirmed at the Villa Des Jardins.
—-
ALL
—-
ALL-Defence-Chief-Misconduct              (wire wed.am)
The former head of the military is facing allegations of inappropriate behaviour towards female subordinates.
Top defence officials tell Global News they are troubled by the allegations that former defence chief Jonathan Vance  had an ongoing relationship with a woman he significantly outranked. Vance is also alleged to have made a sexual comment to a second, much younger soldier in 2012, before he was appointed chief of the defence staff.
His successor Admiral Art McDonald and Deputy Defence Minister Jody Thomas say they take all such allegations seriously, without suggesting they had substantiated these.
(20)
—-
ALL-Nazis in the ranks                 (wire wed.am)
A Calgary-based sailor involved with a violent neo-Nazi website called IronMarch has been kicked out of the military.
The Royal Canadian Navy has announced that Sailor 1 Class Boris Mihajlovic
(mih-HY'-loh-vich) has been released from duty following a second administrative review of his conduct and connectionsto neo-nazi groups. A first review last July, conducted by H-M-C-S Tecumseh, concluded that he had been rehabilitated and could return to active duty.
(19)
—-
ALL-travel and workers                   (wire wed.am)
Agriculture and fishing associations in Atlantic Canada say new federal travel restrictions could significantly increase food-processing costs.
They say the suspension of commercial flights from Mexico and the Caribbean could delay the arrival of much-needed temporary foreign workers.
The Nova Scotia Seafood Alliance says the industry doesn't know whether foreign workers will be permitted to come to the region on charter flights this year or whether quarantine plans need to be modified. Alliance president Osborne Burke says Ottawa should have addressed temporary foreign workers when it announced the new travel restrictions last week.
(The Canadian Press)
—-
ALL/PEI-Veterans-Affairs-Harassment                (wire wed.am)
A union representing workers at Veterans Affairs Canada says the department is rife with harassment and discrimination.
The Union of Veterans Affairs Employees says more than one-third of the 350 staff members who responded to a recent survey reported having experienced harassment in the workplace.
The survey also found that 19 per cent of respondents reported having faced discrimination based on their background, gender or sexuality.
(1)
—-
SPORTS   1
On the ice…the Canadiens beat the Canucks 5-3.  Oilers doubled the Senators 4-2.  Jets clipped Calgary 3-2.
On the hardwood…Fred Van Fleet had a franchise record 54 points, including
11 three-pointers, as the Raptors beat Orlando 123-108.