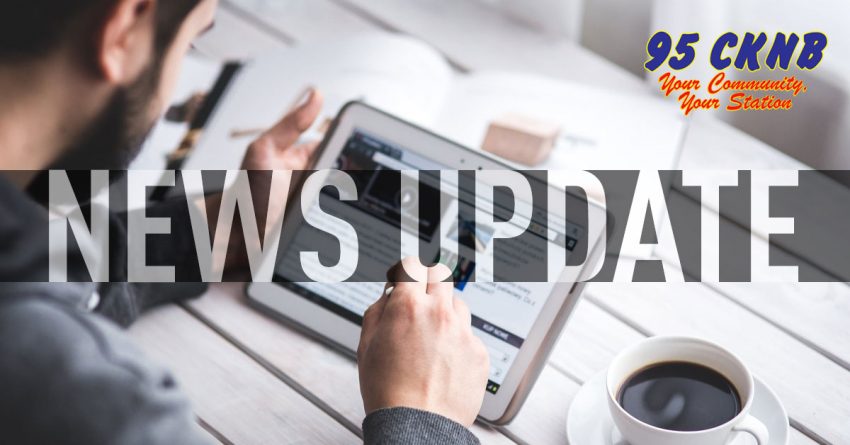 CKNB News February 8,2021
CAMP-VOLUNTEER CRITICS                                         RM / TRIBUNE                                   MON AM
A Madawaska-Restigouche MP says his comments criticising Anglophone Health Care Volunteers in Edmundston were taken out of context.
Speaking about the state of the Edmundston Health zone – Rene Arseneault said that the language issue in both Vitalite and Horizon Health Network has been a challenge for everyone. Staff from Horizon have been volunteering in Edmundston to help mitigate the situation.
Some took those comments to mean he was being critical of unilingual volunteers but Arseneault Tells the Tribune he's thankful for the volunteers he was just pointing out the challenge has been there for years as doctors and nurses on both sides have trouble communicating with patients because of the language barrier
—-
NB
—-
NB – HIGGS ON RANKIN       GG/NB GOV REL (MON AM)
Premier Blaine Higgs has offered congratulations to Iain Rankin, the next premier of Nova Scotia.
The 37-year-old Rankin captured the liberal leadership race in that province Saturday, and will shortly be sworn-in to replace Stephen McNeil./
Higgs issued a statement soon after Rankin was declared the winner saying he looked forward to working with him and pledged continued support and friendship.
—-
NB-Covid numbers sunday                  (CBC sun)
Seven cases of COVID were reported in the province yesterday, down from 12 on Saturday. Most of the new cases are in the Edmundston region with one each in Moncton and Fredericton.
There are now 203 active cases…tragically two more deaths were recorded saturday bringingthat grim total to 20.
—-
NB-COVID nursin home               (wire monam)
Public Health officials say an outbreak of COVID-19 at one of the Edmundston seniors homes has been brought under control.
llon Le Royer, following a confirmed COVID-19 case at the facility. However, it was limited to only one case.
All staff and residents of the facility were re-tested several times to confirm the end of the spread through the facility.
(
—-
NB-COVID deaths                      (wire sun)
Public Health in New Brunswick has confirmed two deaths in the Edmundston region saturday as a result of COVID-19, bringing the province's total to 20.
A resident of Manoir Belle Vue in their 80s died saturday at the adult residential facility. Another individual between 60 and 69 also passed away.
The province is reporting 7 new cases sunday after 12 on saturfday…bringing the number of total active cases to 203
—
—-
NB   COVID UPD       GG/NB GOV (MON AM)
Public Health reported two new Covid-19 related deaths in New Brunswick over the weekend – along with 19 new infections. Both deaths and the majority of the new cases were in the Edmundston-Grand Falls region – which continues to be under lockdown. 20 people have now loast their lives to the virus in New Brunswick. With recoveries, the number of active cases actully fell to 203 on Sunday, with seven people hospitalized including three patients in inetnsive care.
—-
NB STORM GG/EN CAN (MON AM)
Another winter storm has arrived in Nww Brunswick, although this time it's southeastern areas of the province that are expecting most of the white stuff. While the North and Northeast are only expecting about 5cm – other regions will see upwards of 20 cms before it tapers off later this morning.
PArts of Nova Scotia and PEI are expecting upwards of 40 cm.
—-
NB  HIGGS ON RANKIN       GG/NB GOV REL (MON AM)
Prmier Blaine Higgs was quick to offer his congratulations over the weekend to Iian Rankin, the next premier of Nova Scotia. The 37-year-old RAnkin captured the liberal leadership race in that province on Saturday, and will replace outgoing Nova Scotia premier Stephen McNeil who announced back in August that he would be stepping down. Blaine Higgs issued a statement soon after Rankin was declared the winner on Saturday saying he looked forward to working with the new premier and pledging continued support and friendship.
—-
NAT/ALL
—-
ALL–Vaccine-Numbers)
Canada's vaccination efforts have seen one-million-76-thousand-130 doses given out.
Officials say another 11-thousand-885 people got the shot yesterday.
After crunching the numbers, officials say the provinces and territories have used 89.54 per cent of their available vaccine supply. (1)
—
—-
ALL-NATIONAL NUMBERS               (Gov. mon.am)
On the weekend, we passed 800,000 total cases of COVID since the pandemic began with 3,200 more yesterday. Recoveries are continue with just under
45,000 cases considered active. But the number of lives being claimed by the virus continues to climb with 65 more yesterday….there were two more deaths on the weekendin New Brunswick.
—-
ALL    VDAYFLOWERS    GG/WIRE (MONAM)
If you're planning a Valentine's Day surprise, florists in the Maritimes are warning you to get your orders in early.
Saint John flower shop owner Carolyn Dignard says she expects more people to order flowers this year instead of going on dates because of the pandemic.
Halifax florist Neville MacKay says flower supplies have dipped because of the health crisis.
Flower shops, unlike some other businesses, have experienced a steady stream of orders during the past year's pandemic  as people are buying more flowers for people they can't see in person.
—-
SPORTS
—-
AM SPORTS
Tom Brady won his 7th superbowl in his tenth appearance as the TAmpa Bay Bucs downed Kansas City 31-9. Brady wasalso named Superbowl MVP
In the NHL,
The Wings downed the Panthers 4-1;
It was Chicago 2-1 over Dallas;
Vegas 4-3 over the Kings;
Carolina  edged Columbus 6-5;
…and it was the Flyers over the Capitals 7-4.
(…and in the Q'  the Cape Breton Eagles downed the Mooseheads 6-4).