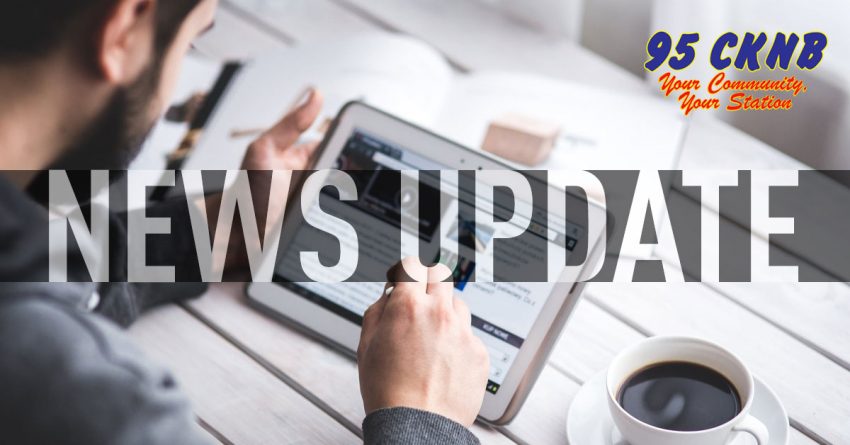 CKNB News July 2,2020
MIR/CAM – PENINSULA COURT
The provincial courts in Caraquet and Tracadie will begin operating on reduced schedules in August due to a lack of demand.
The Department of Justice and Attorney General says the number of charges filed in Tracadie has dropped by 48-percent since 2012, and 35-percent in Caraquet.
A statement by the department says despite diminishing court volumes and pressures in relation to resources this will allow the courts to remain open, while making better use of the capacity in the system.
The schedule will be based on the number of hearings needed and will vary weekly.
—-
CAM – SURPLUS
Campbellton finished with a surplus for 2019 on its budget of 18-million-dollars.
According to the Tribune the general operating fund showed just over 76-thousand to the good, while the water untility had an over 68-thousand-dollar surplus.
The financials were presented to council by accounting firm Allen, Paquet & Arseneau at Monday night's meeting.
Leading expenses for the year were transportation which includes snow removal at just over 4.2-million and protection services which includes the RCMP at 3.6-million-dollars.
*NB/MIR-LOTSA BEARS
An increase in reported bear sightings across the province including the Miramichi area so far this year is concerning for the Natural Resources and Energy Development Minister Mike Holland.
He notes the bear population in New Brunswick has been on the rise for quite some time and he tells the Leader … with the dry weather stunting the growth of wild berries and other food sources … bears are heading into backyards because they are attracted to garbage.
He says home owners need to be more careful about stuff they put out.
But its not just garbage.
Holland also cites bird feeders and compost bins and he says homeowners need to keep their backyards clean and less attractive to bears.
—-
NB – POLICE SHIFT
The Canadian Mental Health Association of New Brunswick is calling for a fundamental shift on how things are dealt with when someone is in mental distress.
Executive Director Christa Baldwin tells CTV metal illness is not a crime and wellness checks must be a healthcare response, not a law enforcement response.
Baldwin says there are other solutions such as a non-uniformed officer responding to the call with a nurse or speciality mental health ambulances like ones present in other countries.
To do this Baldwin says the system will need more funding and after a meeting with Premier Higgs in the fall she is hopeful that change is coming.
—-
NB/MCTN – ALGAE RETURN
The recent warm weather has sparked the return of blue-green algae to the province.
According to CTV recent testing has shown a pre-bloom of the bacteria in Irishtown Nature Park outside of Moncton.
Dog owners in the province are being asked to keep an eye on their pets when out for walks as there have been previous fatal encounters involving dogs and the algae.
With the recent hot and dry weather… blue-green algae being present in other water systems is possible elsewhere in the province.
—-
NB – TOURISM ISSUES
The president of the Tourism Industry Association of New Brunswick says operators will be struggling to stay in business even with the Atlantic bubble.
Carol Alderdice tells CBC only one-third of tourist to New Brunswick come from Atlantic Canada and says support from the province is needed to keep businesses afloat.
The association is calling for more than 50-million-dollars in grants and loan programs to aid the industry in recovery.
Alderdice says its too late to salvage the season even if all provincial borders open the middle of this month.
—-
NB – SERVICE NB OPEN
The province has announced all Service New Brunswick Centres will reopen by mid-July.
A release says all 33 of the service centers will be opened by July 13th, but is reminding residents services are still available online and through tele-services.
Service New Brunswick Minister Sherry Wilson says they are pleased to be reopening and work is underway to expand online services in preparation for a second wave of COVID-19.
The province also further extended some documents saying licences, registrations, certificates and permits valid as of March 16th shall remain valid until July 31st.
—-
NB – ELECTION CALL?
Premier Blaine Higgs says the thought of losing three by-elections removing his government from office has given him something to think about.
Higgs tells the Telegraph-Journal losing the by elections could put them out of office wondering if that would be a representation of the people or poor timing.
The Premier says he doesn't want to call a fall election, but says he doesn't know if he wants just three ridings deciding on whether a government stays or goes.
All three opposition leaders have also stated publicly they don't want a fall election, but Higgs says he will take the summer to think about it.
–
ALL – CANADA DAY
The COVID-19 pandemic led to an unusual way for Canada to mark its 153rd birthday.
Backyard gatherings and digital events replaced large celebrations.
Provincial governments have only recently started to ease pandemic restrictions after almost four months of lock down.
Prime Minister Justin Trudeau spent part of his morning with his family harvesting broccoli at the farm operated by the Ottawa Food Bank.
He says starting today, it's this generation's turn to re-start and re-build a Canada for the 21st century.
—-
ALL – HOCKEY BACK
Toronto and Edmonton are on the verge of being picked as hub cities for the N-H-L resumption of play.
This is according to multiple reports today from The Toronto Star, T-S-N, Sportsnet and Postmedia.
The N-H-L is poised to pick the two Canadian cities as sites for the 24 remaining teams to resume play later this summer.
The league is attempting to crown a Stanley Cup champion during the COVID-19 pandemic.
—-