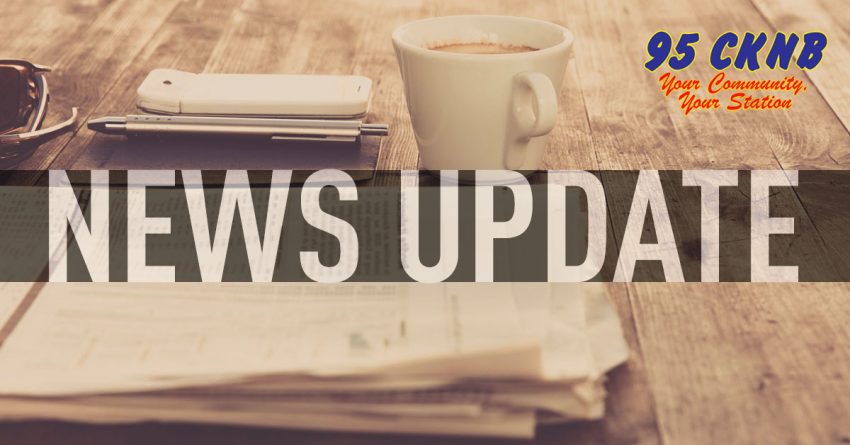 CKNB News July 3,2020
CAM – RECRUITMENT ISSUES
Vitalite CEO Gilles Lanteigne says the reduction of services at Campbellton Regional Hospital is about not having enough staff to offer those services.
Lanteigne tells the Tribune there are been issues recruiting staff to work in northern hospitals, particularly in Campbellton.
The CEO says an example is labour and delivery patients having to go to Bathurst because they can't find staff to work in the department in Restigouche.
Lanteigne says despite rumours in the community the hospital has never been closed and he hopes people will stop saying that as it won't help with the recruitment of needed staff.
—-
CAM – WATER TANK
A Section of Grey Street in Dalhousie will be closed for the next six weeks as the town renovates one of its two water storage tanks.
The tank in question contains treated drinking water.
The Tribune reports the 818-thousand-dollar tender for the restoration work was awarded in May.
Work will get underway on Monday, closing Grey Street between George and Quarry, until the project is completed in roughly six weeks time.
—-
CAM/MIR – CRICKET FARM
A former fish plant in Lameque is being converted into a cricket farm.
Owner Gaetan Chiasson tells CBC they are renovating the plant that has been closed for about three years to raise about 8-million crickets a month.
The first batch are expected to start hatching by the end of summer and the operation will ramp up to full capacity by late January.
Chaisson says with 80-percent of the crickets body being protein they are in demand for energy bars and pet stores also require live crickets for lizards.
—-
CAM – RECREPLEX
The return to yellow has seen several openings as we return to a new normal and the gym at Recreaplex in Dalhousie is now added to the list.
A social media posting on the town's official page says the gym will open on July 6th.
Residents are encouraged to contact the center to get information about guidelines put in place for COVID-19 and to book workout time.
*MIR/NB-FEMMES FORTE WINS AWARD
An organisation that helps women move on with their lives after the loss of their partners has received a major award.
Femmes Forte (also known as Strong Women) was formed in 2018 and scores of workshops and empowered women later … the program has been recognised by Horizon Health Network with a Community Health Recognition Award.
Founder Angèle McCaie tells the Leader …. Femmes Fortes has won awards before but this one is a recognition that community wellness goes way beyond the bounds of a hospital or health centre.
She says it also shows people that we can make concrete changes that make a difference by doing it ourselves doing it locally and fulfilling a neeed that is specific to the women being helped.
McCaie hopes to see more municipalities take up the initiative.
—-
*MON/NB-BOOTED OUT
An affordable housing advocate says the eviction of some two dozen tenants of a rooming house in Moncton shows why a housing authority is needed to improve the situation for low-income renters.
The tenants of a 27-unit, four-storey Somerset Drive rooming house were left competing against each other in Moncton's tight rental market after a June termination notice by the building's new owners gave them 30 days to vacate.
Some of them say they haven't yet found housing.
The property owners say everyone was evicted to work on eliminating a bedbug and cockroach infestation.
Vincent Merola,
Moncton's community development officer … Vincent Merola … tells the Times and Transcrit …. the situation "speaks to the urgent need for affordable and supportive housing."
He says the city cannot wait for any possibe bilateral deal with the province and the feds. Something has to be done now'.
—-
NB – BUBBLE INFO
It's Atlantic bubble day as residents from the four provinces will be able to travel within each province without self-isolating upon arrival.
When travelling to Nova Scotia you will have to show proof of residency at borders, airports or ferries… it can be a driver's license, government ID card, health card or bank statement with a valid Atlantic address.
PEI is asking people to fill out an online self-declaration form before travelling to the Island, the form asks for information such as address, dates of travel, and contact information.
Newfoundland/Labrador requires two pieces of address verifying ID and visitors must fill out a contact information declaration.
Officials are telling travellers to expect delays as border personnel work through the procedures.
—-
NB – COON-INQUIRY
New Brunswick's Green Party leader is adding his voice to those calling for an inquiry into systemic anti-Indigenous racism in the province's policing and justice systems.
David Coon says in a release that such an inquiry would help people "see our society reflected back to us the way Indigenous people experience it."
First Nation chiefs in the province have called for the public inquiry in the wake of the deaths of Chantel Moore and Rodney Levi — both of whom died after being shot by police in incidents last month.
Chiefs from all three First Nations in New Brunswick are scheduled to meet with the premier on July 8th to discuss their proposals for an inquiry.
—-
NB – MOORE OFFICER BACK
The Edmundston police officer who shot and killed Chantel Moore while performing a wellness check is back from paid leave and working on administrative duties.
A spokesperson for the Edmundston Police Department tells CBC the unidentified officer is on administrative detail until the results from the BEIQ investigation is complete.
The department said since the investigation by Quebec's police watch-dog is ongoing they would be offering no further comment.
New Brunswick Police Association executive director Bob Davidson says its standard procedure for an officer involved in such an investigation to be placed at a desk.
ALL – RIDEAU INCIDENT
The Office of the Secretary to the Governor General says all staff are safe after an incident at Rideau Hall.
R-C-M-P say an armed man was arrested shortly after a vehicle broke through the gates leading to Rideau Hall yesterday morning.
They did not provide a motive, but say the man is a member of the Canadian Armed Forces.
Rideau Hall has long served as the home to Canada's governors general.
Justin Trudeau and his family have also lived in nearby Rideau Cottage since he became prime minister.
R-C-M-P have said that neither Payette nor Trudeau were present at the time.
—-