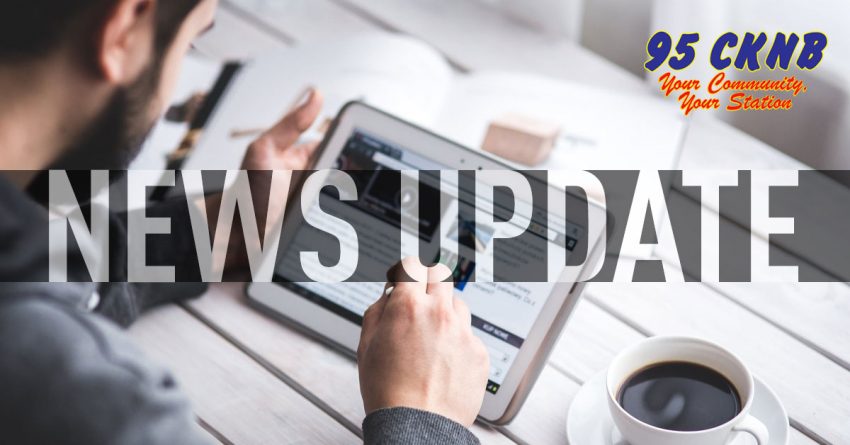 CKNB News June 29th 2020
CAM – NEW CHAIR
The Restigouche Regional Service Commission elected a new chair at its recent meeting.
According to the Tribune Brad Mann the chair of the LSD of Addington took the seat by acclamation from Eel River Dundee Mayor Denis Savoie who did not run.
The vice-chair went to Dalhousie Mayor Normand Pelletier.
In his outgoing report Savoie thanks the staff their assistance and highlighted some of the RRCS's accomplishments over the last year including the mutual aid agreement and creation of cost-efficient way of operating.
—-
CAM – MISSING WOMAN
Campbellton RCMP are reaching out to the public to help locate a woman from Dalhousie.
Police say …. 46-year-old Krista Michailuck was last seen on May 27th at 4pm in her residence on Centennial Heights Street in Dalhousie.
She was reported missing on June 18th and police have followed up on several leads, but have been unable to locate her.
Michailuck is described as 5-foot-10-inces 180-pounds with brown hair and brown eyes.
RCMP believe she could be driving a 2012 blue Ford Escape with Alberta license plates.
—-
CAM – LISTUGUJ NO BUBBLE
The Atlantic Bubble opens on July 3rd, but it appears that Listuguj will not be part of the loosening of travel restrictions.
Chief Darcy Gray tells CBC … he has reached out to Premier Blaine Higgs to be included in the bubble, but it hasn't resulted in any terms of action or change.
Gray says they have had no cases of their own to report and he only knows of one in a neighboring community that was treated swiftly.
There have been calls from both sides of the JC Van Horne Bridge to bubble the communites as they are both so relient on each others economies.
—-
*SJ/MIR/CAM/NB-FIRES
Meanwhile, two other fires in the province forced 10 people out of their homes.
Seven members of an extended family lost everything to a fire at the First Nation in Burnt Church, east of Miramichi.
The chief and band council arranged emergency lodging and meals for a couple plus children and grandchildren, and Red Cross volunteers from Miramichi have been assisting with purchases of clothing and baby-care needs.
Only one family member was home at the time and escaped unhurt from the blaze on Lawrence Court, reported shortly before midnight Friday.
—–
In Dieppe, a woman and two children were temporarily displaced by a fire Saturday that was confined to the kitchen of one apartment in a three-storey building on Acadie Avenue.
Red Cross volunteers from Moncton assisted them with emergency lodging plus food and clothing purchases and some other basics.
It's expected they'll be able to return to the apartment within a few days following cleanup and repair.
*NB/SJ-AUDITORS
The extent of the cash-strapped city's restructuring efforts so far might be best laid out on the table by bringing in independent experts.
The Telegraph Journal reports … Saint John councillor Greg Norton plans to introduce a motion at today's (MONDAY) Common Council meeting to invite representatives of Ernst & Young to appear at a future date.
The firm just completed an operational audit of the City of Saint John, finding as much as $18 million worth of cost saving opportunities and $9 million of new revenue opportunities.
Norton says Ernst & Young can demonstrate to the critics …. the city has already exceeded the auditor's expectations so far and any further gains perhaps cannot be had until some constraints that are outside of the city'our control are loosened.
—-
NB – TRANSFER PAYMENTS
Premier Blaine Higgs is calling on Ottawa to re-think federal health transfer payments saying … now is the right time.
Higgs tells the Telegraph-Journal …. the payments should be based on each province's age demographics, not just population numbers.
The premier has argued since coming into power ….  the 830-million in tranfers simply isn't enough based on the unique needs of the aging population of New Brunswick.
Ottawa has shown little desire to re-think the 10-year deal signed by the Gallant government in 2017 that links the transfers to yearly GDP targets that the province has yet to achieve.
—-
NB – COVID UPDATE
We have now gone five days in a row with no new cases COVID-19 reported over the weekend.
A release by public health shows only five-active cases remaining in New Brunswick with two people in hospital.
With the entire province now on the yellow phase of recovery …. the next major step is the opening of the Atlantic Bubble on Friday… as people from Nova Scotia, PEI, and Newfoundland/Labrador will be allowed into the province for non-essential travel.
Nationally numbers continue to slow as well… we currently have over 103-thousand cases and 8522 virus related deaths
ALL – COVID MILESTONES **FOLLOW PROV UPDATES**
Worldwide the numbers have reached a dire landmark.
A leading U-S health authority reports confirmed infections have now surpassed the 10-million mark worldwide.
Another tragic milestone has been passed with word of 500-thousand deaths worldwide.
The reported tally comes from Johns Hopkins University researchers.
About one in four of those deaths — more than 125-thousand — have been reported in the U-S.
—-
ALL – TRUDEAU WE
The Conservatives are citing what they call "well documented" connections between WE and the prime minister as they push for transparency in Ottawa's
COVID-19 spending.
The Opposition says there must be an investigation into the government decision to have the international charity oversee the 900-million-dollar student aid program.
Justin Trudeau says the decision to use WE was made by the non-partisan public service, not by him.
The P-M has attended past WE events and his wife, Sophie Gregoire Trudeau, hosts a WE podcast.
—-
ALL-KICK-TRUMP SONG
Music legends … The Rolling Stones …. are threatening U-S President Donald Trump with legal action.
Its over the continuing use of their songs at Trump rallies despite cease-and-desist orders.
The Stones say their legal team is working with music rights organization B-M-I to stop the use of their material in Trump's re-election campaign.
The Stones had complained during Trump's 2016 campaign about the use of their music to fire up his conservative base at rallies.
The Rolling Stones' 1969 classic "You Can't Always Get What You Want" was a popular song at Trump events, including his latest controversial rally in Tulsa, Oklahoma.