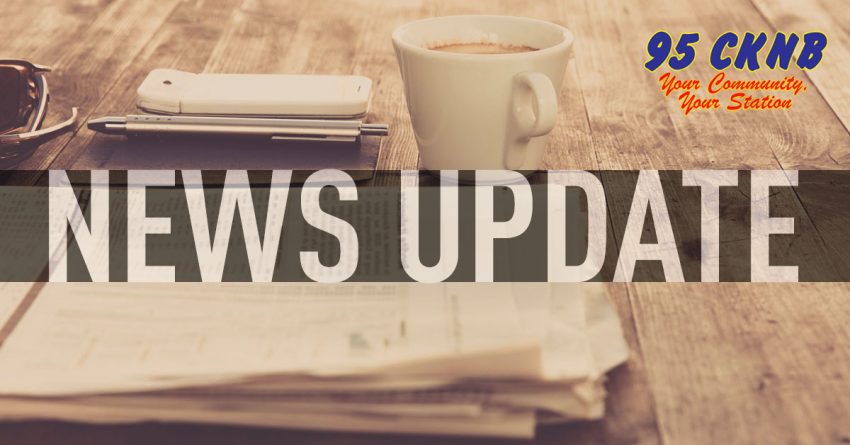 CKNB News June 30,2020
CAM – ON OUR WAY HIGGS
With still no meeting with Premier Blaine Higgs on the move of the Youth Centre of Excellence, the Restigouche Regional Service Commission says they will be going to him.
According to the Tribune at their most recent meeting the commission was told despite multiple attempts the government has still not agreed to meet over moving the center to Moncton.
Dalhousie Mayor Normand Pelletier said he's disappointed they never got the requested meeting and finds it extremely disappointing the premier doesn't want to come to Restigouche.
Pelletier says this has gone on long enough and he and incoming chair Brad Mann will start calling to set up a meeting in Fredericton as provincial officials won't come to them.
—-
CAM – EMPTY BEDS
The long-term addiction and mental health rehabilitation unit in Campbellton has empty beds despite a wait list of 90-people.
Manager of Campbellton Addiction Services Gino Mallais says the center normally runs around 85-percent full meaning two of the 12 beds are typically empty.
She says better co-ordination among detox programs, mental health, and the center are needed as patients are showing up unprepared for the long-term program.
Mallais says patients are coming in needing psychiatric or detox care first to stabilise them and then admitted to the program leaving the beds seemingly empty.
The center is adding six new beds this year, which was part of the announcement of the youth psychiatric unit moving to Moncton.
—-
MIR/CAM – MISCOU FIRE
The RCMP is investigating a suspicious structure fire on Miscou Island last week.
A cottage being used to store hay on Miscou Harbour Road went up in flames last Monday afternoon, June 22.
The fire had also spread to a wooded area but firefighters were able to contain it from spreading further.
The Fire Marshal has since determined the cuase of the blaze to be suspicious and anyone who witnessed anything in the area prior to the fire is being asked to contact the Lameque RCMP or Crime Stoppers.
—-
CAM – SLED THEFT
Saint-Quentin RCMP are looking for the public's help to find a stolen snowmobile from Kedgwick.
Police say the sled is a 2015 Polaris Pro RMK 800cc… black in color… with New Brunswick license plates.
The machine was taken out of a shed on a property on Route 260 between June 10th and June 24th.
Anyone with information is asked to contact the Saint-Quentin RCMP or Crimestoppers.
—-
CAM – HOSPITAL WORRIES
Campbellton Mayor Stephanie Anglehart-Paulin says she's still getting messages from hospital staff concerned about COVID-19 procedures.
Anglehart-Paulin tells the Tribune staff wishing to remain anonymous continue to contact her with things like the laundry from the COVID unit overflowing on top of earlier complaints of improper PPE.
The mayor says she wants an inquiry into the situation and wants to speak with Premier Blaine Higgs about it, but she has yet to hear from him.
Vitalite CEO Gilles Lanteigne says the network has always been open, transparent, and accountable and if Anglehart-Paulin has any questions she can certainly ask him.
—-
NB
—-
*NB/SJ-FERRY SERVICE       (jhw-am-TJ-June 30-20)
A Saint John resident has started a petition seeking support for making the Campobello Island Ferry a year-round servce.
It currently operates 3 to 4 months a year between Campobello and Deer Islands.
Justin Tinker tells the Telegraoh Journal ….. its an issue which has been simmering for years and the pandemic has made it boil over.
Supporting a full time ferry servuce, the petition is also seeking federal and provincial committments for funding the year round service with a new or used car ferry and upgrades to both ends of the link.
Tinker is hoping the petition will soon be presented to the House of Commons.
—-
*NB/SJ-RAIL LINK      (jhw-am-release-June 30-20)
CP Rail has purchased a railway through Maine giving the company direct access to thePort of Saint John from other parts of the country..
The recent completion of CP's acquisition of the Central Maine and Quebec Railway earlier this month will be the topic of a keynote address today by CP's chief financial officer, Nadeem Velani, at the Saint John Chamber of Commerce annual general meeting.
In a release, the chamber says Velani will update the purchase of the rail line and explain what it could mean for the greater Saint John region.
The purchase will directly link Toronto and Montreal from Saint John and Searsport, Maine, through connections with NB Southern and Eastern Maine Railways.
It also means CP has access to a route to Montreal and Toronto that is 322 kilometres shorter than competitor CN Rail's Halifax route.
CP Rail is planning tens of millions of dollars in upgrades to the new link.
—-
NB – COVID APP
The province has released a new online dashboard for COVID-19 information that is accessible from mobile devices.
A release says the new site allows users to see more location-specific data than the previous coronavirus information web page… it can be found on the provincial website.
Public Safety Minister Carl Urquhart says keeping people informed so they can make decisions to keep themselves, their families and their communities safe is crucial.
Meanwhile no new cases were announced yesterday and the total of active cases in the province remains at five.
Nationally we are nearing 104-thousand cases and there have been more than 85-hundred virus related deaths.
—-
NB – BURNING OPEN
With the damper and cooler weather …. crown land is now open for industrial and recreational activities again.
The province had put restrictions on all crown land earlier this month as high temperatures dried out the forest bed creating a recipe for fires.
Its been a bad year for forest fires with 290 so far this year burning close to 12-hundred hectares.
Even with the fire index at green …. the province is urging caution when in the woods and reminds residents fireworks are still forbidden under current conditions.
—-
NB – LEGION ISSUES
Officials with the Royal Canadian Legion say as many as 10-branches are at risk of closing permanently in New Brunswick.
Executive Director Jack Clayton tells the Telegraph-Journal …. all of the provinces 70 legion branches were forced to close due to the pandemic with zero income coming in for months.
Clayton says they lost out on their bread-and-butter revenues such as hall rentals, bingo nights, and bar sales, but did not specify which branches were of the most concern.
Executive council for the legions has sent a  letter to Prime Minister Trudeau seeking financial support, but no response has been received on a possible bail out.
—-
NB – MOOSE DROWNING
The New Brunswick government is asking for the public's help in an investigation into the drowning of a young bull moose at Parlee Beach.
The moose drowned on June 22nd after it swam into deep water and became exhausted — despite the efforts of officials to lure it to safety.
The Department of Public Safety is asking anyone with photos or video of the incident to contact conservation officers or Crime Stoppers.
The Atlantic Wildlife Institute has said the moose was likely stressed due to human activity along the beach and on the water.
—-
NB – RACIST RUM
NB Liquor has pulled Old Sam rum off the shelves over concerns the logo deplicting an elderly black man is inappropriate.
According to CBC… Newfoundland and Labrador Liquor Corp… who makes the rum… said the image could be the distillery's original founder, but research has been inconclusive and they decided to remove the logo anyway.
NLC chief merchandising officer Peter Murphy says the don't believe the image perpetuates negative racial stereotypes, they cannot conclusively state those linkages may not exist.
NB Liquor appears to be the only province to pull the brand from shelves and with the logo being changed there is no word if it will be relisted.
—-
ALL
—-
*ALL-STATE CLOSURES
Several American states are reversing course on COVID-19 restrictions as they face a surge in cases.
Texas, Florida and California are all backtracking, closing beaches and bars.
Arizona's Republican governor shut down bars, movie theatres, gyms and water parks for 30 days.
Democratic governors in Oregon and Kansas say that they will require people to wear masks indoors.
Utah's Republican governor is urging the Trump administration to issue a national call to wear masks.
—-
ALL – CALF DEATH
The first North Atlantic right whale born this season has been found dead off the coast of New Jersey.
Officials with the New England Aquarium tell CBC the carcass of the six-month-old was discovered Thursday with a number of wounds along its head pointing to a possible vessel strike.
The calf was the first of the season and the first for his 15-year-old mother… the pair were first spotted in Georgia in December and have been travelling together up and down the coast.
There are only about 4-hundred North Atlantic right whales left after nine were found dead in Canadian waters last year.
—-