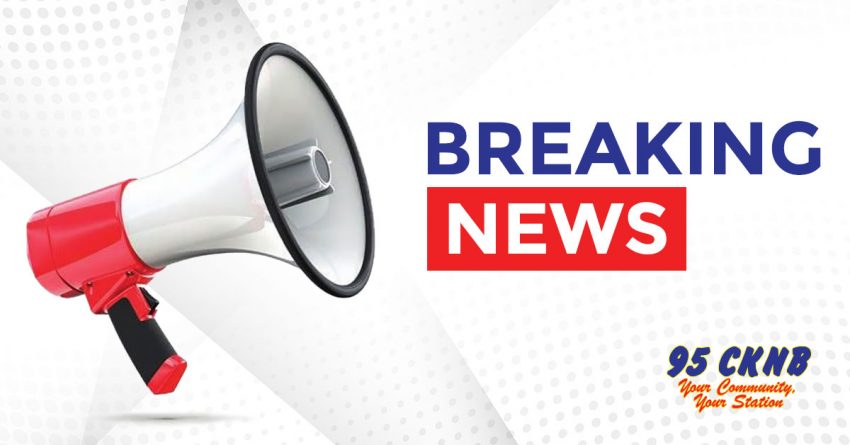 CKNB News March 11,2021
CAMPBELLTON
—-
CAMP-TAXI BYLAWS                                       RM / TRIBUNE1                                                 THURS AM
Campbellton is updating taxi bylaws.
the change comes as a potention cab driver was denied a permit because of a conviction over 20 years old.
Monday – Council agreed that old criminal record entries should not prevent people from working in the industry.
The changes state criminal record checks will still be done but the age of entry will be taken into account.
still some things will lead to an automatic rejection such as – anyone convicted of an indictable offence within 5 years, or possession with the intent to distribute within 5 years, is ineligible.
According to the Tribune – Entries over 5 years old will be considered.
those classified as a dangerous offender will also be rejected reguardless of time passed.
—-
CAMP-RINK SHUT DOWN                                             RM / TRIBUNE                                   THURS AM
The Ice at Inch Arran Ice Palace will be removed this month.
March 28 is the date set by the town of Dalhousie because hockey will be done by then. According to the Tribune – Figure skating groups which require the ice for longer have agreed to the change as well.
Normally the rink shuts down for Easter, which is April 4th this year so council agreed it would not be worth it to keep the ice around for another week.
—-
CAMP-MUSEUM COSTS                                                RM / TRIBUNE                                                   WED PM
Dalhousies Mayor is calling on the towns museum to do more to fund itself.
Mayor Normand Pelletier tells the Tribune he's worried the museum will become a long-term financial burden on the town.
In 2020 the town spent $22,000 on the museum.
The museum, in the former Restigouche County Courthouse is only open in the summer, so, some avenues to bring in revenue are being discussed such as family events or a concessions stand inside the building.
Pelletier says it's been on his house cleaning list since he was elected in 2016, but syas he's failed taxpayers by not pushing the issue earlier.
—-
NB
—-
NB-Vaccination program                (CBC thur.am)
The province could tall us today or tomorrow when we can start booking appointments to get out shots. The Health Department says an online booking system for vaccination clinics all over the province will be announced shortly.
Jake Reid, executive director of the New Brunswick Pharmacists Association, welcomed the news saying it will help reduce the strain on individual pharmacies in booking appointments. Reid tells CBC most of their 232 drug stores will be taking part….but they are not booking appointments yet and are asking people to hold off on calling until the government unveils its online booking system, which is expected today or tomorrow.
—-
NB – COVID UPD – NONE      GG/NB GOV (WED 4PM)
The number of active cases in the province has dropped to 34 with no new cases reported yesterday. Three people are currently hospitalized with the virus – including two patients in intensive care.
—-
NB-POST PANDEMIC ECONOMY                                                RM / BRUNSWICK NEWS                                               THURS AM
Wood and Petroleum industries could become the backbone of the province after the pandemic.
At least that's according to a leading economist from the University of New Brunswick. Herb Emery tells Brunswick News with no signs of US demand for wood products slowing down and sawmills already at capacity, lumber prices have skyrocketed. Petroleum products have been down due to lack of travel, but when restrictions ease, they're expected to make a comeback.
He says this may be the "lucky roll" Premier Blaine Higgs has said the province needs in order to climb out of the economic slump caused by covid-19.
—-
NB-Raymond-update                      (wire thur.am)
The man found not criminally responsible in the killings of four people in Fredericton in 2018 will not be receiving any new privileges.
Mathew Raymond won't be getting any escorted trips outside the secure facilities at the Restigouche Hospital Centre where he is being detained indefinitely. A Review Board heard yesterday from a psychiatrist that he is following his treatment plan but he is still a threat to society.
Raymond shot and killed Donnie Robichaud and Bobbie Lee Wright, as well as Fredericton police constables Sara Burns and Robb Costello, with the defence saying he believed he was defending himself from demons.
—-
NB/MIR – COVID UPD – NONE      GG/NB GOV (WED 4PM)
There were no new cases of Covid-19 to report in New Brusnwick yesterday.
Three people are currently hospitalized with the virus – including two patients in intensive care.
Public Health says the number of active cases in the province has also dropped to 34.
There are 16 cases still active in the Miramichi.
—-
NB-COVID PROTESTERS                                                 RM / DG/ CBC                                                    THURS AM
Protesters against the Covid-19 rules in Moncton are continuing to fight the charges in court.
A judge denied a request yesterday for a publication ban on two people after their lawyer says they have been harassed by the media. Bathurst residents Nicholas DeAngelis, and Britney Green hired an Ontario lawyer to defend them in court. They face charges of causing a disturbance, mischief and resisting police.
They were arrested along with three other people after an anti-mask protest outside Moncton City Hall January 24th.
—-
NB-CLIMATE CHANGE                                                    RM / BRUNSWICK NEWS                                                               THURS AM
The Higgs Government will spend almost $26M of carbon tax money on projects to address climate change.
96 projects have been chosen including $5M for ARC clean energy research into small modular nuclear reator technology.
While theres no timeline in place yet, the projects also include – flood mitigation, shoreline protection and electric vehicle charging stations.
Natural resources and energy development minister Mike Holland tells Brunswick News – that there's been a deliberate and intentional path in protecting the interests of the province.
—-
NB/SUS/SJ – RIVER WATCH       GG/NB GOV (WED 4PM)
River Watch 2021 officially began yesterday. The provincial flood watch program monitors rivers in the New Brunswick for water levels, ice jams and potential flood threats.
Every morning the River Watch program posts its forecasted models for water levels on the rivers and issues warning about any expected flood threats.
Justice and Public Safety Minister Hugh J. Flemming says the start of River Watch is also a reminder for New Brunswickers to secure their properties against floodingy, have a 72-hour emergency preparedness kit on hand – and to check on what coverage they're eligible for with their insurance providers.
—-
NB-MINDY GODIN TRIAL                                                               RM / CBC                                                             THURS AM
A Grand falls man is back in court to face murder charges after a psychiatric evaluation determined he was of a sound mind during the attack
31-year-old Jonathan Beck Fontaine was arrested in December for the second-degree murder of Mindy Godin in front of her two children.
Fountaine undergone a 30 day evaluation which found him fit to stand trial according to CBC
Fountaines lawyer asked for a month to be able to study the file of his new client, and will be back in court on April 14.
—-
ALL-Vaccines                    (wire thur.am)
Two million Canadians have now received at least their first dose of vaccine as provinces ramp up their innoculation efforts to get more first shots into arms and delay the second. Federal officials say by the end of next month, Canada should have received another 8 million doses of vaccines, mainly from Pfizer-BioNTech and Moderna.
—-
SPORTS   1
Two games in the Canadian division of the NHL last night. The Canadiens overpowered the Canucks 5-1 in Vancouver.  The Oilers blasted the Senators
7-1 in Edmonton.