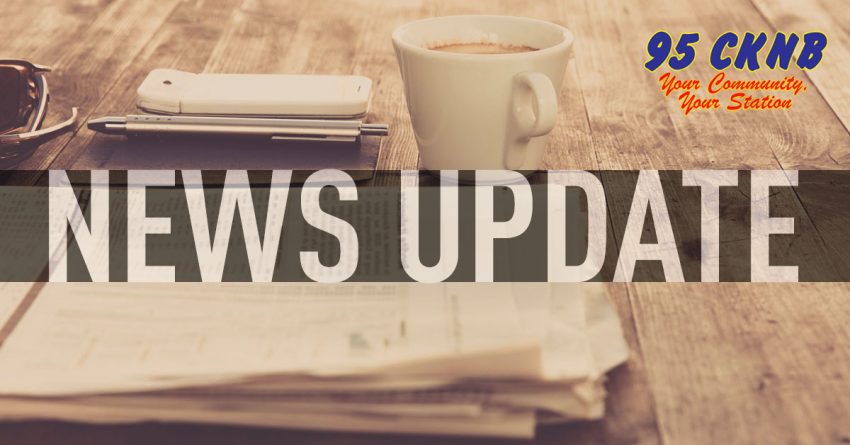 CKNB News March 8,2021
—-
CAMP-EEL RIVER BRIDGE WORK                                 RM / TRIBUNEQ                                                MON AM
Repairs could finally be coming to the Eel River Bar bridge this year.
The province has filed documents with Ottawa under the Canadian Navigable Waters Act that show work needs to be done this year to restore the Eel River Bar Bridge on route 134
According to the Tribune –  May 1st as the expected date of construction with October 31st marking the end.
The bridges supports are in need of work to keep up to code and safe for use.
The process would also require the removal of the deck and sidewalk.
It's unsure if the bridge will be closed for the entire construction period.
—-
CAMP-LISTUGUJ ELECTION                                          RM / TRIBUNE                                   MON AM
an appeal questioning the integrity of the recent Listuguj First Nation election has arose.
The appeal says theres concerns about mail in ballots, citing that some people didn't recieve theirs.
Chief Darcy Gray tells the Tribune while he hasn't seen the information directly, it could have an impact on the entire election not just himself.
The controversy is that an appeal had to be filed within 45 days of the election, which in this case happened on November 7 2020, where Chief Darcy Gray won the election by one vote
The matter will be handled by the Assistant Deputy Minister of Indigenous services Canada.
—-
NB/MIR/CAM      SNOW DEATHS  GG/RCMP/WIRE (THUR 4PM)
R-C-M-P say a snowstorm that blew nearly 40 centimetres of snow across the Acadian Peninsula this week left two people dead.
The Mounties say a 90-year-old woman was found dead on the deck of her home in Paquettville early yesterday morning by a man plowing her driveway.
while ta 53-year-old man was found dead, wearing snowshoes, in the Bas Caraquet area  late yesterday morning
R-C-M-P says the deaths are not believed to be suspicious and foul play is not suspected.
—-
NB
—-
CAMP/MIR/NB-MISSING PERSON FOUND DEAD                                                 RM / RCMP                                         MON AM
The body of a missing 29-year-old man from Ste-Marie-St-Raphaël, has been found near Lamèque
The RCMP Underwater Recovery Team conducted searches near the bridge on Route
113 where a snowmobile matching the description of the one belonging to a missing person was found underwater. Yesterday, officers located a body under the ice and identified it as that missing person.
The investigation is ongoing.
—-
NB/SJ-Another body under ice              (T-J mon.am)
RCMP have recovered the body of a person from under the ice in Baxter's Corner, northeastof Saint John.
They got a call around 10:00 yesterday morning about an ATV that went through the ice, according to the Telegraph-Journal. When officers arrived, they found a deceased person at the scene. No other details are available yet.
NB-SCHOOL ABSENCES                                                  RM / BRUNSWICK NEWS                                                               MON AM
Schools in the province are reporting a high number of student absences during the latest spike in coronavirus cases.
According to Brunswick News – Some districts saw as much as a 15% increase in absentees, which accounts for 31,830 non-attendants.
While the lowest numbers for a distract was an 11.4% incease in Anglophone South.
Meanwhile – Francophone School District Notheast and South saw slightly better numbers than this time last year.
The actual reason why students are missing more time than ever is unclear because schools aren't allowed to ask why they're not showing up due to privacy laws.
—-
NB-INFLUENZA                                 RM / BRUNSWICK NEWS                                               MON AM
Only one single case of influenza has been recorded in New Brunswick this season.
Health Minister Dorothy Shephard tells Brunswick News – thats because the pandemic restrictions helped.
Typically 30-60 people in the province die each year due to the common flu, compared to this year which has saw 0 deaths or hospitalizations.
The single case was found in Saint John between December 13 and January 2nd.
—-
NS- COVID update  2                             (wire mon.am)
GOOD    MORNING
Two new cases of COVID 19 were reported by Public Health yesterday. One is a person in their 50s in the Miramichi region, connectd to a previous case. The other is in their 30s in the Fredericton zone andtravel-related. The number of active cases in New Brunswick is now 29.
Almost 2,500 new cases of the virus were reported across the country yesterday out of more than 93,000 tests. The active case count is back over
30,000 with 26 more deaths.
The country's top doctor says two new vaccines will get Canadians immunized faster and ease worries about supply disruptions or setbacks.
Dr. Theresa Tam expressed optimism that brighter days are coming, thanks to the recent approvals of the Johnson & Johnson and Oxford-AstraZeneca vaccines. Dr. Tam says the single-shot Johnson & Johnson vaccine has been shown to be 66% effective overall in preventing moderate to severe symptoms.
The AstraZeneca vaccine has been found to have an efficacy of 62% in generally preventing "symptomatic COVID-19."
—-
NB-Yellow phase             (CBC sun)
The basic rules under the Yellow Phase remain….wear a mask indoors although they are not required outdoors. Stay 6 feet away from other people, self-isolate and get tested if you show symptoms.
Households can expand their network of close contacts from 10 to a steady 15 people which can visit places together like restaurants. Formal and informal outdoor gatherings of 50 people or fewer will be allowed with physical distancing.
You can see all the updated rules under the Yellow Phase on the government's website.
—-
NB-Vaccines                 (CBC Gov. Big increase in vaccine shipments
expected
The province is preparing to bump up its vaccination schedule with the arrival this week of a lot more doses of vaccines.
More than 27,000 doses are expected to arrive in the next two weeks, including the India-made version of the AstraZeneca shots. New Brunswick is also now expecting to receive about 43,000 doses of the Pfizer vaccine by the end of the month after it incrteased shipments to make up for earlier shortfalls.
During the final two weeks of March, Ottawa says New Brunswick should get
66,000 doses of the Pfizer and Moderna vaccines.
—-
—-
*NB-BLACKVILLE FIRE          (jhw-am-Release-Mar 6-21)
An elderly man escaped a house fire near Upper Blackville, about 60 km southwest of Maramichi.
Broke out in a house along a rural lane off Howard Road around 730 Friday morning.
The man in his 80's is now staying with a relatve and the Red Cross is helping him with emergency purchases like winter clothing, food and other essentials.
There were no reports of injuries from the fire.
—-
*MONC/NB-HUMAN TRAFFIC        (jhw-am-CP-Mar 6-21)
The federal government is providing the Y-W-C-A in Moncton with nearly 350-thousand dollars over the next three years to help address the issue of human trafficking.
The money will be used to develop and provide educational materials and resources for people seeking help — particularly young people, women and non-binary youth.
Federal Public Safety Minister Bill Blair says a total of 8.4 million dollars will be spent on 20 projects across the country.
He calls human trafficking one of the most heinous crimes imaginable — often leading to sex trafficking and forced labour.
—-
NB-YOUTH MENT HEALTH   GG/WIRE (FRI 5PM)
New Brunswick child and youth advocate Norm Bosse says he believes the provincial government will act on the findings of his review of mental health crisis care.
Health Minister Dorothy Shephard called for the review after a 16-year-old Fredericton girl took her own life just days after trying but failing to get help at a hospital E-R.
Bosse is promising a thorough review and says he'll listen to everyone who wants to be heard on this issue.
He says his first task will be to review recommendations of previous reports and to find out from government why they can't be implemented immediately.
—-
ALL
—-
ALL-Cop trial                      (wire mon.am)
It'll be oneof the most watched trials in American hisory.
Jury selection begins today in the murder trial of Derek Chauvin, the former Minneapolis police officer charged in the death of George Floyd.
The outcome of the trial is expected to come down to two key questions…did Chauvin's actions cause Floyd's death and were his actions reasonable.
—-
ALL-Defence-Chief-Misconduct                   (wire mon.am)
The Opposition is looking for answers on the government's handling of misconduct allegations facing the military's former top soldier.
The Conservatives plan to summon two senior Liberal aides to testify about when they first learned of the accusations against General Johnathan Vance.
They want to hear from Defence Minister Harjit Sajjan's chief of staff and a then-senior adviser to Prime Minister Justin Trudeau.
A former military watchdog says he first raised the allegation against General Vance to the minister in March 2018.
—-
ALL-Royals                      (wire mon.am)
Oprah Winfrey's interview with Meghan and Harry has produced several revelations.
Meghan says she experienced suicidal thoughts. Harry says he felt "trapped"
in royal life. Meghan, who is bi-racial, told Winfrey there were discussions among the royal family about how dark her son's skin would be.
Both Meghan and Harry were critical of the royal family and those who work for them, but both refused to criticize the Queen, with Meghan saying the Queen has "always been wonderful."
The couple also revealed the sex of their second child — it's a girl.
—-
SPORTS   1
Senators had a 4-3 shootout win over Calgary. The Devils shut down the Bruins 1-0.
In the NBA All-Star game Team LeBron outscored Team Durant 170-150.