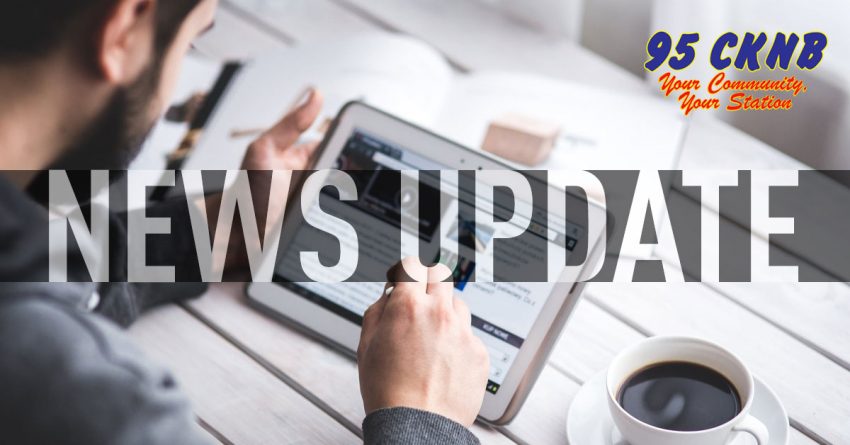 CKNB news October 19, 2020
CAMPBELLTON
—-
CAM – ARSENEAULT ZOOM
A zoom meeting for entrepreneurs in Madawaska-Restigouche hosted by MP René
Arseneault last week had a special guest.
During the meeting that featured more than 45 enterprises and stakeholders
Prime Minister Justin Trudeau dropped in to surprise participants.
Trudeau said a few words and answered some questions around the challenges of
operating and living with the pandemic.
Arseneault says he's grateful the Prime Minister took the time and said the
discussions were fruitful, allowing him to convey messages to his peers on
the realities of business in our region.
—-
CAM – LISTUGUJ FOLLOW UP
Chief Darcy Gray says with Listuguj reporting its first confirmed case of
COVID-19 anxieties are going to be running high.
Gray tells the Tribune they just wanted to give everybody a chance to settle
and let Public Health do its work.
He says they don't know the extent of the contact at this time and that's
what is being worked on.
When the case was announced the band shut down all non-essential services as
work is underway by the Listuguj Community Health Services and public health
in both Quebec and New Brunswick.
—-
NB
—-
NB/MCTNN – COVID DEATH V1.0
A third person has died in New Brunswick from COVID-19.
The person in their 60s lived at the Manoir Notre-Dame in Moncton that is at
the center of the outbreak there.
Chief Medical Officer Dr. Jennifer Russell says its another sad day for the
province with Premier Blaine Higgs adding he was deeply saddened.
New Brunswick added five new cases yesterday as well… three in Campbellton
and two in Moncton…. the province now has 104 active cases.
Public health warned of a flight exposure as well… people flying on Air
Canada flight 89-54 from Toronto to Fredericton on October 8th are advised to
monitor for symptoms.
Nationally it was not a good weekend either with over 6,400 cases added and
more than 21,000 considered active. The overall case load is fast approaching
200,000 and the number of deaths has climbed to 9,760.
—-
NB/NS – NO WHALES
For the first time in over 40-years a survey of the Bay of Fundy didn't find
a North Alantic Right Whale.
Dr. Moira Brown of the New England Aquarium tells the Telegraph-Journal the
news is a clear indication the whales feeding habits are shifting as the Gulf
of Maine warms.
Brown says they are watching the effects of climate change in action. She
says its pretty monumental and not the way they wanted to celebrate the 40th
anniversary of the survey.
Prior to 2010 the survey would identify up to a hundred whales in the Bay,
but there has been a steady decline as waters warm.
—-
NB – 211 SERVICE
The province and the United Way have partnered up to launch the 211 system
across New Brusnwick to help people navigate community and government
services.
A release says the free, bilingual, confidential line will be answered by
trained staff to help the caller connect with services for both routine needs
and times of crisis.
CEO of United Way Debbie McInnis says its a much needed service that will
help fill the gap of navigating services from basic needs like housing and
food to support for mental health.
211 is open 24/7 and was fully active as of late last week.
—-
NB – COVID DEATH V2.0
Premier Blaine Higgs says he's deeply saddened as the province announced the
third COVID-19 related death in New Brunswick.
A resident in thier 60s of the Manoir Notre-Dame in Moncton passed away from
what public health called underlying complications including COVID-19.
Dr. Jennifer Russell says its another sad day for the province.
Five new cases were announced as well bringing the active case count to
104… three of the new cases were in Campbellton with two in Moncton.
Public health also warned people travelling on Air Canada flight 89-54 from
Toronto to Fredericton on October 8th should monitor for symptoms due to a
possible exposure.
Across Canada the second wave didn't let up this weekend as we topped
21-thousand active cases adding more than 64-hundred.
—-
ALL
—-
ALL-LOBSTER FIRE
Police say the fire that destroyed the lobster pound in Middle West Pubnico
in southwest Nova Scotia on the weekend sent a man to hospital with life
threatening injuries.
R-C-M-P Sergeant Andrew Joyce says although the lobster facility was not
occupied, a man is in hospital with injuries police believe are related to
the fire and that manis a person of interest in the investigation into the
suspicious fire.
Meanwhile RCMP have now charged 2 people in connection with incidents last
week…one man with arson in a van fire outside a fish plant and another for
an assault on chief Michael Sack.
Ottawa has also beefed up the RCMP presence in southwest Nova Scotia rushing
more officers into that area to keep the peace.
—-
ALL – HEALTH DEBATE
The threat of a possible snap election will hang over Parliament Hill this
week.
The Opposition is poised to keep up the pressure on the Liberal government
over the WE Charity and preparations for the second wave of COVID-19.
The Conservative health critic is calling for a House of Commons committee to
investigate what she suggests was Ottawa's lack of readiness to handle the
resurgence of the pandemic.
She wants to see a wide-ranging study on the issue, which is expected to be
debated by health committee members.
—-
SPORTS 1
The Dodgers beat Atlanta 4-3 in game seven of the NLCS and move on to the
World Series against Tampa Bay for game one tomorrow.
In the NFL…Patriots lost 18-12 to Denver.