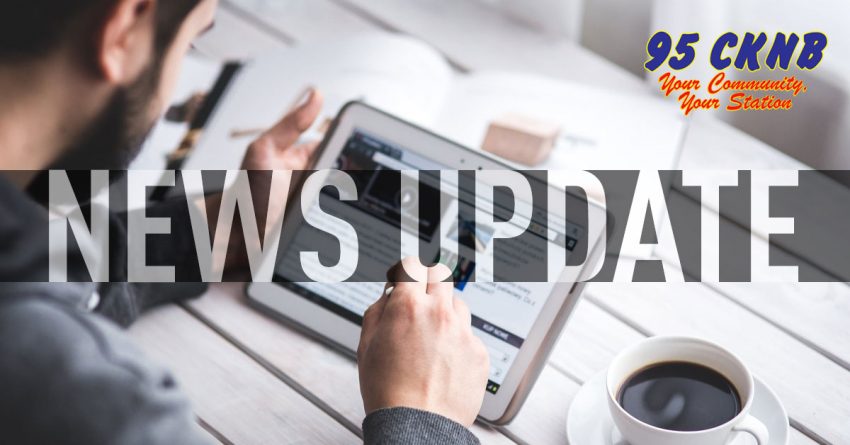 CKNB news October 23, 2020
CAMPBELLTON
—-
CAM – COMMUNITY TESTING GG/TRIB via VITALITIE (THUR 4PM)
The Vitalite Health Network has announced community wide Covid testing will
be held in both Campbellton and Dalhousie this weekend.
The free testing, which doesn't require an appointment, will be held on
Saturday from 9am to 7pm at the Campbellton Civic Centre and on Sunday, from
9am to 7pm, at the Inch Arran Arena in Dalhousie.
The testing is specifically for people who are asymptomatic. Anyone with
symptoms is ecnouraged to call 811 or request a test online.
Anyone seeking a test at the community testing sites this wekeend will simpy
need to present their Medicare card.
—-
CAM – LISTUGUJ MED APP GG/EMAIL (THUR 4PM)
Meanwhile Listiguj residents are being advised they must register for a
single-use pass before using the medial taxi service to access care in
Cambellton.
You can register through the government of New Brusnwick website or by
calling 1-800-948-2800 during business hours, Monday-to-Friday.
The Listuguj Government is also ready to assist medical taxi clients with the
registration process. Anyone requiring help can contact Administrative
support Clerk Christy Metallic.
—-
CAM/MIR/AMH/VAL/PEI – MHL PLAN GG/REL (THUR 4PM)
The Maritime Hockey League has announced it will play a 40-game regular
season that will open on October 30th.
The Board of Governors approved the modifed season at a meeting on Wednesday
night.
The league will also be reocnfigured for the seasons with both of the
existing divisions being subdivided into two mini-divisions which will
increase regional play.
The Miramichi Timberwolves , Campbellton Tigers and Summerside Western Caps
will comprise one mini-division, with those teams playing each other 8 times
each during the 40 game schedule.
The league says all tyeams will quailfy for the playoffs with the playoff
format to be announced at a later date.
—-
CAM – OPEN SERVICE CANADA BILL/TRIBUNE THUR AFT
Dalhousie town council is calling on Ottawa to reopen the Service Canada
center that closed in March because of the pandemic.
Deputy Mayor Gail Fearon according to the Tribune told council at its recent
meeting she has been getting complaints from seniors finding it difficult to
get information on their pensions.
Fearon said people on unemployment are also being affected. Council agreed
there was plenty of room for safeguarding at the location and didn't
understand why it was closed.
It was agreed a letter would be sent to MP René Arseneault for an explanation.
—-
CAM – LEPAGE ON BUSINESS BILL/MARK/RELEASE THUR AFT
Restigouche-West MLA Gilles LePage says entrepreneurs in the province have
shown unparalleled resilence in recent months.
In a release to mark the end of Small Business Week, Lepage says 2020 has
been a difficult year for small business, but the entrepreneurial spirit
never wavered.
The longtime area politician says he has called on the Higgs government to
provide targeted financial support to those businesses disproportionately
effected by the pandemic.
In the meantime, the MLA says during these uncertain times its more important
than ever to get out and support local entrepreneurs.
—-
NB
—-
NB/CAM/MON COVID UPD GG/NB PC (THUR 4PM)
GOOD MORNING
Public Health is introducing new measures and restrictions to try to control
the outbreak affecting the Campbellton Region.
Chief Medical Officer, Dr. Jennifer Russel, announced three new cases
yesterday – all connected with that outbreak. Dr. Russel says there's
evidence of community transmission that requires further strict actions to
try to control the spread….
MNN-RUS-THUR1 12seconds (…)
Community testing will also be offered this weekend and all non-essential
travel to the region is being discouraged.
Meanwhile, Dr. Russel says the outbreak in the Moncton area has largely been
brought under control – and confirmed that Zone One is returning to the
yellow phase of recovery today.
Across Canada, the second wave continues to surge with higher new case counts
daily in some provnces that at anytime during the first wave….2,800
yesterday. And the number of deaths is averaging 25 a day for the last week
with COVID-19 having now claimed 9,862 Canadians.
—-
NB/SUS/MON/MIR FARMERS UNION PRES GG/WIRE
The National Farmers Union has elected small scale farmer Eva Rehak as its
provincial president in New Brusnwick.
Rehak farms at Alva Farm in Saint Maurice, north of Bouctouche – with her
partner, Alain Rousselle and their three young children.
Rehak graduated from the University of Guelph after studying agricultural
technology, and gained experience with community agriculture programs in
southern Quebec. Rehak says she wants to push the government to make New
Brunswick's food production more self-sufficient.
—-
NB – FRED STANDOFF UPD BILL/EVERYONE FRI AM
Fredericton police have taken a person into custody after a day-long standoff
in the Gregg Court area.
Around 7:40 yesterday morning police responded to a report of a person with a
firearm.
Officers confirmed a 28-year-old man in a two-unit residence had barricaded
himself inside the home and was indeed armed.
The area was placed in lockdown including multiple schools and both
universities until the man excited the home for negotiators at 3:30 yesterday
afternoon.
A search of the home revealed two long guns, a bulletproof vest and knives.
Police say charges are pending.
—-
NB – PEDO SENTENCE BILL/RELEASE FRI AM
A Lincoln man who plead guilty to child pornography charges has been setenced
to two-years behind bars.
45-year-old James Robert Strowbridge earlier plead guilty to several charges
including making available and possession of child pornography.
RCMP say the investigation started in June of last year when police received
information of images depicting child sexual abuse.
Strowbridge has also been added to the National Sex Offender Registry and
will not be allowed around children after his release.
—-
NB – EAGLE FEATHER BILL/RCMP FRI AM
RCMP in New Brunswick will now be offering an Eagle Feather to people
providing statements or being interviewed by officers.
The feather is similar to swearing on a bible or making a legal affirmation
and will be available to everyone.
Assistant Commissioner Larry Tremblay says the initiative represents a
recognition of Indigenous rights and respect for Indigenous culture.
Tremblay says the feather may also be offered to provide comfort to people
when interacting with members at the detachment.
—-
NB/PEI-Inquiry (wire fri am)
The joint public inquiry into April's deadly mass shooting in Nova Scotia is
finally set to begin its work following the completion of the terms of
reference and the appointment of a third commissioner.
Kim Stanton is a lawyer and former legal director of the Women's Legal
Education and Action Fund. She will join chief commissioner Michael
MacDonald, a retired chief justice of the Nova Scotia Supreme Court, and
Leanne Fitch, a former chief of police in Fredericton.
The inquiry's mandate will include a probe of the R-C-M-P response to the
shootings; police interactions with the killer before the tragedy; as well as
the role of gender-based violence in it.
—-
NB – FRED SHOOTER TRIAL BILL/WIRE FRI AM
Jurors at the Fredericton mass shooting trial have heard recordings of Mathew
Raymond accusing lawyers and the judge of working against him.
Raymond's lawyer resumed his testimony about the recordings today at his
client's trial on four counts of first-degree murder.
Alex Pate said Raymond repeatedly demanded to be released and often refused
to take legal advice during their meetings in 2019.
Raymond has admitted to the killings outside his apartment complex in 2018
but the defence is arguing his is not criminally responsible due to a mental
disorder.
—-
NB – COVID SCRIPT/WIRE BILL/WIRE FRI AM
New Brunswick has announced new restrictions to try to quell a COVID-19
outbreak in the Campbellton region.
Residents are being asked to limit contacts to a single households and
Premier Blaine Higgs says all non-essential travel to the region is
discouraged.
Higgs says moving the region to a more-restricted orange stage of re-opening
has not been effective in addressing the spread of COVID-19 in social
gatherings.
The Moncton area was moved back to the less restrictive yellow phase today.
Numbers spiked across Canada yesterday with close to 28-hundred new cases
reported as we near 210-thousand with over 23-thousand active.
The number of lives taken by the virus has increased this week as well
averaging 25 a day with 9862 Canadians now dead from COVID-19.
—-
ALL
—-
ALL – COVID NUMBERS BILL/STATS FRI AM
Numbers spiked across Canada yesterday with close to 28-hundred new cases
reported as we near 210-thousand with over 23-thousand active.
The number of lives taken by the virus has increased this week as well
averaging 25 a day with 9862 Canadians now dead from COVID-19.
—-
SPORTS 1 (at least there's the mhl story)
A very light night in sports….just the thursday night NFL game which saw
the Eagles beat the Giants in a close one…22-21.