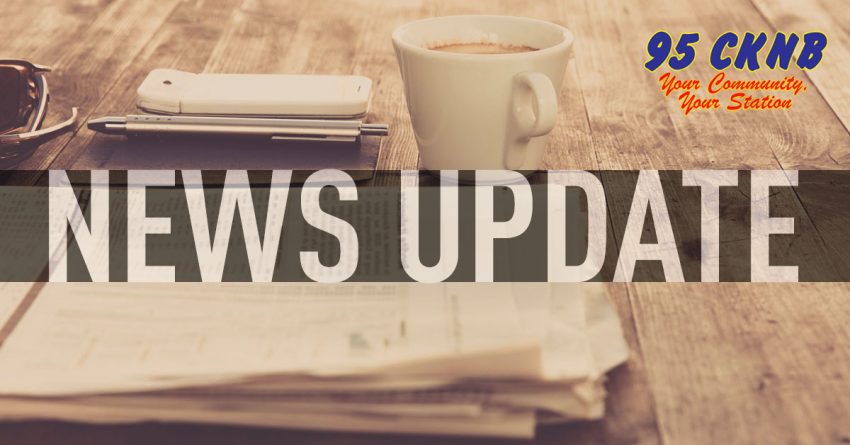 CKNB NEWS THURSDAY DECEMBER 20 2018
*CAMP "WELCOME TO THE HOTEL, DALHOUSIE!"  RF/TRIB
Dalhousie council will sell off some land to the Days Inn Hotel on Adelaide
Street, according to the Tribune.
Mayor Normand Pelletier says the town isn't in the buisness of taking care of
parking lots for buisnesses.
*NB MUNICIPAL MEETINGS  RF/CBC
Municipal leaders across New Brunswick hope that the new year will bring some
changes to their relationship with the province and how they pay for
municipal services.
Representatives will meet with provincial officials in January to start
discussing municipal reform.
The Cities of New Brunswick Association, contends that city taxpayers are
paying more than their fair share.
The association represents Bathurst, Campbellton, Dieppe, Edmundston,
Fredericton, Miramichi, Moncton and Saint John.
SJ-Elxn case heats up
A court hearing over the election in Saint John Harbour got tangled up in
proceedural isues yesterday with one lawyer demanding another be removed from
the case.
Elections NB lawyer Fred McElman alleged that Kelly VanBuskirk, the lawyer
for the PC candidate Barry Ogden failed to disclose that he had obtained
privileged documents about the case and used it in violation of the Law
Society's code of conduct. VanBuskirk argued the information should be made
public in the interest of transparency and fairness.
Justice Hugh McLellan adjourned the hearing until tomorrow morning to give
VanBuskirk time to respond to McElman's motion to have him removed.
NB-Fracking plans
Corridor Resources say it'll be at least three years before it does any
fracking if the Higgs Government follows through on dropping the moratorium.
Premier Higgs has said his government plans to issue an order in January to
allow shale gas development in the Sussex area.
Corridor President Steve Moran told Brunswick News there are still several
hurdles that need to be cleared. Natural gas prices will be one of the key
factors. There are also regulatory issues over approval of a facility and
disposal of waste water, rules of which must stll be developed by the
government.
ALBERTA MASSIVE YELLOW VEST RALLY  RF/GLOBAL ET-AL
A massive "yellow vest" rally took place in Nisku, Alberta; as a
22-kilometre-long convoy of trucks rolled-on to protest against the sad state
of Alberta's oil industry.
They targeted the Trudeau Liberals, saying they want progress on getting the
province's oil to foreign markets by pipelines.
Even though the feds say they will help out with 1.6 billion dollars, critics
contend that the liberals are just trying to bribe Alberta with its own
money, as the federal election will be held next year.
The latest Angus Reid poll says Trudeau's approval rating has plunged 11
points from this time last year, it now stands at a mere 35 per cent.
—-
*ALL PLATE FIGHT  RF/CTV WINNIPEG
Nicholas Troller of Winnipeg is fighting to get his Star Trek-themed licence
plate back.
He got a plate with the word ASIMIL8, ("assimilate") the slogan of a
villainous Star Trek species called "The Borg."
The application for the plate was reviewed by a five-person committee.
The word assimilate was also cross-referenced against an urban dictionary,
and no concerns were noted.
However, following a complaint by an Ontario woman who felt the word
assimilate was derogatory to indigenous people, the plate was recalled.
—-
*ALL MAN HAD SEX WITH A CORPSE  RF/METRO.CO.UK
23 year old Khurum Shazada, who is unemployed, was in court for allegedly
sexually penetrating a corpse after he broke into a funeral home Birmingham,
in the U.K.
The relatives of the deceased have been notified.
Shazada remains in custody.
—-
ALL-Trudeau-China                       (wire thu.am)
An Alberta woman, who has been teaching in China for months, is reportedly
the latest Canadian to be detained in the country.
Global Affairs is only saying that consular officials are providing
assistance to the individual's family, but Conservative M-P Erin O'Toole says
the woman is being held over a visa irregularity.
Prime Minister Trudeau says he doesn't believe the latest case is linked to
the detention of two other Canadian men in Chinese custody, apparently in
retaliation for the Vancouver arrest of a Chinese telecom executive.
(20)
—-
ALL-Basic-Income                       (wire thu.am)
Prime Minister Trudeau says his government is looking into a minimum income
support of some type to help struggling Canadians.
A guaranteed minimum income at its core is a no-strings-attached payment
governments provide instead of an assortment of targeted benefits like E-I or
welfare.
Trudeau and Social Development Minister Jean-Yves Duclos have argued that the
Liberal-created Canada Child Benefit, among other measures, already amounts
to a guaranteed minimum income.