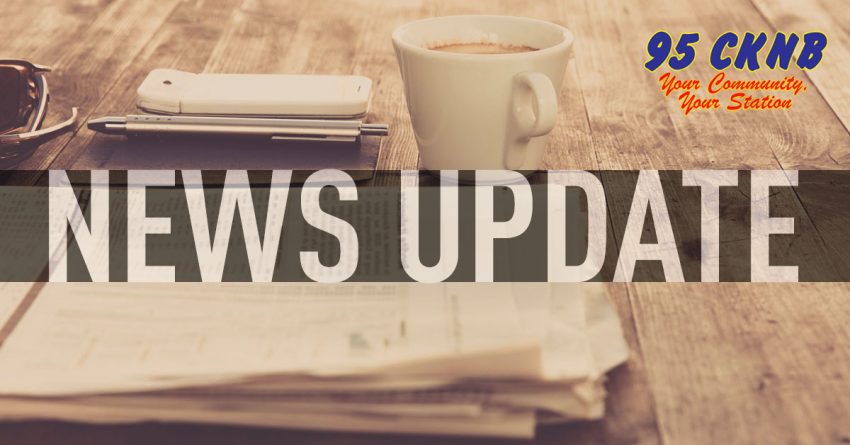 CKNB NEWS TUESDAY FEBRUARY 26 2019
*CAMP GIMME SHELTER  RF/CBC
Campbellton mayor Stephanie Anglehart Paulin wants the Higgs government to
establish a permanent homeless shelter.
A shelter was put up in 1998, but was lost to a fire in 2005.
—-
SJ – DOMESTIC TORTURE CASE 
A Saint John man will serve four years in prison for the beating and
prolonged torture of his girlfirend.
26-year-old Caleb Martin was sentenced after pleading guilty, according to
the Telegraph-Journal.
Court heard that Martin, who has a history of violence and psychological
disorders, had beaten and held his girlfriend captive for 14 hours last
October. Martin blamed his actions on alcohol and his mental state.
—-
SJ – SEX ASSAULT SENTENCE
A Saint John man has been sentenced to 6 months in jail for sexually
assaulting a young teen.
Kenneth Murray McKnight was 27 at the time when he bought alcohol for the
14-year-old victim and her friends and partied with the young teens last
November. At the end of the night, he drove them home until it was just
himself and the victim left in the car. He then drove to a secluded area and
sexually assulted the girl. The Telegraph Journal reports McKnight pleaded
guilty to the assault and was sentenced to six months in jail followed by
probation.
—-
MCTN-Shediac campground
A lot of Shediac residents turned out at a public meeting last night to voice
their concerns about a major campground proposal.
Shediac Camping Ltd. wants to put 530 serviced campsite on 63 acres of land
owned by the Anglican church off Main Street near the Parlee Beach access
Road.
Residents have raised concerns about development on the surrounding wetlands,
traffic impact and connections with the former Liberal government. Resident
Nancy LeBlanc told the Times and Transcript they are frustrated with the
Anglican Church, saying they're going ahead with this because they're the big
guys, it's their land but it's an environmental area and they should leave it
alone.
—-
NB-Fish-Plant-Fire
An executive at Cape Bald Packers says it feels like they've suffered a
knockout blow after losing a second major plant to a fire in less than three
weeks.
The blaze Sunday destroyed its lobster processing facility in Cap Pele…just
17 days after flames raced through its plant in Richibucto Village…but
Joanne Losier, Corporate affaiors director says there's no indication of foul
play. Losier also says the company will try to use all its nearly 700 workers
at a third facility in Cap Pele when the fishing season picks up again in
May.
Meanwhile Shediac RCMP and the fire marshall are trying to determine the
cause.
—-
NB – NDP LEADER RESIGNS
Jennifer McKenzie is out as leader of the NDP in New Brusnwick after failing
to survive a party review of her leadership.
The party's brass met on the weekend and 54% of party supporters in
attendance voted in favour of holding a new leadership convention within 180
days rather than continue on with McKenzie as leader. That prompted McKenzie
to resign immediately and announce she won't be running in the convention.
McKenzie only took over the party in August of 2017 but was at the helm when
the NDP failed to win a single seat in last fall's election.
—-
LAVALIN
Jody Wilson-Raybould can finally tell her side of the S-N-C-Lavalin saga to
the House of Commons justice committee and the ethics commissioner.
An order-in-council has lifted confidentiality restrictions on the former
attorney general.
There are allegations the Prime Minister's Office pressured her to pursue a
remediation agreement, rather than criminal prosecution, for fraud and
bribery related to the Quebec-based engineering giant's work in Libya.
—-
NS/HFX-Fire-Tragedy-codes
Experts say the deaths of the seven children last week in Halifax is a wakeup
call about the need for building code changes.
T-V host and contractor Mike Holmes says new homes should be built with
fire-resistant products, including sprays that can help reduce the risk of a
flash burn.
Fire officials would not comment on why fire spread through the Barho home so
quickly but said new homes in general are built with light-weight
construction and rapid fire spread is possible once fire barriers are
penetrated.
The director for construction research and development with the National
Research Council of Canada says the organization plans to study the fire
marshal's report and that could lead to changes to the national building
code.