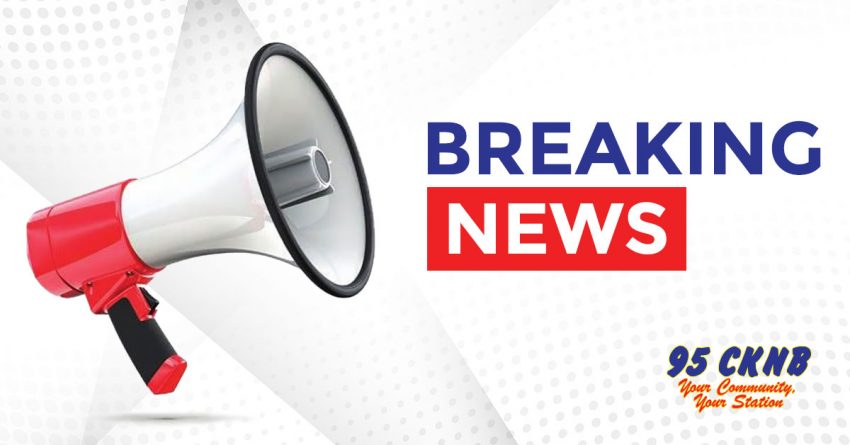 CKNB NEWS UPDATE DECEMBER 14 2020
—-
*CAM/NB-FATAL CRASH
A collision on Route 11 near Campbellton yesterday (Sunday) afternoon
resulted in one person dead and two others injured.
It happened  about 2:30pm between the Dundee and Campbellton exits.
RCMP spokesperson Sgt. Jean-François Martel told the Tribune … the cause
hasn't been determined yet but driving conditions might have been a factor.
He says it had snowed Saturday into Sunday, and wet snow was still falling
Sunday afternoon.
Names and ages of the victims haven't been released yet.
—-
*CAM-FOOD DRIVE
Students at Campbellton's Lord Beaverbrook elementary school have had another
successful Christmas food drive.
The students have been doing this for six years and even though the pandemic
factored into it .. they still collected a lot of food.
It was collected by students or donated by well-wishers.
But the traditional relay was cancelled and the students instead took turns
placing the goods in the school gymnasium in the form of a big Christmas
tree.
Teacher Denis Boudreau tells the Tribune ….. hundreds of pounds of canned
and non spoiling packaged food were donated
Similar food drives for the less fortunate have been held across the region
for the last couple of weeks including the Dalhousie air cadets and grocery
stores.
Most of the food and monetary donations will go to the Restigouche County
food banks.
——–
NB-Provinciual numbers
Public Health reported just two new cases of COVID-19 in New Brunswick
yesterday, both in the Fredericton region…people in their 60's. The cause
is still under investigation.
With recoveries, the number of active cases has dropped to 65, although three
people are hospital with two in intensive care. There have been eight deaths
in the province from the virus.
—-