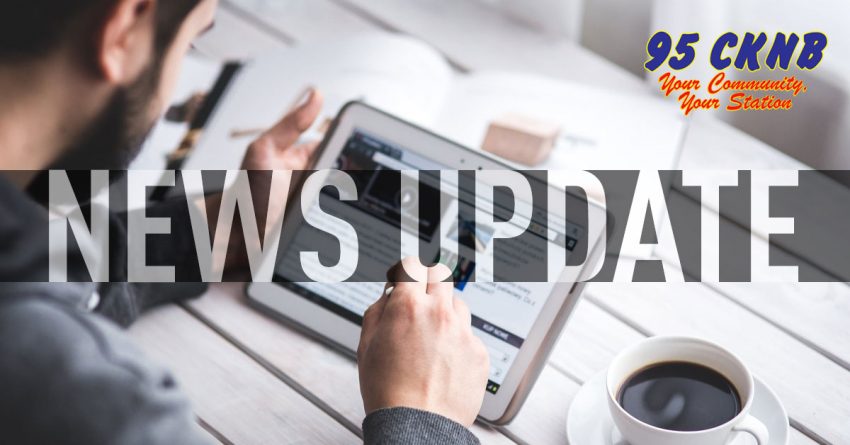 CKNB NEWS UPDATE FRIDAY AUGUST 14 2020
—-
CAM – RECYCLING BOOM
When recycling returned to the region this month all those saved up cans and
papers came out according to the Restigouche Regional Service Commission.
Executive Director Betty-Ann Fortin tells the Tribune the numbers aren't
final but there has been an increase in the amount of goods recycled.
The program was ceased since mid-March due to the pandemic and Fortin says
its clear that people have been saving their recycling.
Fortin says they realize people have an abundance, but their asking you just
keep filling your cart after pick-up till you get caught up and don't leave
bags out.
—-
CAM – SIDEWALK ISSUES
Dalhousie town council has voted to replace a section of sidewalk after
numerous complaints from citizens the area was unsafe.
According to the Tribune the matter was brought up at the recent council
committee meeting regarding a section of concrete sidewalks on Victoria
Street.
The work will pave the area with asphalt similar to other sidewalks with some
councilors suggesting now might be the time to widen it as well.
Mayor Normand Pelletier said they could look into as long as there was
substantial cost to the extra work. There was no timeline on when the work
would be done.
—-
CAM – BRIDGE LIGHTS
With the bubble extended into Listuguj the First Nations police department
says they have stepped up enforcement on the J. C. Van Horne Bridge.
A release by the department says they have received complaints about
motorists running red lights at the temporary lights set up for construction.
Officials with Listuguj Police say they set up a car by the lights and
stopped motorists who ran the red and gave education warnings, but tickets
will start being issued.
They say they need motorists to respect the lights as a number of close call
collisions have been noted.
——–
NB – BACK TO SCHOOL
The Education Minister provided an update yesterday on the plan to reopen
schools September 8th, including release of a detailed guide for parents.
Dominic Cardy says all students will be required to bring face masks to
school, but only those in grades 6-12 will have to wear them in common areas
and on buses. It'll be encouraged but not mandatory in the lower grades.
High school teachers will be required to wear masks when physical distancing
isn't possible…but it'll be a personal choice for teachers in Kindergarten
through 8 as long as they remain within their segregated class bubbles.
School buses will run with one student per seat. Parents are encouraged to
drop off and pick up their children themselves.
Fountains are being replaced by bottle filling stations.
—-
NB – TWO MORE CASES
Another two cases of Covid-19 have been confirmed in the province.
Public Health says both of the new cases announced today are temporary
foreign workers who were already in mandatory isolation in the Moncton area.
It the third straight day cases have been detected in New Brunswick, with two
connected travel related cases announced in Fredericon on Tuesday and
Wendesday.
Public Health says one of those cases as since been deemed resolved – leaving
nine active cases in the province.
Nationally there were 4-hundred new cases surpassing 121-thousand and 9015
people have now died from COVID-19 with nine deaths reported yesterday.
—-
NB – 10 DIGIT DIALING DELAY
The plan to make 10-digit dialing mandatory on local calls has been delayed
till 2022.
The original plan called for the area code to be included when calling even
your neighbor yesterday, but with increased capacity in the 506-area code the
CRTC has pushed the date back.
Area code 428 was expected to take effect in November but that plan has been
pushed back as well.
CRTC officials say 506 isn't expected to be exhausted until April of 2023, so
10-digit calls can wait for a couple of years.
—-
NB – ELECTION DEAL UPDATE
After 12-hours of negotiations yesterday Premier Blaine Higgs left talks
around his proposed deal to keep him in power saying Friday is going to be a
big day.
Higg's said the final day of meetings taking place today will determine if a
deal can be made or if he will call a snap election.
The Premier said talks were encouraging with a sense of urgency as leaders
discussed how the agreement would have opposition parties not vote down
confidence motions.
Liberal leader Kevin Vickers was a little more reserved saying there are
concerns from his caucus, but he continues to attend in hopes of a deal.
Green Party leader David Coon said the talks were fascinating and the chance
of a deal seems to ebb and flow as every hour passes.
—-