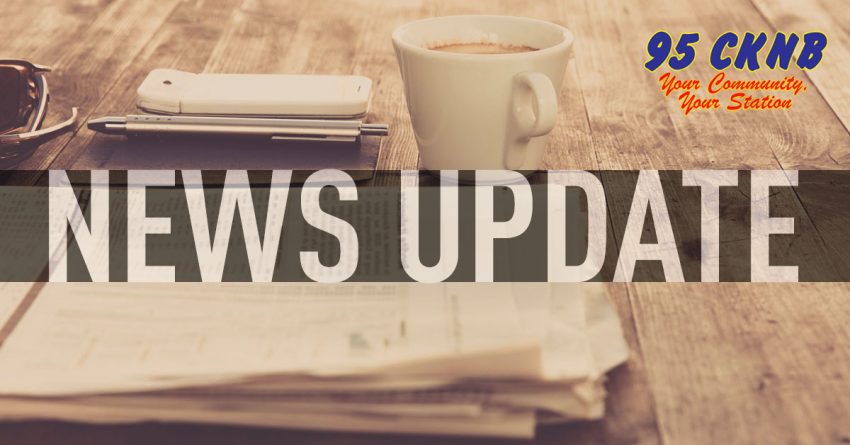 CKNB NEWS UPDATE FRIDAY AUGUST 21 2020
—-
*CAM-SCHOOL BUS POLICY       (
The Northeast Francophone School District has released its school bus policy.
It includes social distancing measures to keep children as safe as possible
from COVID-19.
School District spokesman …. Ian-Guillaume Desroches …. tells the Tribune
…. the policy is designed to insure the school transport system complies
with Public Health directives
All students in Kindergarten to Grade 5 will be required to adhere to
physical distancing while on a bus.
Students in Grades 6 to 12 will be required to wear a mask  – unless they are
sitting alone.
Masks will also be provided to students who don't have them for the first few
days of school.
The actual schedule for classes for all francophone schools in the district
s still being determined and is expected to  be released within the next week
—-
CAM         BOAT THEFT
The Campbellton RCMP is investigating after  boat and trailer were stolen in
Dalhousie. Mounties say they were taken from the Dalhousie Regional Marina on
Rock Island Road sometime between Monday and early Wednesday morning. The
stolen boat is a black and white 2017 Larson 238 B-R; it was on 2017
Shorelander Lav-55 trailer. Anyone with information about the theft is asked
to contact the RCMP or Crime Stoppers.
——–
NB-Election
The party leaders continued their campaigns with a concentration on rural
issues….among them food security.
P-C leader Blaine Higgs says the pandemic has shown us just how much we rely
on importing foods and he's promising to increase year round food production
in New Brunswick.
Liberal leader Kevin Vickers promised to boost local agricultural production
to ensure food security with $5 million in funding.
Green Leader David Coon was in Hartland pledging to create a new department
of regional affairs to address what he calls the ignoring by governments of
rural areas of the province.
—-
NB-Raymond heaRING
It didn't take long for a jury to decide Mathew Raymond is fit to stand trial
on four first degree murder charges in the shootings in Fredericton two years
ago.
The case has now been adjourned until next month when the trial will get
underway. His lawyer says Raymond will be admitting to shooting police
Constables Sara Burns and Robb Costello, and civilians Donnie Robichaud and
Bobbie Lee Wright. The only contested issue is whether he was criminally
responsible at the time of the shootings.
—-
NB-Indigenous Lives Matter rally
A large group held a rally outside the legislature yesterday to continue
calls for a public inquiry into the deaths of indigenous people in the
province.
They want commitments from all the parties to hold an inquiry into the deaths
of Rodney Levi, Chantel Moore and Bradey Francis.
Senator Sandra Lovelace-Nicholas chocked back tears as she spoke to the
protesters…saying we must bring light to the painful past and unjust
violent actions in our system….and the fact they won't do an inquiry is an
injustice in itself.
—-
*NB-COVID-numbers and CERB
New Brunswick is down to just six active cases of COVID-19.
Nationally there have now been 9,054 deaths from COVID-19, after five more
were reported yesterday out of almost 124,000 cases.
Ottawa has launched the next phase of support for Canadians left jobless due
to COVID-19.
A big part of the plan will involve transitioning unemployed Canadians to
Employment Insurance and away from the Canada Emergency Response Benefit.
Employment Minister Carla Qualtrough says after months of work, the E-I
system has been beefed up to handle the influx of benefit recipients.
The E-I changes, along with extended CERB benefits and other new supports,
will cost an estimated $37-billion.
—-