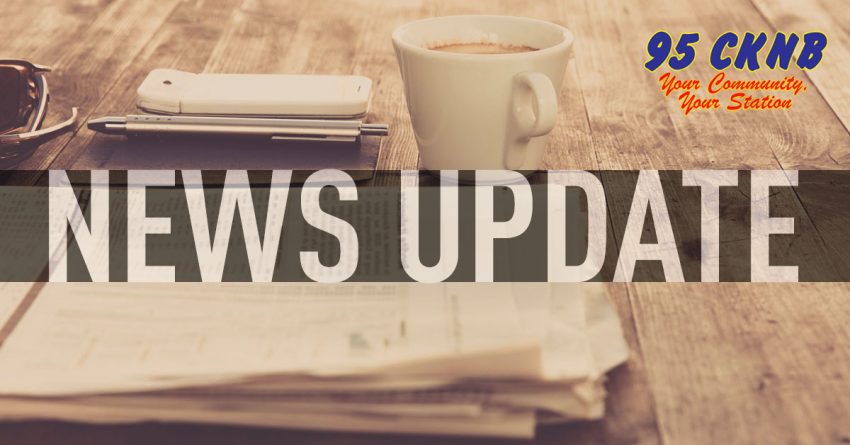 CKNB NEWS UPDATE FRIDAY AUGUST 28 2020
—-
CAM – MURPHY VISIT
New Brunswick's Lieutenant-Governor Brenda Murphy visited Campbellton
yesterday as she spent a couple of days in the city.
According to the Tribune Murphy held a reception at the Restigouche River
Experience Centre and raised the Pride flag along with other city officials.
Murphy who hasn't been to the area since she was a teen says she was invited
by Mayor Anglehart-Pauline and she's glad she came because she had forgotten
how beautiful it was.
During here time in Campbellton she went canoeing, climbed Sugarloaf Mountain
and had a tour of the textile mill.
—-
MIR/CAM – BAS BOAT FIRE
A fire at a shipyard in Bas-Caraquet yesterday afternoon caused extensive
damage to a new boat under construction.
According to Radio Canada some welding work was underway when the fire was
reported shortly after noon.
Fire crews quickly brought the fire under control and the building was not
lost, but the obat sustained heavy damage.
The facility is owned by boat repair company Friolet Services Maritimes.
—-
CAM – HOCKEY ISSUES
Despite many unknowns the Restigouche North Minor Hockey Association appears
to be planning for an upcoming season.
A document released by the group called 'So You Wanna Play Hockey' breaks
down information on what is being done to get things up and running.
The section labelled operational plans goes over things like physical
distancing and sanitization while also referencing a need for further
volunteers to relay information to teams.
Registration is still planned to open next week and will be a digitalized
process with Hockey New Brunswick guidelines in place for when kids hit the
ice.
——–
MIR/NB – LEGERE OBJECTION
Miramichi council is deciding whether it will send formal opposition against
the potential day parole of notorious serial killer Allan Legere.
Mayor Adam Lordon and councillor Tara Ross-Robinson both told the Leader they
have received numerous calls from residents fearful that Legere could return
to the community.
Lordon says they intend to write a letter expressing the concerns of citizens
as so many are still impacted by the Legere's crimes of more than 30-years
ago.
The hearing has been moved to November to decide if the man known as the
Monster of Miramichi will be allowed to leave prison, believed to be in
Alberta on day passes.
——-
NB – BACK TO SCHOOL PLANS
More details have been unveiled on the back to school plan with alternating
attendance days for some high school students.
Officials say some rural students will have days at home due to space
requirements, but those will be spent with online learning.
Schools with adequate space will continue with daily attendance with a
schedule of effected schools expected next week.
School sports will go ahead with decreased spectator numbers and physical
education will be conducted in classroom bubbles.
The province will be holding another update on Tuesday revealing more of the
plan.
—-
NB – CAMPAIGN WRAP
On the Campaign trail yesterday, Kevin Vickers was in Moncton where he
pledged to fully implement a 10-year affordable housing funding agreement
previously signed with Ottawa  that he says has stalled under the Higgs
government.
Blaine Higgs was in the western part of the province promising to help
municipal transit systems cover pandemic related losses  – while defending
the decision to turn down transit funding from Ottawa.
Elsewhere, Green Leader David Coon was in Sackville and Moncton, promising to
decentralize health care and give more decision making power to community
health boards.
NDP Leader Mackenzie Thomason joined a rally in Rothesay to protect public
access to abortion in New Brunswick; while  Kris Austin of the People's
Alliance  was in the Fredericton region.
—-