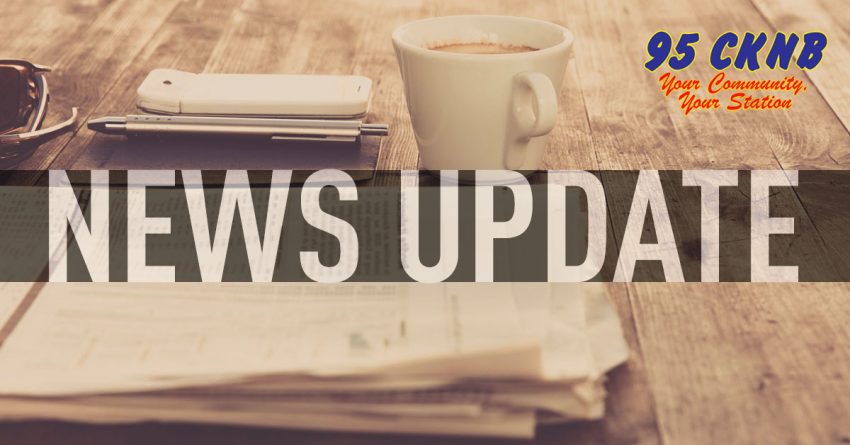 CKNB NEWS UPDATE FRIDAY FEBRUARY 22 2019
CAMP
—-
*CAMP REGIONAL COPS
Catalyst Consulting, hired to study policing in
the Chaluer region is recommending the creation of a regional police force.
The report recommends issuing a tender that could allow the RCMP to take over
the duties of the BNPP and Bathurst police, or creating an entirely new
Chaluer Regional Police Force to amalgamate services.
It pegged the cost of new regional force at  8-million a year, 1.7 million
cheaper than the combined cost of policing the region right now.
—-
*CAMP DAL
Dalhousie is buying a new street cleaner.
It will apply to borrow from the Municipal Capital Borrowing Board 300
thousand dollars over a five-year term to pay for it.
It will able to help in many capacities other than just cleaning the street,
and will even be able to cut asphalt around manhole covers for repairs.
SJ-Oland trial
Testimony at the Dennis Oland trial yesterday was from people who were
working late in a print shop under Richard Oland's office.
Owner John Ainsworth testified they heard thumping from above in Richard
Oland's office…but he was vague on the time, saying it was anywhere from
6:00pm to a little after 8:00 that night.
The timing is important as Dennis Oland told police he left the office around
6:30 and security video puts him in Rothesay at 7:30.
—-
RCMP
The Bathurst/Northeast District RCMP is asking for your help to find a stolen
snowblower.
It is believed it was stolen between January 22nd and the 23rd from a shed
near École La Croisée in Robertville.
The snowblower is a blue, Yamaha Y S 1 0 2 8 J.
—-
/CAM – LOTTO WINNERS
Two sisters who live across the road from each other in Rivere du Portage on
the Acadian Peninsula picked up their Loto check for $5-million in Moncton
yesterday.
Lorriane and Pauletter Hache were the winners of the February 13th  Lotto 649
draw. They have been taking turns picking up lotto tickets over the past
couple of years and Lorraine happened to be the one who purchased it for the
lucky draw.
——
NB-Higgs-Washington
Premier Blaine Higgs is in Washington to meet a number of governors and
promote New Brunswick.
Higgs and a couple of other premiers are talking trade and energy at the
meeting of the National Governors Association. Higgs says he's looking
forward to meeting with the governors and enhancing relationships with them.
But his main purpose is to continue fighting for an exclusion for New
Brunswick from higher U-S tariffs on softwood lumber.
—-
NB/MCTN-Dieppe-Incident
A preliminary hearing will be held in Mocnton in June for a Halifax-area
woman charged in a bizarre incident that left her injured after a
confrontation with RCMP in Dieppe.
C-B-C reports the date was set during a brief court appearance yesterday for
Morgan Maryanne Connors. She faces 13 charges in connection with the
incident which started with her crashing her car near the airport then shots
were fired at Mounties who responded. An officer responded and shot Connors
who has since recovered.
—-
*ALL LIFE IN PRISON FOR DEATH OF INFANT SON
Twenty-two year-old Cheyanne Harris, an Iowa woman whose infant son's
lifeless body was found in a baby swing has been imprisoned for life without
possibility of parole.
That is due to the death of 4-month-old Sterling Koehn, whose body was found
in August of 2017 in a maggot-infested diaper in a sweltering bedroom.
He died of malnutrition, dehydration and an E. coli infection.
The baby's father, Zachary Koehn, has also been sentenced to life in prison.
—-
NS-Fatal-Fire
The federal government is looking at bringing Syrian family members to Canada
to help the mother who lost her seven children in the Spryfield tragedy.
Prime Minister Trudeau says Immigration Minister Ahmed Hussen is giving the
case of Kawthar Barho's family his personal attention. Trudeau wouldn't
provide details but told reporters his government is looking at what can be
done to bring the family together to provide a little solace at this time of
unbelievable tragedy.
She has no family in Canada except her husband, who remains in critical
condition in hospital.
—-
REG – WHALE BABIES
Researchers have now reported seeing seven right whale calves off the
southern U-S coast this winter — a glimmer of good news for the  endangered
species.
Fisheries biologist Barb Zoodsma says seven is much better than last year
when there were none, and just five in the year before that. Zoodsma says
scientists hope to see more calves by the end of the calving season, around
mid-April. The current population of North Atlantic right whales is estimated
at just 411.