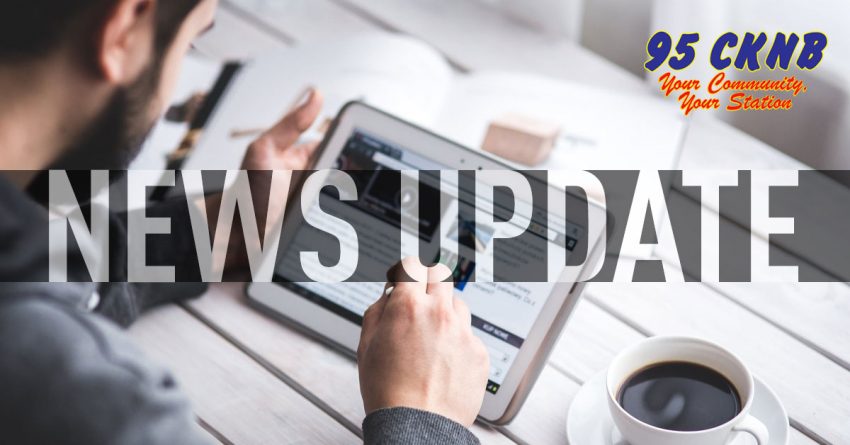 CKNB NEWS UPDATE FRIDAY JUNE 19 2020
——-
CAM/NB – VISIT CAMPBELLTON
New Brunswick is no longer advising against non-essential travel to and from
the Campbellton region hit by an outbreak of COVID-19, although the area does
remain in the orange phase.
Chief medical officer of health Dr. Jennifer Russell made the announcement in
a statement reporting no new cases of COVID-19 in the province.
That leaves the total confirmed cases at 164, including two deaths of
residents at a long-term care home.
Russell says 27 cases are still active with two patients in hospital,
including one in intensive care.
Nationally we have surpassed 100-thousand cases and 83-hundred people have
died from COVID-19.
—-
CAM – MAYORS THANK YOU
The Restigouche Mayors Forum has sent out a release to thank and recognize
healthcare workers and service professionals working in zone-5.
The mayors and representatives of the LSDs say these employees deserve praise
and they wanted to applaud their contribution to the community.
Also highlighted was the ongoing work the forum says is happening between
them and the provincial government to ensure workers have all the support,
equipment, and resources needed to do their jobs.
—-
NB/CAM – UNSAFE HOSPITAL
Some staff who have worked in the COVID-19 unit at Campbellton Regional
Hospital say existing safety protocols don't make them feel safe.
Three unidentified workers spoke with CBC saying they have been warned by
Vitalite to not speak to media as the number of infections of hospital staff
has grown to at least 10.
Some of the issues identified are virus unit staff using the same locker room
as other staff, not being issued hair and shoe coverings, and working in other
units after treating COVID patients.
Vitalite CEO Gilles Lanteigne said during a virtual media scrum yesterday
(WED) they were 'very, very confident' in current controls and are working to
reassure staff.
—-
NB/CAM/MCTN – CIGARETTE BUST
Saint-Leonard RCMP arrested a 34-year-old man from Dieppe after seizing over
104-thousand illegal cigarettes in Saint-Jaques.
Police say on Wednesday afternoon they stopped a vehicle at a check-point on
the Trans-Canada Highway and noticed contraband tobacco inside the vehicle.
A search revealed more than 500-cartons of illegal cigarettes… which where
promptly seized along with the vehicle.
The man was arrested and has since been released pending a court date in
October.
—-
CAM – MURDER TRIAL DATE
A date has been set for the second-degree murder and arson trial of the man
accused of killing his mother in Val d'Amour in 2016
According to the Tribune 43-year-old Charles Maltais appeared in court via
teleconference on Wednesday were a new trial date of January 18th was set.
Five weeks has been set aside for the second-degree murder trial involving
the death of 71-year-old Lucille Maltais who's body was found in a fire at
her home in the rural community.
Maltais was arrested in British Columbia in May of 2019 and has been held in
custody since that time.
——-
NB  VACCINE DEFEATED
The bill to to mandate vaccinations for New Brunswick's schoolchildren has
been defeated in the legislature.
The bill, brought forward by Education Minister Dominic Cardy, was defeated
22-20 by in a vote yesterday afternoon.
It would have eliminated all but medical exemptions, meaning children who were
not vaccinated for religious or philosophical objections would not be able to
attend school
Premier Blaine Higgs supported it, while six Conservatives went against the
party voting no along with 12 Liberal MLAs, and the three People's Alliance
members… the Green's abstained.
Cardy tweeted after the vote he was disappointed some MLAs couldn't stand up
against the bullying, the harassment and threats from anti-vaccination
activists.
—-