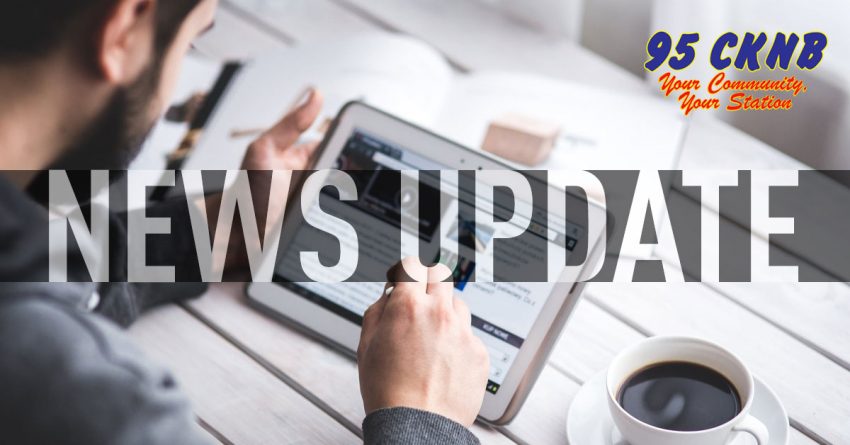 CKNB NEWS UPDATE FRIDAY JUNE 5 2020
—-
NB-CAM-First deatrh
New Brunswick has registered its first death from COVID-19.
84 year old Daniel Ouellette was a resident of the long term care home in
Atholville (Manoir de la Vallée). His son Michael tells the Tribune he was
diagnosed on the weekend and transferred to hospital unresponsive on sunday.
He passed away in the intensive care unit at 5:10 this morning (thur).
Ouellette said other than suffering from Alzheimers, his father was in good
health. He was a father of five and a hard working man…a loving person,
always funny.
No funeral arrangements have been made yet.
—-
CAM – HOSPITAL OPENING
The ER at Campbellton Regional Hospital will be reopening on TODAY at 8am
till 8pm.
Vitalitie CEO Gilles Lanteigne says they have sufficient staff to partially
reopen the ER and says control measures are in place to protect patients and
staff.
A statement from the network is asking peple to contact their family doctor
or 811 when possible before heading to the ER for mild symptoms.
Ambulatory care services and non-urgent surgeries remain suspended for now
according to the release.
—-
CAM – LIBRARY
The Campbellton Regional Library  reopened on  THURSDAY with new
hours and public health recommendations in place.
New hours will be Tuesdays and Wednesday from 12 to 4pm, Thursdays 1 to 7pm,
and Friday and Saturday 12 to 4pm.
Officials say there will be staff at the door who will greet each person and
provide instructions on new procedures.
Masks are not required, but would be appreciated to help protect both staff
and other patrons.
—-
CAM – GARBAGE OVER
Officials in Campbellton are reminding residents that Spring clean-up is over.
A release from the city says waste contractor Luc Entreprises will now only
be picking up household garbage.
Officials say large items such as furniture or construction material will not
be picked up and is the responsibility of residents to transport to the
transfer station.
——-
NB – FURTHER YELLOW
Premier Blaine Higgs announced at yesterday's briefing the province is moving
into the next phase of yellow today with the exception of zone-5.
Gatherings of 50 or fewer with physical-distancing are now allowed, hospitals
will increase further non-emergency surgeries and clinics, and services such
as churches, swimming pools, and gyms can open.
Higgs also says outdoor visits at longterm care homes can now happen.
The premier says if things go well on June 19th indoor visits to longterm
care homes, hospitals, and residential centers can begin.
Also on June 19th Canadian residents with property or who have family in New
Brunswick will be allowed to enter the province as long as they self-isolate.
——–
NB – POLICE SHOOTING
A 26-year-old woman has died after a shooting involving police in Edmundston.
Police were doing a wellness check on an apartment building on Canada road
around 2:30 this morning and were confronted by the women with a knife.
Allegedly the woman who is from British Columbia threatened the officer
causing them to fire their weapon injuring her.
Officers attempted to resusciate her, but she was pronounced dead at the
scene.
Edmundston police say they have called in an independent agency to review the
matter to ensure polcie actions were appropriate.
—-