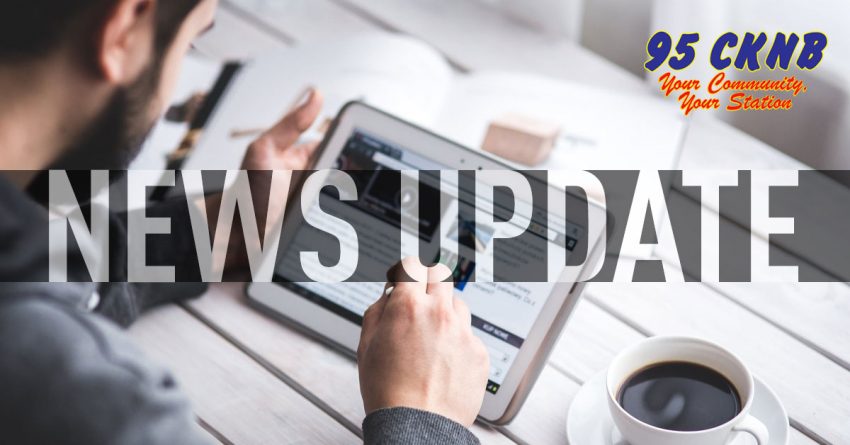 CKNB NEWS UPDATE FRIDAY MARCH 6 2020
—-
CAM/MIR – QUAKES
Residenst in a pair of communities near Bathurst felt the ground shake early
yesterday morning.
Natural Resources Canada has confirmed that a 2.3 magintude earthquake was
recorded north of Bathurst around 3:28am.
The quake, which occurred at a depth of about five kilometers, was lightly
felt in both Beresford and Nigadoo.
—-
CAM – ICE HUTS OUT
With nicer weather hopefully just around the corner the Department of the
Environment has set the date for ice fishing shelters to be removed.
Department spokesperson Anne Mooers tells the Tribune huts must come off
provincial waterways not later than March 31st in the north.
The southern deadline is March 10th which is five days earler than the
typical time frame.
Mooers says the date in the north could be moved up if a warm spell were to
come along.
—-
CAM – LANDRY AWARDS
The accolades for Charlo's Sophie Landry continue to roll in at Mount
Allision University for her work on the Volleyball Court.
According to the Tribune the second year setter was named one of seven
Atlantic Collegiate Athletic Association all stars at the recent banquet.
Landry then led her squad to a 3-2 win in the quarterfinal playoff match
against Dal AC and a 3-1 win over St Thomas in the semi-finals.
Unfortunately the Mounties lost to Holland College in the finals.
——–
NB –  VIRUS UPD
New Brunswick's acting medical officer of health says four people have been
tested for coronavirus and they are waiting on results from others but there
are no confirmed cases in the province.
Dr. Cristin Muecke says precautions should be taken nonetheless including
frequent hand washing and staying home when sick.
Muecke says March break travellers and anyone returning from outside the
country should also monitor themselves for symptoms _ including fever, cough,
and difficulty breathing _ for 14 days.
She says anyone returning from Hubei province in China or Iran needs to
self-isolate for 14 days.
—-
NB – SYRUP
When it comes to maple syrup production in Canada, Quebec dominates, but a
claim by Ontario of being Number Two has left a sour taste in the mouth of
some producers in New Brunswick.
A television commercial meant for the Ontario market says that province is
second in production, but the claim is disputed by New Brunswick.
The executive director of the New Brunswick Maple Syrup Association says
Ontario only came second once in 2018, when New Brunswick had a bad year.
Ray Bonenberg of the Ontario Maple Syrup Producers' Association says the
commercial was produced late last year when the 2018 figures were still the
most recent, and there was no intent to deceive.
—-
NB – FLOOD PREP
As spring approaches, the thought of another flood is again creating worry
for people living along the Saint John River.
Dawn Sharpe, a resident of Maugerville (Major-Ville) says she faced a massive
cleanup, and is worried about a repeat this year.
The area has been hit with severe floods twice in 2018 and 2019.
The New Brunswick Emergency Measures Organization says the time is now to
start moving valuables to higher ground and to begin creating an evacuation
plan.
—-
NB – GOLF COURSE
The New Brunswick government is taking over the operation and management of
the Mactaquac Golf Course for the next golfing season.
Tourism, Heritage and Culture Minister Bruce Fitch says the move is being
made because the province could not find a private-sector operator during a
recent call for proposals for the course outside Fredericton.
The course had been operated and managed by Kingswood since 2017, under a
10-year operating agreement.
That agreement was terminated in December 2019 at the request of the operator.
—-
NB/SJ – VICKERS VS LOWE
Liberal Leader Kevin Vickers says he will personally look into the long
awaited new school on Saint John's south-central peninsula if it means MLA
Gerry Lowe will stay onside.
Lowe tells CBC  he may vote  in favour of the PC budget if it includes the
school along with industrial tax reform for heavy industry in Saint John.
That would be a huge blow to Vicker's plan to try and topple the Higg's
government when the legislature votes on the budget on March 20th.
Lowe  stated yesterday he may also considering returning to municipal
politics this spring if the PC government were defeated over teh budget,
trigerring an election.
—-
NB – FISH SHOW CANCEL
New Brunswick Fisheries minister Ross Wetmore says the postponement of the
largest seafood show in North America due to coronavirus is understandable
because "safety comes first."
However, Ross Wetmore says the Boston show is an important event for the
province's fish and seafood sectors.
He says it allows companies to reinforce relationships with customers and
generate new leads.
About 100 New Brunswick companies had been expected to participate in the
event, which attracts 19-thousand buyers, but its organizers announced
Tuesday it's being postponed due to the virus.
—-