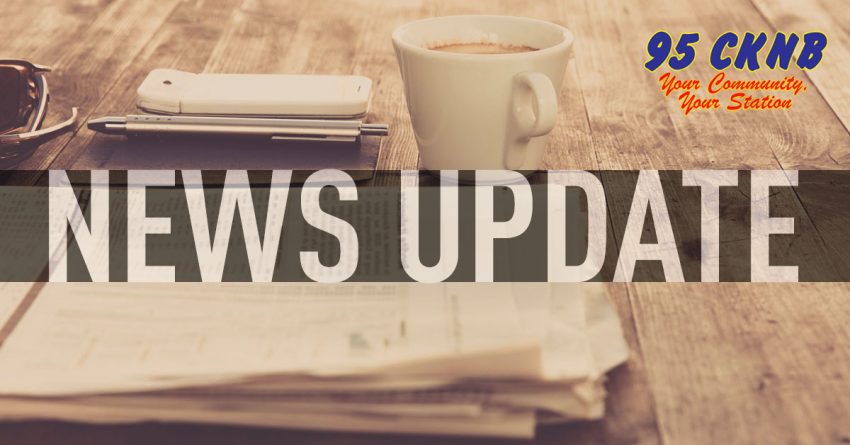 CKNB NEWS UPDATE FRIDAY MAY 24 2019
—-
CAM/NB – MURDER CHARGE UPDATE
Police confirm that a 42-year-old man arrested in the death of a 71-year-old
New Brunswick woman two-and a-half years ago is her son.
The R-C-M-P says Charles Alex Maltais (MALL'-teh) was taken into custody
yesterday in British Columbia and will be brought before a New Brunswick
court in the coming days.
He has been charged with second-degree murder and arson in the death of
Lucille Maltais in October 2016.
Her body was found inside a home in Val-d'Amour after emergency crews
responded to a fire that police later determined was deliberately set.
——–
CAM – HARVESTER ANNOUCEMENT
A. Landry Fabrication in Balmoral is developing a new model of their Landrich
Tree Harvester. MP Rene Arseneault announced yesterday the federal government
is kicking in $500,000 for the project through ACOA. The new machine will see
improvements on past models to reduce fuel consumption and emissions. The
project will create 3 new full time jobs with the potential to create 15 to
30 more by 2021.
—-
CAM – SMELTER STRIKE CONTINUES

After a month on the picket line and no talks … the 280 unionized employees
at Brunswick Smelter in Belledune are ready to go back to the bargaining
table.
Union president Bart Dempsey tells CBC …. the main sticking points are
around the company trying to reduce safety representation and removing early
retirement plans.
The Glencore Canada owned smelter says the plant is not profitable so things
need to change by bringing the plant in line with other similarily sized
operations in New Brunswick.
The province has brought in a mediator and is confident a deal can be reached.
—-
CAM – DALHOUSIE IN THE BLACK
Dalhousie's general operating fund finished 2018 showing a modest surplus of
almost $35,000.
The water and sewer utility had a small deficit of about $14,000.
Town clerk Gilles Legacy tells the Tribune …. it wouldn't necessarily mean
any rate hikes next year.
Legacy says the surplus would have been higher but snow removal costs came in
$30,000 over budget.
—-
CAM – YOUTH FUNDING
Madawaska Restigouche MP Rene Arseneault announced over $910,000 in funding
for the YES program. The Youth Employment Strategy funds will be used to
create 345 summer jobs in the Madawaska Restigouche region. Arseneault says
the government is committed to supporting people at all stages in their
careers. Since 2015 the strategy has helped 220,000 youth find quality jobs.
——–
CAM/NB – BATHURST CATHOLIC COMPENSATION
The Catholic Diocese of Bathurst will be reimbursed by their insurance
company for the money they paid to the victims of sexual assualt by priests.
The Supreme Court refused to hear the latest appeal by Aviva Insurance
Company who had previously been ordered to pay, when the New Brunswick Court
of Appeals ruled in favor of the church. The company claimed the sexual
assault charges did not fall under the church's policy.
The church has paid out 3.3 million dollars to victims and legal fees. The
case relates to allegations of sexual abuse against various priests from the
late 1950s to the early 80s.. many of them against priest Levi Noel, who was
convicted of 22 sex-related offences in 2010.
—-
NB/MIR-Salmon-Restoration
Ottawa has announced $335,000 in funding for salmon restoration in New
Brunswick.
It says the money will be used to bolster knowledge, surveillance and
restoration of the Atlantic salmon population in Kouchibouguac National Park.
Parks Canada issued a statement that a continuing decline in the number of
adult Atlantic salmon returning to spawn in local watersheds is putting the
population at risk. It says Kouchibouguac will work with other Atlantic
national parks to help the recovery of the genetically distinct salmon.
——–
NB – NB LIQUOR AUDIT
The New Brunswick government has ordered an internal audit of N-B Liquor,
just days after it was revealed an accounting issue had resulted in a huge
payout of employee and management bonuses at the Crown corporation.
N-B Liquor says it paid out almost 405-thousand dollars in extra incentives
and bonuses at the end of last year because it had to add an extra week to
the fourth quarter to comply with accounting procedures.
The audit is due from the Office of the Comptroller by September.
—-