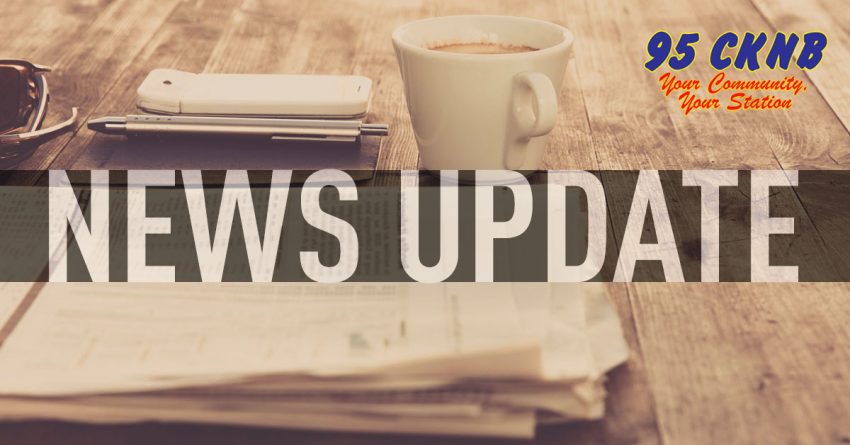 CKNB NEWS UPDATE FRIDAY MAY 3 2019
—-
CAM – BODY RECOVERED
RCMP have recovered a body from the Restigouche River.
Cambellton RCMP tell the Tribune they received a call from a pedestrian
walking on Salmon Boulevard near the Campbellton Regional Memorial Civic
Center around 2:30 yesterday afternoon. The deceased was taken to the
Campbellton Regional Hospital.
The body has not been identified but appears to be a man in his late 50s. The
death is not considered suspicious.
——–
NB/MIR-Info weekend
UNI Financial Co-operation, formerly Caisse Populaire Acadienne, is closing
several branches around the province, according to Info Weekend.
Uni will be shutting down 12 of its 51 branches in the province, including
several on the Acadian Peninsula, because of slower traffic and an increase
in online banking. Clients are receiving letters giving them four to six
months notice.
Branches will be closed in October and November in Balmoral, Allardville,
Inkerman, Pokemouche, Robertville, Rivière-du-Portage, Saint-Isidore,
Moncton (Churchill Street branch), Grande-Digue, and Sainte-Marie.
————-
NB/MLA RAISES
MLA's are giving themselves a raise.
An all party committee has agreed to provide roughly a million dollars for
key salaries and money MLA's are given to spend in their home ridings. Each
MLA will now receive a $50,000 allowance for constituency spending, up from
$40,000.
Brunswick News reports the Government House Leader will see a salary increase
of more than $26,000. The official opposition leader will get an $11,000
raise. Party leaders and whips increase $2,500…on top of the base salary of
$85,000 all MLAs receive.
Not every MLA supports the pay hikes. Michelle Conroy has announced she's
resigning as Green Party whip so she won't qualify.
—-
NB-Flooding-Health
Health Canada is warning of the dangers of mould in homes hit by spring
flooding.
A federal biologist says mould can cause eye, nose and throat irritations,
coughing, wheezing, shortness of breath, and it worsens asthma symptoms.
The Canadian Red Cross is distributing household clean-up kits to homeowners.
In most cases, a clean-up done by professionals is recommended. (18)
—
NB-Nursing-Home-Protest
Nursing home unions are continuing their sit-in in the offices of Social
Development Minister Dorothy Shepard in Fredericton.
Police are letting them stay but say if they leave they won't be allowed back
ion…so the union eaders have sleeping bags and are getting food from their
supporters who are picketing outside.
Shepard last week said the unions were given an enhanced offer. The unions
say they have yet to see it and are demanding a meeting with Shepard…and
won't leave until they get it.
—-
NB/MIR-Deadly bed sore
The Vitalite Health Network is reviewing its proceedures in dealing with
bedsores.
Steven Hawkins told CBC his 82 year old mother Lola Chiasson Hawkins was
admitted to hospital in February of last year after falling and breaking her
hip at her home in Caraquet. She spent the last 14 months in a number of
hospitals because of complications including a horrendous bed sore that went
right to the bone. His mother died last month at Dr. Georges-L-Dumont
Hospital in Moncton.
The Vitalité Health Network is review its practices in addressing bedsores
and promises that change is on the way.
Hawkins has a hard time accepting that, saying he still hasn't been told the
cause of his mother's death.
—-
NB – NB POWER HIKE
N-B Power is applying for a rate hike.
The Energy and Utilities Board says the utility is asking to increase
residential rates by 2.5% and small industrial customers by 1.7%.
Public Hearings on the request will be held May 21st to 31st. Members of the
public wishing to attend and comment must register with the board today.
—-
ATT MURDER
A Moncton woman has changed her plea and admitted to trying to kill another
woman in December.
The Times and Transcript reports 52-year-old Jeanne Marie Pond entered a
guilty plea for attempted murder yesterday. Pond admitted stabbing a woman in
the parking lot of a business on Vaughn Harvey Boulevard. The victim, in her
forties, was treated in hospital and later released.
Pond will return to court for sentencing on July 4th.
—-
MON -TEACHERS MEETING
Expect some traffic tie ups this morning as thousands of teachers from across
the province gather in Moncton.
The Teacher's Association Council Day is being held at the Moncton Coliseum.
Roughly 4,000 teachers are expected to attend the event, which will likely
cause some traffic headaches in the area – particularly between Berry Mills
and the Coliseum as the teachers arrive until 9:30.
—-
MIR-Escape?? thwarted
Miramichi police got a tip wednesday about a man wanted on several warrants.
They finally tracked the 28 year old man down at the Moncton International
airport waiting to board a flight. They put the cuffs on him and brought him
back to Miramichi where he is being held in custody until a court appearance.
No name is being released yet…nor what the warrants were for.
—-