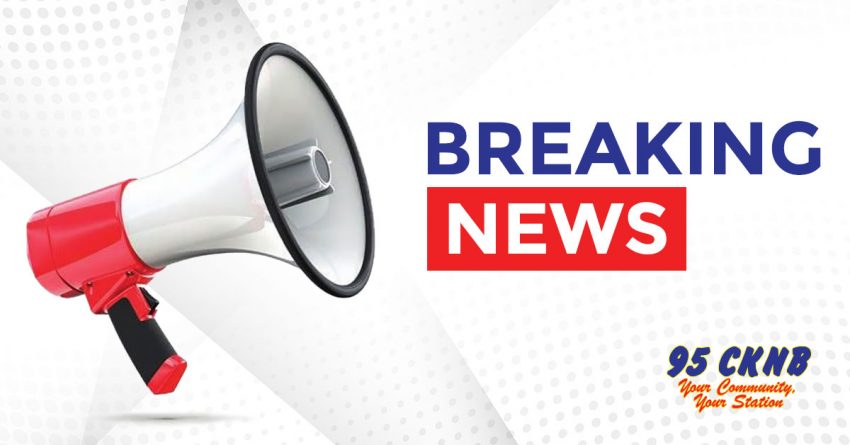 CKNB NEWS UPDATE FRIDAY OCTOBER 2 2020
—
*CAM/NB-BEARS
Bears have become a fall nuisance in some parts of the province.
In the village of Pointe-a-la-Croix … walking trails and parks are closed
because of repeated reports of bears within village limits.
Mayor Pascal Bujold tells the Tribune … he hasn't seen a particularly
aggressive bear in question but he's been told by some people … its a big
mother bear and three cubs.
With hibernation ahead .. bears are fattening themselves up for their long
sleep and can be aggressive.
The mayor says bear traps are being set in a few keys spots to humanely catch
the bears and move them out of the area.
——–
CAM/NB-SPRUCE BUDWORM
Efforts to control the spruce budworm in the province appear to be successful
so far.
That's the conclusion of a federal research scientist although he also says a
threat still exists from a massive infestation that is gobbling up nearby
Quebec forests.
Rob Johns of the Canadian Forest Service says about 35-thousand hectares is
being treated this year compared to almost a quarter million two years ago.
Johns says his research team is hoping new data will show where the budworm
is most active, and determine how well this year's efforts went and help plan
for next year's activities.
Researchers are also studying to see if climate change has any effect on the
budworm.
——–
NB-Fredericton-Shooting
An R-C-M-P team that responded to the killing of four people in Fredericton
two years ago told court about a chaotic scene where they thought their lives
could be in danger.
Three officers testified yesterday at the trial of Matthew Raymond, who is
charged with first-degree murder in the shooting deaths of Donnie Robichaud,
Bobbie Lee Wright and Fredericton police constables Robb Costello and Sara
Burns.
Corporal Jean-Francois Comeau says at one point he saw the barrel of a rifle
pointing directly at him. Comeau told the jury he was holding his ballistic
shield as he jumped on the suspect and started punching him in the head until
other officers had him restrained and the weapon removed.
—-
NB-School COVID testing & proceedures
Education Minister Dominic Cardy says his department is working on ways to
speed up testing procedures for students in schools.
Cardy says it was a topic discussed at yesterday's cabinet meeting with
absenteeism because children with two or more symptoms like the sniffles and
a sore throat have to stay home until they can be tested….and then there
are the waits to get test results back. The minister says they've heard the
complaints and are doing what they can to speed things up, such as changing
the symptoms checklist, so parents don't have to take as much time off work
to stay home with the kids
—-
NB – CANNBIS SALES
Sales have been burning hot at Cannabis New Brunswick.
The crown agency is reporting an 87% increase in sales for the second quarter
of this year compared to the same period of last year. That left Cannabis NB
with a profit of $3.3 million for the quarter, which was used to pay down a
big chunk of the agency's start-up debt. The Higgs government opened a
bidding process last year for private interests to take over the legal sale
of cannabis in New Brunswick…but there's been no word yet if the government
may be rethinking the idea of selling off CannabisNB now that the agency is
turning a healthy profit.
—-
NB – COVID UPD
New Brunswick has now gone six straight days without a new case of Covid-19.
Public Health says there are still six active cases remaining in the province.
None of the other Atlantic Province reported any new cases today either
-something that can't be said outside of province outside the Atlantic
bubble.
Quebec reported a staggering 933 new case yesterday along with 16 additional
deaths; while 538 new cases were reported in Ontario. Quebec has had, by far,
the most cases in Canada. So far well over half the cases nationwide and well
over half the deaths.
—-
NB –  STAYCATION REBATES
The province is now accepting applications for its staycation rebate.
The Higgs Government previously announced any New Brusnwickers travelling
within the province this summer could submit their receipts and receive a 20%
rebate on expenses up to $200 per person. Eligible expense claims include
travel costs, such as ferries, parking or vehicle rentals; accommodations;
food and drink; and activities which can include such expenses as entrance
and admission fees to events and museums.
Applications for the rebates can be found on the tourism section of the
provincial government website and must be submitted no later than October
30th.
—-