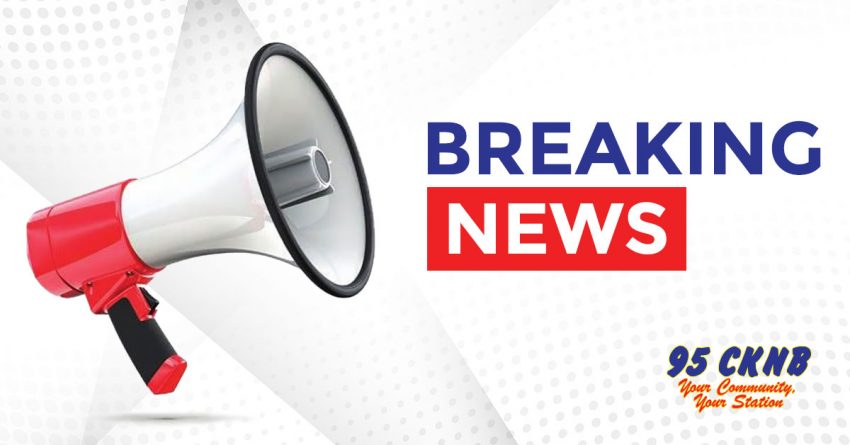 CKNB NEWS UPDATE FRIDAY OCTOBER 9 2020
CAM – SUGARLOAF/MINI-BUBBLE
Along with the mask announcement the Premier also closed the border between
Listuguj First Nation, Pointe-a-la-Croix Quebec and Campbellton.
Higgs pointed to a rising number of cases in Quebec saying it was the best
way to keep New Brunswickers safe.
Students of K-8 school will still be able to cross, but high school students
will switch to remote learning… residents will only be able to cross for
essential services.
The province also announced 3 new cases, one in the Campbellton region which
has been linked to Sugarloaf high school.
The school has been closed for the day to allow contact tracing and
cleaning… Principal Mike O'Toole says parents will be contacted by Public
Health if their child was exposed to the virus.
Students not contact will be able to return when the school reopens.
—-
CAM/NB – SUGARLOAF CLOSED
Sugarloaf Senior High School in Campbellton has been closed for today
following confirmation of a case of COVID-19.
Principal Mike O'Toole says they are working with Public Health to identify
any students and school personnel who may have come into contact with the
virus.
O'Toole says parents will be notified if its deemed their child was in
contact with the confirmed case and the school will be closed to allow for
proper contact tracing and sanitization.
The release says if parents are not contacted by Public Health students will
be allowed to return to school without self-isolating when it reopens.
——–
CAM – POSTAL BOXES NEEDED
Brigitte Duguay sent a letter to Campbellton council about an area her
husband was badly injured in while delivering mail in 2017.
According to the Tribune the letter asked for council to endorse community
mailboxes on a stretch of road in Richardsville to ease the risk for mail
carriers in the area.
After the accident, a community box was put in, but after opposition from the
public it was removed and door to door service resumed.
Duguay says they're needed especially in the winter with no visible sidewalks
and low visibility.
Council said it would look at past documents on the issue before responding
to Duguay's request.
—-
CAM – BIOMASS CONVERSION CASH
Ottawa and the Canadian Federation of Muncipalities have annoucened over
417-thousand-dollars in funding for energy efficient heating projects in
four local communities.
The money, announced yesterday by MP Rene Arsenault and local mayors, will
be used to replace fuel burning furnaces with efficient biomass boilers a in
four municipal owned buildings –  including Town Hall in Atholville,
municipal garage' s in both Caraquet and Rivere-Verte  – and the Regional
Emergency Centre in Saint Leonard.
The project aims to reduce greenhouse gas emissions and provide energy
savings –  while also providing a market for residual forestry biomass to be
used as a fuel source.
—-
CAM – BYLAW HEARING
The City of Campbellton has scheduled the public hearing for the bylaw to
prevent buildings downtown being torn down for parking.
A release says the hearing will take place during the regular council meeting
on October 13th at 7:00pm in council chambers.
Any resident who wishes to speak for or against the bylaw will be given the
opportunity during the hearing and written submissions are also accepted.
Council stated at its recent meeting they want businesses to be developed,
not ripped down and made into parking lots.
—-