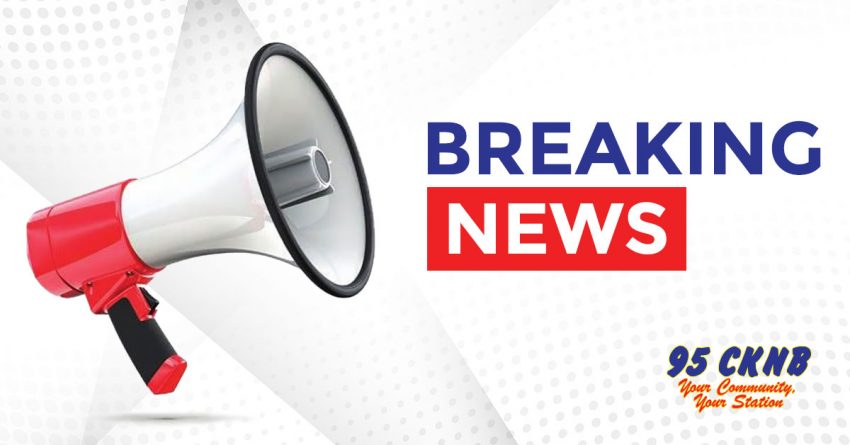 CKNB NEWS UPDATE FRIDAY SEPTEMBER 25 2020
—-
NB/CAM – BUBBLE SHRINK
Premier Blaine Higgs says with the rise in COVID-19 cases in Quebec is time
to tighten up the northern travel bubble.
The province announced yesterday most Avignon (AV-ING-YON) county
residents… which borders Campbellton… would no longer be able to travel
into New Brunswick for non-essential travel.
However with no reported cases in Listuguj First Nation and Pointe-à-la-Croix
those residents will still be allowed to cross the border for day trips
without self-isolating.
Quebec has entered the second wave of the virus and Premier Higgs says with
the change in the alert status in the region it was time to close it down.
—-
CAM – VET CLINIC CLOSED
The Lepine Veternary Clinic in Atholville has posted a sign on its door
saying it's closed due to a possible client contamination.
Seen on social media the sign says as you know the virus is still present
among us and due to a possible contamination we will be in quarantine.
The clinic says the health of pets is a priority, but they are also concerned
about clients health.
The Tribune reports the province would not comment on if the case is linked
to the Quebec resident who works in Campbellton that tested positive for
COVID-19.
—-
CAM – NURSING HOME
With that confirmed case of a Quebec resident who works in Campbellton and
the increased activity across the border the Campbellton Nursing Home has
shut its doors to visitors again.
A release by the facility also known as the Village says the move is
effective immediately.
Officials say only external window visits and visits for those in palliative
care will be allowed by appointment.
The move mirrors what long term care homes did during the first wave to
protect the vulnerable population.
—-
CAM – NOISE AGAIN
What is becoming a regular fixture at Campbellton city council meetings was
discussed again this week… noise on the waterfront.
At issue is people who use the city owned property behind homes on Ramsay
Street partying and revving engines late at night.
According to the Tribune council was told fencing would cost
16-thousand-dollars, which is cheaper than the 25-thousand for concrete
blocks suggested last month.
Council decided while options to restrict usage of the area are explored
cameras would be used to monitor the lot with footage turned over the RCMP
when there is an incident.
—-
CAM – RECYCLING POLICING
If your slipping some garbage into your curbside recycling you might want to
be aware its being watched.
As the recent Restigouche Regional Service Commission the Tribune reports
members were told some of the recycling has been coming in with trash in it.
Executive Director Betty-Ann Fortin says they are going to be paying close
attention to trucks coming in to narrow down which area is responsible.
Fortin says when they find out which municipality or LSD is getting the most
rejects they can start sending out some messaging.
—-