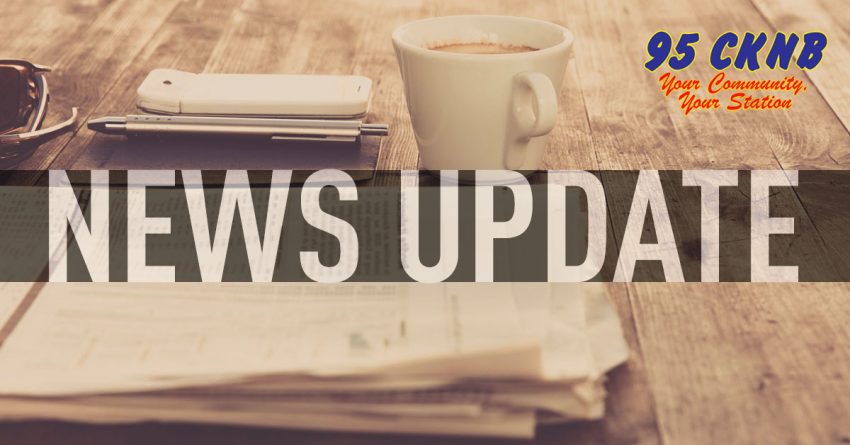 CKNB NEWS UPDATE FRIDAY SEPTEMBER 27 2019
—-
CAM – BUSINESS BANQUET
The popular Entrepreneurial Celebration Banquet will have a theme of
Generating Action Through Generations at this years event.
Melissa Irvine, Assistant Director of the Restigouche Entrepreneurship Centre
tells the Tribune, the theme is fitting as different generations of business
all have something to contribute.
Pierre Battah… an expert in multigenerational work environments and
referred to as the generational guru will be the guest speaker.
The banquet will be held October 23rd at the Campbellton Regional Memorial
Center.
—-
CAM/MIR – B & E
RCMP are investigating a beak and enter north-west of Bathurst.
Police say someone broke into a home on Chemin Nicolas-Denys while the owners
were away sometime between September 9th and September 11th.
Several items were stolen from the home, including tools, a television, a
canoe and a Blue Yamaha ATV. Anyone with information is asked to contact the
Bathurst RCMP or CrimeStoppers.
—-
CAM/MIR – SHARK PING
It seems a great white shark was swimming around in the Bay of Chaleur
yesterday morning.
According to the Tribune the shark named Brunswick pinged just before 6:20am
near Belledune.
Brunswick is described on marine data collector Ocearch's website as being a
sub-adult male between eight to nine feet long weighing in at over
430-pounds.
Ocearch said in a post on their facebook page they have never tracked a great
white anywhere near the area during their research.
—-
CAM – LEISURE CARD
Campbellton has announced changes and fees to the leisure card system.
In a release the city says the card feel will remain at 2-hundred-dollars
plus tax, but new this year users can get a card for half price after March
1st.
The leisure card gives access to preferential rates for admission to
activities and registration to various programs.
Mayor Anglehart-Paulin says unfortunately the Regional Civic Centre is not
sustainable under the current funding model so they have no choice but to
keep the leisure card system in place.
—-
NB/MIR/CAM-Where'd the oysters go?
Where have all the oysters gone?
Producers are waiting for a provincial government study on why there's been a
steep decline in the number of oysters in Tracadie Bay. Some producers say
they've lost half their usual volumes. One of them Ernest McGraw told CBC he
believes last winter was particularly hard on the stocks after a windy fall.
Mayor Denis Losier of the Regional Municipality of Tracadie voiced concerns
at a meeting earlier this week saying elected officials are also awaiting the
scientific study so they can start working on solutions.
—-