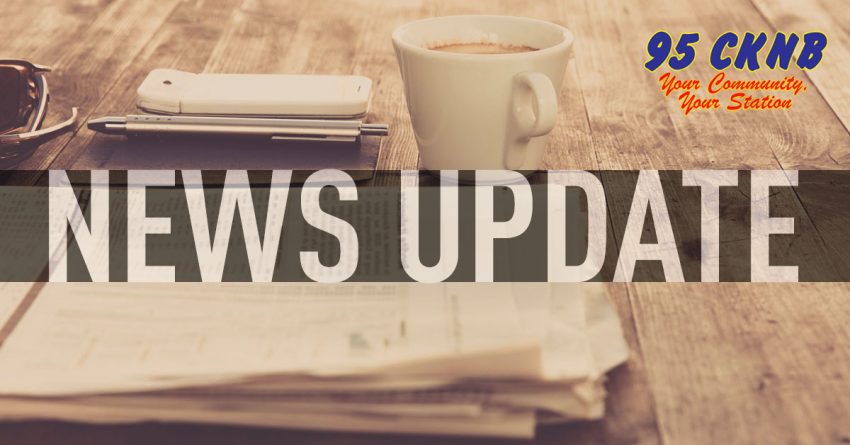 CKNB NEWS UPDATE MONDAY APRIL 27 2020
—-
CAM-DINNER CANCELLED
A well known local dinner event has been postponed.
The Campbellton ladies Diamond dinner is normally held on the Saturday prior
to Mother's Day each year.
Organizer Diane Cyr says a date for the event will be decided after the
province has given the approval for large gatherings.
The ladies diamond dinner supports the breakfast programs for Campbellton
area schools.
—-
CAM-FOOD BANKS
Several northern New Brunswick food banks will benefit from a large donation
from the owners of the Atholville pulp mill.
The AV Group has donated 50-thousand dolllrs to the Restigouche County
Volunteer action Association.
The Valley Food Bank serving Nackawick and the Valley Region and the
Fredericton Food Bank will also each receive 50-thousand.
The AV Group says the total $150,000. is designed to help the food banks cope
with the demand since the start of the Covid 19 crisis.
It says its a way for the company and its employees to support those in need
within the local communities and regions.
—-
NB-SCAM
The R-C-M-P is warning the public about a scam after a person in Eastern
Passage (near Halifax) was defrauded of more than 100-thousand dollars.
Police say the victim received a call from someone who said they were with
Mega Millions and that he had won 18-million dollars and a brand new
Mercedes.
The victim was then directed to deposit money into different accounts at
different banks.
Police say scammers can be very persuasive and convincing.
—-
*NB-FIRES
Several weekend fires in New Brunswick have left 17 people homeless… many
of them children.
Fortunately no one was hurt.
A man and his five children, ages 11 to 18,  have been displaced by a fire
Sunday afternoon that extensively damaged their home in Waterville, New
Brunswick, just north of Woodstock.
—-
A man lost his mobile home and belongings to a blaze on Saturday afternoon to
the east of Florenceville-Bristol.
—–
A woman and two children have been forced out due to smoke damage from a
kitchen fire at their house on a First Nation northeast of Miramichi.
—–
And …seven people including an infant and two other children have been
displaced by a fire that heavily damaged a building containing three
apartments late Saturday evening in Saint-Laurent, north of Bathurst.
Red Cross volunteers in all those commnities have stepped in to help with
clothing and food purchases and temporary lodging.
—-
*NB-HACHE OBIT
Tributes are pouring in following the death of a former member of the New
Brunswick Legislature.
Roland Hache served as the mayor of Petit-Rocher from 1995 to 1999 and as the
member for Nigadoo-Chaleur from 1999 to 2014, during which time he served as
cabinet minister in a number of portfolios.
Premier Blaine Higgs says Hache was a passionate and kind man who represented
his constituents with great distinction.
Liberal Leader, Kevin Vickers, says Hache was known for his quick wit and
passion for helping others.
—-
NB-MURDER
Fredericton police say they've conducted searches in a number of areas in
their investigation into the death of a 31-year-old man just over a week ago.
The body of Clark Ernest Greene of Fredericton was found in Wilmot Park on
April 15th.
In an update on their homicide investigation, police say an autopsy has been
completed but they are still waiting for a final report with toxicology
results.
—-