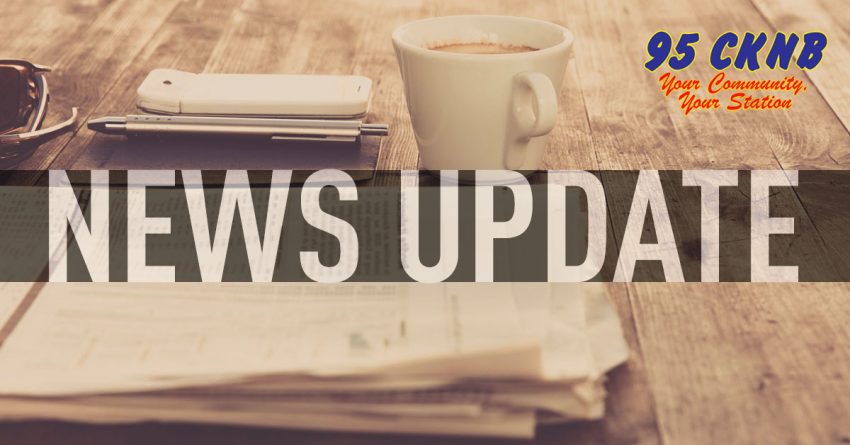 CKNB NEWS UPDATE MONDAY APRIL 29 2019
—-
NB-Flood comp-Trudeau
The prime minister isn't ruling out federal funding to help relocate
communities facing a recurring flood threat.
Flooding not only in New Brunswick but also Quebec and Ontario has forced the
evacuation of thousands of people and caused widespread property damage.
Prime Minister Trudeau was asked at a news conference yesterday whether
Ottawa is investing enough in flood prevention measures. He suggested the
federal government needs to ensure future infrastructure spending targets
projects that will protect communities and ensure their long-term prosperity.
—-
NB-Flooding roads
Geoffrey Downey, at E-M-O asked for continued patience with road closures and
for drivers to respect the barricades. He says you should check with New
Brunswick 5-1-1 for the latest road closures.
Those include in Miramichi, South Barnaby River Road and Mullin Stream Road's
gravel section and in Wyers Brook Road in Bathurst.
—-
NB-Accidents
Two young women from New Brunswick were seriously injured in a two vehicle
accident in Nova Scotia.
They were in a car that was hit by another vehicle near Springhill saturday
evening. RCMP say the two women, aged 21 and 22, were taken to hospital with
life-threatening injuries. Their hometowns were not given. The man driving
the other car suffered serious injuries as well.
RCMP are still investigating.
—-
NB-Fire
A fire early Saturday morning did significant damage to an apartment building
under construction in downtown Fredericton.
The location of the blaze forced N-B Power crews to cut power for most of the
downtown, impacting some businesses and forcing cancellation of the farmers
market for the day. It also meant that generators had to be used to continue
pumping flood waters from the basements of buildings around the provincial
legislature.
Crews were tearing down what was left of the apartment building Saturday.
—-
ALL-Que. flooding
Thousands of residents in a flooded suburb west of Montreal had to flee with
virtually no notice, leaving behind pets, medication and other personal
items. The Lake of Two Mountains broke through a dike, flooding streets in
waist-deep water in mere minutes.
In Ottawa, hundreds of soldiers joined more than 2,000 volunteers in
preparing sandbags for threatened properties along the Ottawa River. Troops
are also helping with sandbagging and other flood relief efforts in central
Ontario's cottage country.
—-
ALL-Right-Whales
American officials say the amount of gear Maine lobster fishermen put in the
water must be reduced to protect North Atlantic right whales.
A team from the National Oceanic and Atmospheric Administration wrapped up
several days of discussion about ways to reduce injuries and deaths caused
when the whales get entangled in fishing gear.
Fishermen in Atlantic Canada have been under strict new rules for the last
year in an effort to protect the whales.
—-
ALL-Federal-Poll
A new poll indicates support for Justin Trudeau's Liberals has slipped to a
record low, however, it also suggests that surging Conservative support is
running soft and could fall off as the fall election approaches.
The Leger poll, conducted this month for The Canadian Press, found just 27%
of respondents said they'd vote for the Liberals if an election were held
now. That was 13 points behind Andrew Scheer's Conservatives.
The Tories led in every region except Quebec, where the Liberals enjoyed an
eight-point lead with 31%.
—-