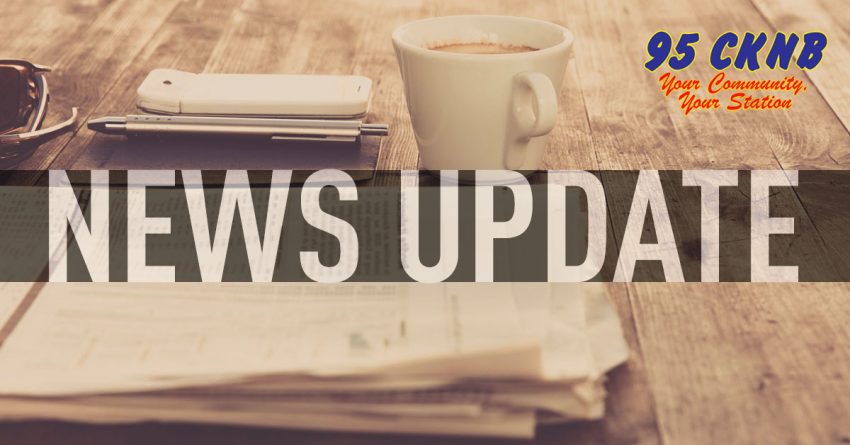 CKNB NEWS UPDATE MONDAY APRIL 8 2019
—-
*CAM-STORM
Much of the region will face another blast of winter today.
Environment Canada's weather service is predicting significant amounts of
snow.
It is estimating as much as 15 centimetres in some parts of the region.
Here in the Campbellton, they estimating about 5 cm but .. the wind will be a
big factor in blowing it all around.
Provincial Transportation Departments are warning travel may become difficult
due to the rapid accumulation of snow and the reduced visibility on the
roads.
——–
NB-Declawing banned
The New Brunswick Veterinary Medical Association is banning the declawing of
cats.
The ban will go into effect July 1st. New Brunswick is the last province to
halt the controversial procedure.
Dr. Mary-Ellen Themens, chair of the association's animal welfare committee,
told CBC the trend among Vets has been to move away from declawing anyway.
She said more studies have shown the procedure wasn't as benign as first
thought and few vets have been offering it recently.
—-
CAM-DAL CAMPSITES
The Dalhousie Marina is expanding its number of waterfront campsites this
summer.
Marina President Marc Areseneau tells the Tribune ….. they plan to expand
its curent ten trailer sites along the water to roughly 40 sites.
Sewer lines for the expansion have already been installed to the new sites,
and water and electricty hook ups are expected to be completed in time for
the summer season.
10 of the sites will be reserved for short stays while the others will be
open for seasonal rentals.
The marina had previously contemplated building cottages on the site.
——–
*NB-RADIO HOST CHARGES
A Fredericton radio host is facing charges after he allegedly tried to
solicit sex from an F-B-I agent who was pretending to be a 13-year-old girl
in Puerto Rico.
Trevor Leslie Doyle was one of two men arrested by the FBI's Child
Exploitation Human Trafficking Task Force.
He has been charged with attempted sexual enticement of a minor.
Capital F-M says the morning show host has been suspended.
——–
MCTN/HFX-Nurse-Investigated
A Halifax medical malpractice lawyer has been asked to represent dozens of
women who suspect they received inappropriate treatment by a nurse at the
Moncton Hospital.
The Horizon Health Network has confirmed at least two cases where patients
required emergency intervention after they were given an unnecessary
labour-inducing medication.
John McKiggan says women who were hooked up to an I-V and started suffering
strong contractions have been contacting the hospital and his office.
The unidentified R-N has been fired and the R-C-M-P is investigating.
——–
NB/SJ-Irvings donate to NCC
J.D. Irving Limited has contributed another milklion dollars to the Nature
Conservancy of Canada. The Telegraph-Journal reports that brings Irving's
total controbutions to the group to $5 million over the years.
The Nature Conservancy says the doination will allow it to conserve more
habitat. It will also help fund conservation and scientific research
projects, Students internships and volunteer programs.
—-
SJ/NB POINT LEPREAU
The Point Lepreau Nuclear Generating Station will be offline for the next
five weeks.
The prolonged shutdown of the province's nuclear power plant is for planned
maintenance work as well as regular testing and inspections that can only be
carried out while the plant is offline.
The shutdown follows a streak of 310 consecutive days of producing power, the
longest consecutive streak the plant has stayed online in the past 25 years.
—-
SJ-ELECTION CASE
The case disputing last fall's election results in the riding of Saint John
Harbour continues to drag on with no end in site.
Lawyers for the PC's and Candidate Barry Ogden were back in court again
Friday.
They've claimed a number of voting irregularities in the riding, which Ogden
lost by just ten votes to Liberal Gerry Lowe.
Some of those allegations, which include inelligible voters and one person
casting two ballots, have been confirmed by Elections New Brusnwick.
In all 78 disputed votes have been identified. 
The Telegraph Journal reports the judge once again granted an extension as
lawyers try to reach an agreement on facts regarding the disputed votes. 
This time the court gave no date or indication of when all involved would be
expected to return to court.
—-—-
MON/SYD
Two Dorchester Prison guards facing charges in the death of an inmate from
Cape Breton will not be going to trial.
Following a preliminary hearing, a judge in Moncton ruled there was not
enough evidence to support a trial against prison guards Alvida Ross and
Mathieu Bourgoin.
They had both been charged with manslaughter and criminal negligence causing
death in the death of 33-year-old Matthew Hines of Cape Breton while he was
incaracterated at Dorchester in May of 2015.
All charges against the two correctional officers have now been dropped. 
An RCMP investigation had determined Hines, who was serving time for a bank
robbery, essentially suffocated after being repeatedly pepper sprayed.
—-