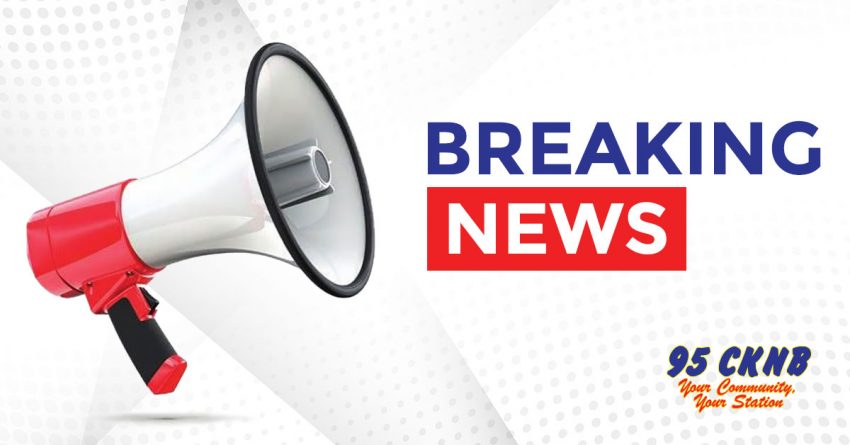 CKNB NEWS UPDATE MONDAY DECEMBER 21 2020
—
CAM-BURNED DEPOT
The Mayor of Dalhousie says he's concerned the province may move the
Department of Transportation depot the burned to the ground last February. He
provincial budget died set aside 2,2 million to rebuild the depot – but says
a location has yet be chosen. The previous Eel River Dundee Depot was
actually inside town limits and generated over 14-thousand-dollars in tax
revenue for Dalhousie. Mayor Normand Pelltier tells the Tribune there is
still a salt storage facility at the former site and the old foundation is
still useable. He says in a central location for servicing the areas
highways. A provincial spokesperson tells the Tribune the Department is still
studying locations that will allow for optimal service delivery.
—-
*CAM/NB-DRUGS SEIZED
New Brunswick R-C-M-P say a 39-year-old Newbridge man faces charges in
connection with the seizure of drugs, a firearm and two stolen off-road
vehicles.
Police say they executed a search warrant at a home on Rote 585 on Thursday
as part of an ongoing investigation into drug trafficking.
Seized were quantities of cocaine, crystal methamphetamine and cannabis, as
well as a firearm and an all-terrain vehicle and snowmobile.
The unidentified suspect is to appear in Woodstock provincial court on March
2nd.
——–
NB COVID-
There are no new cases of Covid-19 to be reported yesterday and the province
is correcting the previous number of confirmed cases
two cases reported in the Saint John Region had been accounted for in another
province.
two cases were have been redacted – one in the Moncton region and one in
Bathurst – because of false positive results
the number of active cases now stands at 45 with three patients in hospital,
one in intensive care
——–
MIR/NB-FIRST VACCINATIONS
84 year old Pauline Gauvin, a long term care resident in Miramichi was the
first person in the province to receive the Covid-19 vaccing over the weekend.  .
Nicolette Noel of Miramichi was the first  nurse to receive the COVID-19
vaccine  – while  Dr. Carl Boucher of Caraquet was the first New Brunswick
physician to receive the injection.
The first vaccinations were  administered Saturday at the Miramichi Regional
Hopsital.
Meanwhile, the province reported five  new cases of Covid-19 on Saturday and
none on Sunday. Public health did revise its total number of cases over the
weekend, saying two Saint John area cases were accounted for in other
provinces; while two other previously confirmed cases had now been identified
as false-positive tests.  As of Sunday afternoon there were 45 active cases
of the virus remaining in New Brunswick.
—-