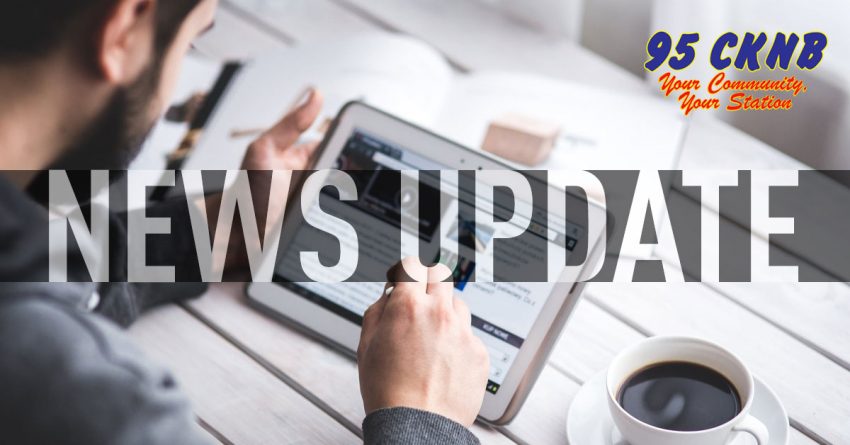 CKNB NEWS UPDATE MONDAY FEBRUARY 10 2020
—
CAM – CARDY TOUR UPD
Education Minister Dominic Cardy's tour on the green paper is making a stop
in Campbellton this week.
Two sessions will take place at the Campbellton Regional Memorial Civic
Centre on Thursday with the english meeting at 4:30 and french at 7:00.
The green paper deals with a 10-year education plan in New Brunswick looking
at ideas around absentism and classroom composition.
Cardy says the sessions will provide a chance for students, teachers,
parents, and community partners to provide feedback on the plan.
—-
CAM/MIR/NB – BATHURST HOMICIDE
BNPP Regional Police say they have arrested two men after a 70-year-old man
was found dead Saturday in Nigadoo.
Police were called to an apartment building on Moulin Street.
Details are few with police declining to comment on what happened or even
what charges the two men are facing.
Members of Bathurst Police Force and the RCMP are assisting with the
investigation. The two accused will be appearing in court this morning.
—-
CAM – DWYER COACH
The Shawinigan Cataractes of the Quebec Major Junior League have named
Dalhousie native Gordie Dwyer as their new head coach.
The Cataractes have been off to a slow start this season and parted ways with
Daniel Renaud yesterday.
Dwyer is no stranger to the league having coached the PEI Rocket now known as
the Islanders from 2011 to 2015.
The former Montreal Canadian also won gold at the Spengler Cup as a coach for
Canada in 2019. His first game behind the bench is tomorrow against
Baie-Comeau.
—-
NB-Higgs on border
Premier Blaine Higgs was in Washington, along with other premiers and Deputy
Prime Minister Chrystia Freeland on the weekend.
They met with Trump administration officials and several governors to talk
mainly about trade, according toi Brunswick News.
Higgs says the tougher approach to trade and beefed-up security by the Trump
administration has transformed the Canada-US border from an inconvenience to
a barrier, and it's hurting both economies.
He and the other premiers called on MPs to ratify the new NAFTA trade deal
quickly. Higgs also had meetings were he focussed on softwood lumber trying
to get duties cut.
—-
NB/AMH/MCTN – MOUNT A BACK
Unionized faculty and librarians at New Brunswick's Mount Allison University
are heading back to work, ending a six-day strike.
Tentative collective agreements between the Mount Allison Faculty Association
and the university were reached early Saturday morning.
Classes and academic programming will resume today. About 150 full-time and
60 part-time employees were affected by the strike.
Details of the agreement will not be disclosed but CTV is reporting students
will receive a 2-hundred-dollar tuition rebate for the lost time.
—-
NB/SJ – MILK PRICES
Dairy farmers in New Brunswick say the closure of the Saputo plant in Saint
John will mean a hike in milk prices.
Paul Gaunce, chairman of the Dairy Farmers of New Brunswick, says farmers
will now have to ship their milk as far as Quebec or Nova Scotia for
processing.
Gaunce says the added cost will eventually be passed along to consumers —
about two cents per litre.
The company announced the closure Thursday, to take effect a year from now.
—-