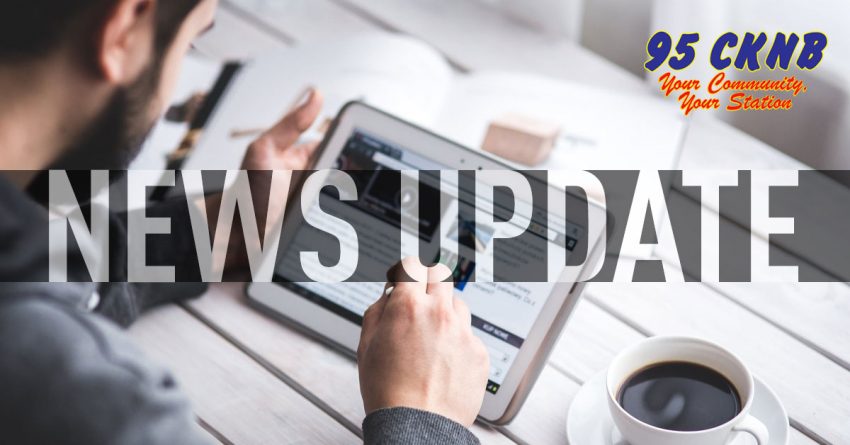 CKNB NEWS UPDATE MONDAY JUNE 15 2020
—-
CAM – HOSPITAL CLOSED
After just reopening last Tuesday the Campbellton Regional Hospital ER is
closed once again due to COVID-19 outbreak.
A release from Vitalite says the ER is closed until further notice along with
visits and non-emergency services.
CEO Gilles Lanteigne says they have no choice but to take the measures
immediately given the evolution of the spread of the virus.
Over the weekend two Campbellton Regional Hospital employees tested positive
leading to the closures as well as new infection prevention and control
measures at the facility.
—-
CAM – ARSENEAULT CONCERN
Madawaska-Restigouche MP Rene Arseneault says he's concerned about the
refusal of certain businesses to service people of Restigouche.
A letter released by his office says those businesses that panicked and
posted notices of people from the area not being welcomed can change that
policy.
Arseneault does thank those that have invited the people of Restigouche into
their shops and businesses in neighboring communties.
The MP concludes by saying north-west New Brunswick is known for standing
together and that is what will have to be done to get back to a normal life.
——–
NB/MIR – SHOOTING WIRE
The chief of Metepenagiag Mi'kmaq (met-EHH'-peh-nah-ghee-ah MIG'-maw) First
Nation says an Indigenous man shot and killed by police was troubled, but not
a violent person.
Chief Bill Ward says Rodney Levi should not have become the province's second
victim of a fatal police shooting in less than a month.
The 48-year-old Levi was killed Friday night in the community west of
Miramichi.
Police allege Mounties were confronted by a man carrying knives and that an
officer shot the man after efforts to subdue him with a stun gun failed.
Quebec's independent police watchdog is investigating the incident.
—-
NB/NS – SHOOTING WALKS
Indigenous groups held healing walks Saturday in memory of Rodney Levi and
Chantel Moore.
Twenty-six-year-old Chantel Moore was shot on June 4th in Edmundston when
police say she also threatened them with a knife.
Marches were held in Edmundston, Fredericton and Moncton, as well as Halifax
and Membertou, Nova Scotia.
The shootings have prompted calls for a broader inquiry into systemic bias
against Indigenous people in New Brunswick's policing and criminal justice
systems.
—-
NB – COVID DEATH
New Brunswick reported its second COVID-19 related death over the weekend.
Public health officials say the person was in their 80s and linked to the
outbreak in the Campbellton region.
The person had been a resident of the Manoir de la Vallee in Atholville
before being hospitalized.
Three new COVID-19 cases were also reported — two are Campbellton Regional
Hospital employees and the other is a worker from the manor.
New Brunswick now has 26 active cases. Nationally there are over 98-thousand
cases and 8107 COVID-19 related deaths
—-
NB/PEI – MAGDALEN TRAVEL
Quebecers heading to the Magdalen Islands by car will be allowed to travel
through New Brunswick and Prince Edward Island to get there starting June
26th.
The Quebec government says it has reached a deal with the two provinces
permitting Quebecers to travel across the borders as long as they have a
special authorization document, a ferry ticket and proof of where they'll be
staying.
They'll be allowed to stop in New Brunswick to refuel, eat or sleep for one
night while in P-E-I, Quebec tourists can stop for gas, but must travel
directly to the Souris ferry terminal from the Confederation Bridge.
—-