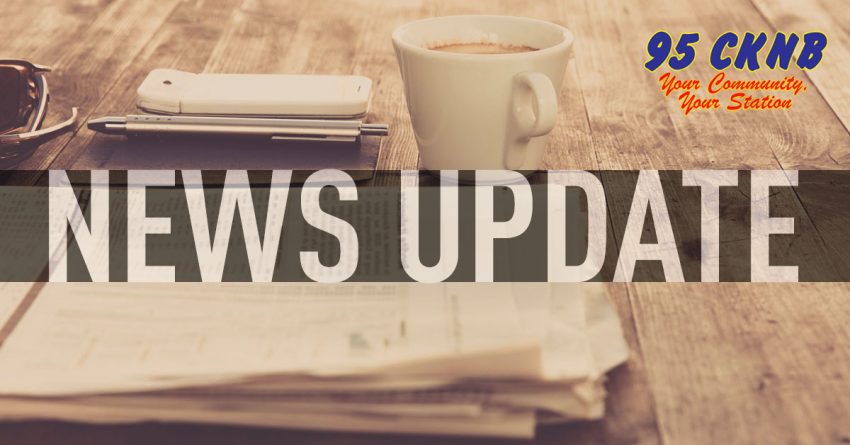 CKNB NEWS UPDATE MONDAY MARCH 23 2020
—-
CAM – RETIRED WORKERS
Vitalite Health is looking for retired doctors and healthcare workers in
Restigouche to come back and aid with COVID-19 measures.
A statement from CEO Gilles Lanteigne says they are looking for people from
all disciplines of healthcare saying they need people who would be willing to
lend a hand.
Those interested can contact the Vitalite's human resource department. The
province is looking at ways to expedite license renewals to get retired
workers back in hospitals.
—-
CAM – ROAD REBUILD
Dalhousie Mayor Normand Pelletier says provinical funding needs to come to
repair Victoria Street in Dalhousie.
Pelletier tells the Tribune he's 60-years-old and he has never seen the
street take a beating like it did this year.
Between George Street and the western town limits appears to be the worst
with residents reporting heavy frost heaves in several sections.
Victoria is technically a provincial highway and the town has recently been
told no provincial road money will be coming to the community so Pelletier
plans to discuss the matter with government
——–
NB – NO NEW ONES
There were no new cases of COVID-19 reported in the province yesterday as
Premier Higgs did not address the media on Sunday.
The number remains at 17 cases with eight confirmed and nine presumptive. A
total of 865 tests so far have come back negative for the virus.
PEI reported its third case that was a woman in her 20s that flew from
Toronto to Moncton on March 16th via WestJet flight 3456, it arrived in
Moncton at 12:05pm.
Anyone on that flight has been asked to self-isolate for two weeks.
PEI and Nova Scotia also restricted their borders over the weekend putting
screening measures in place at all entry points and having anyone entering
the provinces for non-essential travel to go into self-isolation.
There are now approaching 1,500 COVID-19 cases in Canada. The death toll has
risen to 21.
—-
NB/SJ-Rescue
Two women and two young children were rescued after their car went into a
water-filled ditch in East Saint Saint John saturday morning.
Two of the four were listed in critical condition at least report after they
were pulled from the car (on Majors Brook Drive, off McAllister Drive).
When fire fighters arrived, there were a couple of civiliansin the water
trying to get one woman and the two children out of the car. Police aren't
saying how old the children are. They are still investigating.
——-
NB-Food banks
Food banks across the province are being hit hard by the COVID-19 pandemic as
well.
They are gearing up to serve people hit by business closures as well as their
usual clients. They are looking for additional food and cash donations so
they can buy fresh food and keep their shelves stocked.
The Telegraph-Journal reports several foodbanks are also lookingfor
volunteers to help cope with the expected increase in demand.
They have adjusted their operations to avoid spreading the virus…either
limiting the number of people allowed inside at once or by handing out boxes
of food from the door or a window.
——–
NB-Snitchline
The government is setting up a snitch line for people to call who are
concerned about neighbours or others not following the self-isolating rules
or complying with state of emergency orders.
That number will be posted on the government's website today and shared
through social media.
——–
NB-Another westjet flight affected
Another WestJet flight from Toronto to Moncton carried a passenger who has
tested positive for the COVID-19 virus.
A PEI woman in her 20s is that province's third positive case. She arrived
back from out of the country and flew from Toronto to Moncton on  WestJet
flight 3456 that arrived in Moncton at 12:05pm on March 16th.
Anyone on that flight has been asked to self-isolate for two weeks.
——–
ALL – NUMBERS
The COVID-19 death toll has risen to 21.
A local public health unit is reporting Ontario's sixth COVID-19-related
death…. a man in his 80s died yesterday afternoon.
The man's death was the third reported in Ontario on Sunday.
There are 14-hundred-and-72 confirmed or presumptive cases across Canada at
this time with worldwide numbers closing in on 340-thousand with with almost
15-thousand deaths.
—-