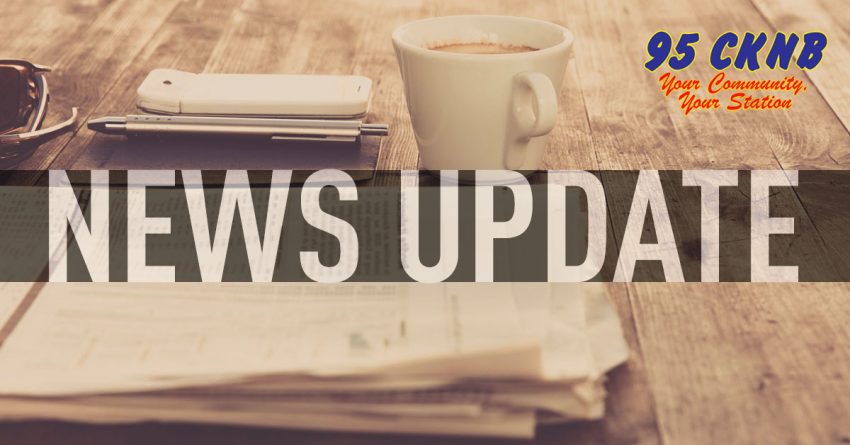 CKNB NEWS UPDATE MONDAY MARCH 25 2019
—-
NB/SJ-Flood preps
The government is holding meetings this week to ask people how it did
handling last spring's flooding.
About 20 residents showed up at one meeting saturday in Quispamsis. The
meetings are to allow residents, community groups and others to give their
reactions to the province's response to last year's floods. The residents
said both communication and preparedness could have been better and they wish
these consultations went further. Bob Alston told CBC we have to look at the
new normal and how to prevent future flooding.
————
NB-Train VS Snowmobile
R-C-M-P in Chipman are investigating the death of a man whose snowmobile
collided with a train.
It happened around mid-morning Saturday on tracks near Hillcrest Avenue. A
69-year-old man died at the scene.
No name has been released and no other details are available yet.
—-
*NB WAY OVERDUE
An overdue book is finally back at the public library in Moncton, 63 years
after it was borrowed.
Librarian Chantale Bellemare says a senior was cleaning his house and
discovered the volume of Relax and Live, a self-help book for relieving
tension and getting better sleep.
The book was due back in May 1956, and at two cents per day, the late fee
would be 459 dollars, but lucky for the senior, the library waived the
penalty.
——–
NB-Rescue
A bus driver from Saint John says he's not a hero after rescuing a man from a
burning car on the weekend.
Orland Clark was driving a group of students and teachers home from a Reach
for the Top competition in Campbellton when they spotted the accident between
two small cars on Route 105 in Nackawic. Clark told CBC one car was on fire
with a man trapped inside. He grabbed a fire extinguisher and, with two
teachers, rushed over and finally managed to free the man before the car was
totally engulfed. The man suffered a broken leg, cuts and a burn to his hand.
Two other motorists had also stopped and freed the driver of the other car,
which wasn't burning. Then the emergency crews arrived.
—-
*ALL TITANIC
If you have a spare 168 thousand dollars, you can get a spot on a submarine
diving 38 hundred metres down to the rusting remains of one of history's most
iconic shipwrecks.
Week-long expeditions to the Titanic are set to leave from St. John's,
Newfoundland this June, in the first manned surveys of the decaying vessel
since 2005.
—-
ALL-Florida-Cdn-Couple-Murdered
Florida authorities are describing a gruesome crime scene as they investigate
the murder of an elderly Canadian couple.
Police say neighbours of Marc and Rita Gagne discovered their bodies Friday
in their mobile home north of Fort Lauderdale.
Area residents — worried after not seeing the couple for a few days —
entered through an unlocked door and then called 9-1-1.
Global Affairs says consular officials in Miami are working with local
authorities to get more information.
—-
ALL-Norway-Cruise-Ship-Mayday
One of 15 Canadians aboard the Viking Sky was injured when the cruise ship
lost power in rough seas off the rocky coast of Norway. Global Affairs Canada
also says consular officials are in contact with those involved.
The vessel issued a mayday call Saturday due to engine problems and fears it
would be slammed against the rocks in eight-metre waves.
Rescuers worked all night and into Sunday to airlift almost half of the
passengers, 479 people, to shore one-by-one by helicopter before the ship was
able to slowly make it to port, accompanied by tug boats.