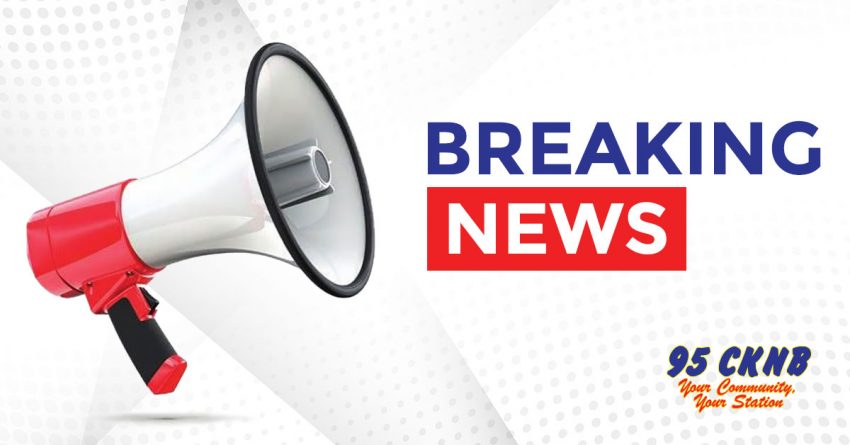 CKNB NEWS UPDATE MONDAY NOVEMBER 2 2020
——–
NB-GIRL KILLED
An eight-year-old girl has died after being struck by a vehicle in Tracadie
on Thursday.
The RCMP says the girl was on a push scooter in a crosswalk at the
intersection of Rue Du Couvent and Rue Principale in Tracadie when she was
struck around 7pm Thursday evening.
She was taken to hospital but later died from her injuries.
RCMP are still investigating the circumstances around the collision.
——–
CAM – TIGERS MOVED GAME
The Campbellton Tigers have announced the home opener of their Junior A
season is being delayed by a week.
A release by the MHL says due to the ongoing situation in zone-five the game
on Friday November 6th at the Campbellton Memorial Civic Centre will be moved
to Friday November 13th.
The game will still feature the Tigers taking on the Grand Falls Rapids,
which they share a mini-subdivision with.
The Tigers Executive, Team Personnel, and Players have been continuing to
meet virtually to prepare for the season while respecting public health
guidelines.
—-
CAM – VANDALISM
Chaleur Region RCMP are investigating what they call a rash of vandalism to
vehicles in Belledune.
Police say four complaints have come in of tires being slashed, exteriors
being scratched and other damages to paint.
The vehicles were parked along Main Street and Noel Street and the incidents
are believed to have happened during the overnight hours of Friday into
Saturday.
Anyone with information is asked to contact Crimestoppers or RCMP.
—-
CAM/MIR/NB-HOUSE FIRE
A young family of 7 have lost their home near Bathurst to fire.
There were no injuries in the blaze late last week in the small community of
Free Grant.
The two adults and five children are now staying with friends.
They have been helped by Red Cross volunteers with emergency purchases, plus
comfort teddy bears for the children who range in age from 18 months to 10
years.
Its believed the fire was caused by an electrical malfunction.
——–
NB – COVID NUMBERS
New Brunswick announced two new cases over the weekend, but with recoveries
the active case count is down to 35.
The case yesterday is a person in their 30s in the Fredericton region related
to another case involving international travel.
Saturday's case was also in the Fredericton region… a person under the age
of 19 related to travel.
Public Health also confirmed mass testing in Belledune in the
Cambellton-Restigouche zone on Friday has come back negative for the nearly
260-people tested… the area still remains in the Orange phase.
Across Canada we surpassed 263-thousand cases over the weekend with active
cases reaching 29-thousand.
—-