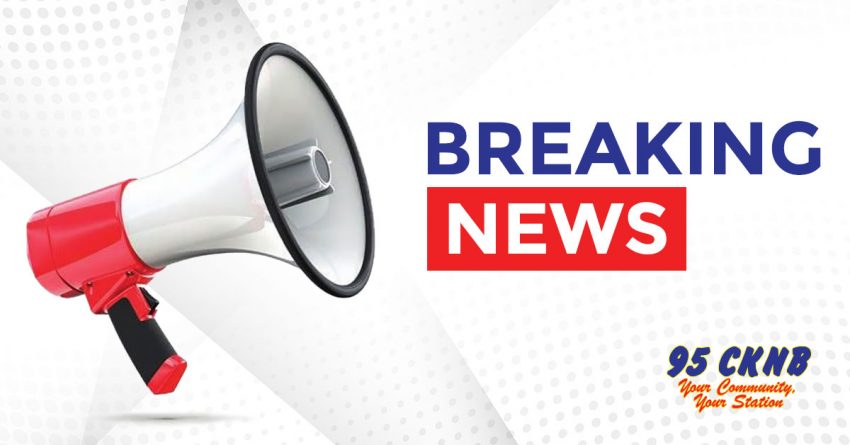 CKNB NEWS UPDATE MONDAY NOVEMBER 30 2020
—-
CAM – RADIOTHON NUMBERS
The annual Restigouche County Volunteer Action Association Christmas
Radiothon was a huge success yesterday thanks to your kind donations.
When Mark and our team at 95 CKNB left the air over 37-thousand-dollars had
been raised for families in need in the Restigouche area.
Organizers say there is still time to donate if you didn't have a chance to
call in your pledge and sincerley thank everyone for their support.
RCVVA says once again our community shows how strong we stand.
—-
CAM – LISTUGUJ STATEMENT
Listuguj Chief Darcy Gray says he and council met with the students who
organized last week's blockade on the bridge.
Gray says the students are frustrated and angry and want to be heard… he
says council supports their efforts to organize and demonstrate peacefully
and safely.
Council is trying to now coordinate an inclusive process to hear from
students and say it may take a bit of time, but they believe it will make for
a better discussion moving forward.
Over one-hundred Listuguj students have been unable to attend Sugarloaf High
School in Cambpellton since the latest outbreaks were detected in the
province.
——–
NB – COVID UPDATE
The outbreak at Shannex Parkland continues to grow as the province announced
18 new cases of COVID-19 over the weekend.
Of the 14-cases announced yesterday six were at the longterm care facility in
Saint John that now has 15-confirmed cases including 10 residents and five
employees.
Most of the cases were concentrated in the Saint John and Moncton including a
positive case at Harrison Trimble High School.
Parents of the Moncton school were told staff and students who were in close
contact with the case will be contacted for testing…. the school will
remain open and only those contacted will need to stay home.
There are 119 active cases in New Brunswick now… 72 in the Saint John
region, 28 in the Moncton area, 16 in Fredericton region, and three in the
Bathurst zone.
Nationally, we reached another grim milestone as over 12-thousand Canadians
have now died from COVID-19… we added an astonishing 17-thousand cases as
well pushing the active case count over 63-thousand.
—-
MIR/NB – CHIEF SEX CHARGE
As his trial on multiple sexual assault counts is wrapping up in Miramichi
another women has come forward with an allegation against former
Esgenoôpetitj First Nation chief Wilbur Dedam.
Dedamn's lawyer TJ Burke tells CBC the new case is not related to the other
charges allegeging the former chief had sexual intercourse with a female
under the age of 14 in the 70s.
Burke says this historical complaint does not stem from the same incident or
from similar facts. A preliminary hearing is scheduled for May.
Final arguments for Dedam's latest trial which began on appeal after a
nine-year prison sentence was overturned are scheduled for December 9th.
—-