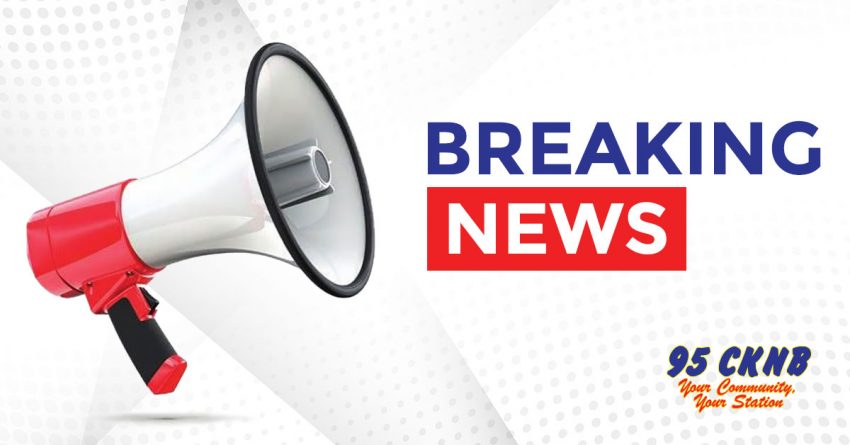 CKNB NEWS UPDATE MONDAY OCTOBER 26 2020
—-
CAM – LISTUGUJ SECOND
Listuguj First Nation has confirmed it second case of COVID-19 in the
community.
A release by the band says they are working with public health in Quebec to
monitor the situation closely and provide support to those affected.
Officials say the case is directly related to the first case confirmed in
Listuguj and is contained to a single household with no risk to the community
as the individuals are self-isolating.
The release says that first identified case has recovered, but continues to
self-isolate at home.
—-
CAM – TESTING WEEKEND
Meanwhile, the testing in Cambpellton on Saturday and in Dalhousie yesterday
appears to have been well attended.
In a post on his social media Dalhousie Mayor Norman Pelletier says there was
an extremely large turnout at Inch Arran arena despite the three-degree
temperature.
Similar reports came out of Campbellton with several people saying the
process was organized and quick once you got through the lineup.
Over 30-additional peace officers were in the region as well enforcing rules
around social distancing, mask usage and inspecting local businesses for
pandemic plans.
——–
NB – COVID UPDATE
Two more people have died in New Brunswick due to COVID-19.
Public announced yesterday a person in their 70s in the Moncton region and a
person in their 40s in the Campbellton region mark the fifth and sixth deaths
from the virus in the province.
Premier Blaine Higgs says the deaths are a heartbreaking reminder that we
must do everything we can to slow and prevent the spread of the disease.
Two new cases were also confirmed yesterday adding to the two on Saturday.
Three are in the Campbellton region with the fourth being travel related in
the Fredericton zone… we now have 65 active cases.
This weekend saw an increased police presence in Campbellton-Restigouche for
public health violations and mass testing for asymptomatic people in hopes to
get the outbreak under control.
Nationally, with some provinces posting near record highs in new cases we
added close to 7-thousand new infections and now have almost 25-thousand
active.
——–
NB – OYSTERS TO FACE SHIELDS
A New Brunswick company has gone from making oyster and lobster trap
components to supplying face shields around the world.
According to CBC Bouctouche Bay Industries in Saint-Édouard-de-Kent switched
gears during the pandemic and has sold over 750-thousand across Canada and
overseas.
The company is becoming known for taking fashion into account with their
face shields and are making them in a pink option to cut down on the
masculinity of the product.
With the success of the shields globally Steen Gunderson says most
importantly they are proud to play a small part in the fight against
COVID-19.
—-
CAM.NB-COPS 'N COVID
The R-C-M-P in New Brunswick say they're monitoring the Campbellton region of
the province in efforts to contain COVID-19.
The police force says in a tweet …. they're working with the Department of
Justice and Public Safety peace officers over the next few days.
The force is urging people to social distance, wear a facemask and avoid
non-essential trips.
The province is reporting 75 active cases, with 53 in Restigouche County.
—-
NB-FRED SHOOTER TRIAL UPD
A psychiatrist has told the trial of a man charged with four counts of
first-degree murder that he doesn't have enough information to determine if
Matthew Raymond is criminally responsible.
The defence admits Raymond killed Donnie Robichaud, Bobbie Lee Wright and
police constables Robb Costello and Sara Burns in August of 2018 but is
trying to prove he should be found not criminally responsible because of a
mental disorder.
Dr. Scott Woodside testified Raymond refused to talk about the shootings
during their meetings, so he can't make a link between the delusional
disorder and his actions
—-