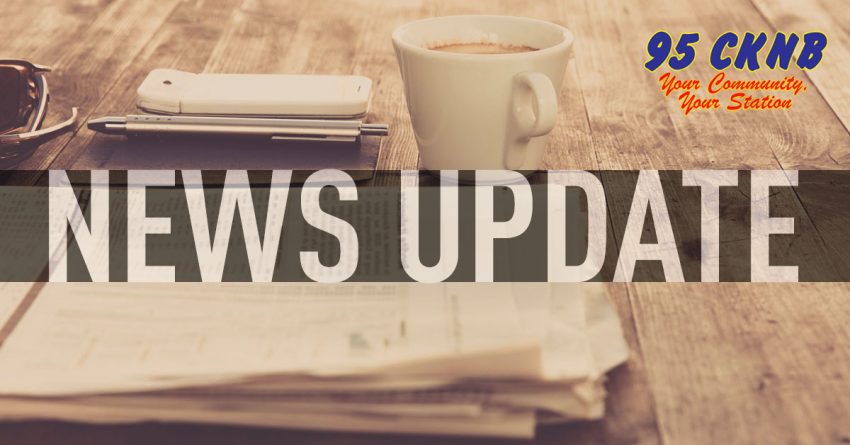 CKNB NEWS UPDATE MONDAY SEPTEMBER 23 2019
—-
CAM – NO DOC
Vitalité Health Network says there will be no doctor at the Walk-in Clinic at
the St. Joseph Community Health Centre in Dalhousie today or tomorrow.
The network says there will be a nurse practitioner on hand to provide
limited services from 8am to 8pm.
A release says the measures are only temporary and services should be back to
normal on Wednesday.
—-
CAM – ROAD CLOSURE
A section of Gerrard Street will be closed today due to construction.
In a release the city says from Renault Street to Arran Street will be closed
to traffic.
Work in the area started yesterday and will continue into today.
No timeline was given on when the street is set to reopen today but is
anticipated to be back to normal tomorrow.
—-
MIR/CAM – BLOOD DRIVE
A blood drive is being held to help a Bathurst toddler that is living with a
rare blood disorder.
According to CBC, Mavrik Hampe was six months old when he was diagnosed with
X.L.A, a disorder that stops his body from fighting infections.
The boy who is now 14 months old is unable to produce antibodies in his blood
and relys on blood transfusions.
Donations can be made Monday through Wednesday at the  K.C. Irving Centre in
Bathurst.
—-
CAM – TIGERS CAPTAIN
With the MHL season underway the Campbellton Tigers have named Pascal
Valcourt has been named Captain.
The three year veteran and native of St Quentin wore the "A" last year and is
welcomed back in the leadership role.
Valcourt tells the Tribune, coming into camp the talent level isn't far off
last year when the Tigers became North Division champs.
The Tigers first six games this year are on the road with their first home
game October 11th against Fredericton.
—-
MIR/CAM/NB-WARRANT ARREST
The R-C-M-P has arrested a 30-year-old man from Perth-Andover who was wanted
on an arrest warrant.
The warrant was issued a week ago in Woodstock Provincial Court for Dustin
Allen Johnston, who was charged with carrying a firearm for a purpose
dangerous to the public and for breach of probation.
Police say they arrested Johnston in Aroostook late last week and he appeared
in court Friday and was remanded.
Johnston is expected back in court today (Monday) and police say it's likely
he'll face additional charges.
—-
CAM – ZENABIS PROD UP
Cannabis producer Zenabis Global… who operates facilities in Atholville,
Nova Scotia, and BC… is reporting higher then expected output.
The company saw production numbers of almost 2-thousand-kilograms of dried
cannabis, representing more than 16-hundred-kilograms the company had
anticipated for August.
CEO Andrew Grieve says in a release the more than 60-percent growth can be
attributed to the revised production designs like implemented in Atholville.
—-