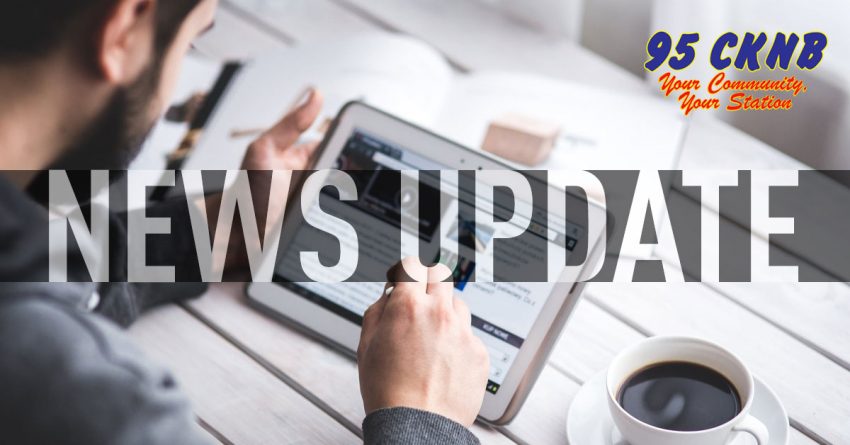 CKNB NEWS UPDATE THURSDAY AUGUST 6 2020
—
CAM – MILITARY PROMOTION
A military career routed in Campbellton continues to climb as Chief Petty
Officer 1st Class Gilles Grégoire has been appointed the 14th Canadian Armed
Forces Chief Warrant Officer.
Gregoire who is from the city has a 30-year career with postings aboard
multiple ships including the Halifax, Toronto, Terra Nova, and Yukon.
He also was posted in Campbellton where he served at the Canadian Forces
Naval Engineering School as an instructor and Naval Weapons Training Chief.
Chief of Defence Staff Jonathan Vance congratulated Gregoire on his senior
appointment.
—-
CAM – LOTTERY JAWS
The Campbellton Fire Brigade has created a 50-50 draw to help purchase needed
equipment for the department while also aiding the community.
Brigade Member Yves Lepage tells the Tribune the lottery which starts next
week will purchase firefighting gear and give some proceeds to local
organizations.
The draw will take place every Wednesdays at 8pm starting August 12th at a
cost of 2-dollars per number.
You can use the "Lotto Factory" website or arrange an e-transfer with the
Brigade.
—-
CAM – ACCIDENT STATISTICS
Sgt. Francois Cote of the Campbellton RCMP says recent statistics concerning
road accident numbers in the area are about what you would expect.
According to the Tribune in 2019 police responded to 485-accidents… 47 of
which saw victims with injuries… some serious, but none fatal.
Cote says one of the collisions was related to the use of drugs and alcohol
along with four near misses.
38 impaired driving charges were laid last year with 10-so far this year.
An overall decrease of charges in the province this year is being attributed
to less traffic on the road due to COVID-19 measures.
——–
NB – INQUIRY DISAGREEMENT
Aboriginal Affairs Minister Jake Stewart has broken rank saying he diSagrees
with Premier Blaine Higgs' unwillingness to call a public inquiry into
systemic racism.
Immediately following the police shootings of Chantel Moore and Rodney Levi,
Stewart stated he supported a public inquiry.
Premier Higgs on the other hand resisted calls from Indigenous leaders saying
a task force or panel would be formed to look over past recommendations.
Stewart tells the Telegraph-Journal at the end of the day he has given his
opinion in public which he stands behind, and they may disagree, but the
Premier is the boss.
——–
NB – FOUR CASES
The province reported four new cases of COVID-19 yesterday — all are
temporary foreign workers from Mexico who self-isolated after arriving in
Moncton.
Public Health says the workers were destined for jobs in the Miramichi region
but tested positive 10 days into their self-quarantine in Moncton
The workers will remain in isolation until cleared by public health.
Elsewhere in the Atlantic bubble active cases remain low… Nova Scotia has
two while PEI and Newfoundland/Labrador have no cases.
Across Canada we surpassed 118-thousand adding close to 4-hundred new cases
yesterday along with 4 virus related deaths bringing that number to 8962.
—-
NB – CARDY'S HEADACHE
Education Minister Dominic Cardy apologized for being off social media  and
hard to engage in recent weeks – citing a concussion.
Cardy says he suffered a mild concussion in early July and had to stay away
from phone and computer screens as much as possible.
The minister had been known for engaging in with parents and others over
twitter.
His break in screen time comes as many are still awaiting the finer details
of the province's back to school plan first announced in June. Cardy did not
say how hIs sustained the concussion.
—-
NB – GUNS & DRUGS
RCMP have arrested four people after a year long drug investigation resulted
in warrants served at a residence on Tobique First Nation and a business in
Tobique Narrows.
Police say a 44 and 24-year-old man as well as a 24-year-old woman from
Tobique First Nation were arrested along with a 23-year-old woman from
Plaster Rock after a search warrant last Friday.
Police seized five firearms, two prohibited weapons, several type of drugs
and cash. A second search warrant that day served on Boats Gaming Centre in
Tobique Narrows netted several electronic devices.
The suspects have been released pending a later court date.
—-
NB – NO ELECTION… YET?
Speculation over a provincial election call continues with Premier Blaine
Higgs not helping by saying he's not prepared to call an election… at least
not this week.
Higgs addressing reporters yesterday says he still hasnt' decided whether to
call a full general election or proceed with the byelections that need to be
held by October 15th.
The Premier says he's heard opposition parties dont' want an election and he
doesn't want one either, but says he doesn't want to leave the government
exposed to the three-byelections.
With a narrow miniority the byelections could topple the Higgs government.
The Premier would not pin down when a decision is expected.
—-