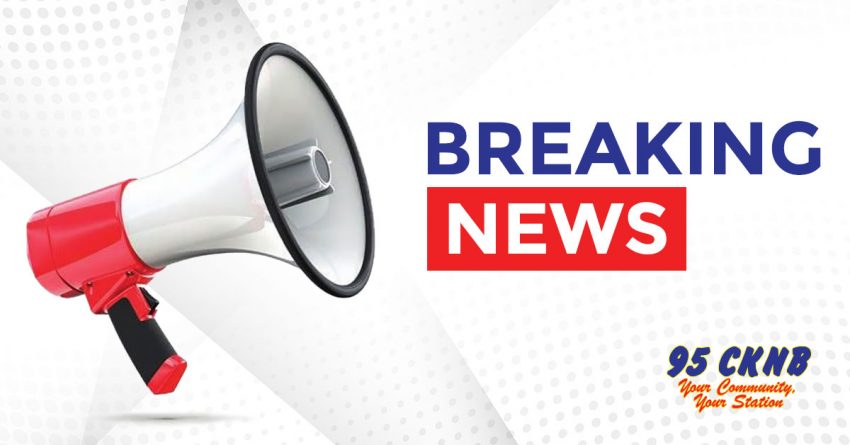 CKNB NEWS UPDATE THURSDAY DECEMBER 3 2020
—-
CAM – EXCELLENCE DECISION
Health Minister Dorothy Shephard says a decision around moving the Youth
Centre of Excellence psychiatric facility from Campbellton to Moncton is
final.
Speaking with the Tribune Shephard says the original intent was to have a
network of facilities so youth would not be taken out of their communities
for treatment.
She says removing someone out of their home community compounds the problem,
but said Moncton is a better location for a nucleus as it has more intensive
type therapy resources.
Shephard says its very important people realize this is not about a building,
its about the best treatment for youth… local area officials have been
calling for a reversal of the decision since the move was announced.
—-
CAM – NURSE SIGN
The New Brunswick Nurses Union has placed a sign in downtown Campbellton to
raise awareness of the ongoing nurses shortage.
The sign in french translates to its time to do away with bandage fixes and
520 new RNs are needed each year to maintain health services.
President Paula Doucet tells the Tribune the sign is to raise awareness of a
longstanding shortage of registered nurses in the province… adding its not
a joke and needs to be addressed.
Signs have also been placed in Saint John, Riverview and Fredericton. The
Higg's government has not commented on the new signage.
—-
CAM – ZENABIS MOVE
Zenabis Global appears to be throwing more support behind the Atholville
plant selling off a property in BC and moving the equipment here.
A release by the cannibas giant says the 6.5-million-dollar Delta BC facility
closes on December 30th and they will be moving the onsite testing equipment
to Atholville.
CEO Shai Altman says the move will enable them to fulfill a signficant amount
of testing requirements in-house which will reduce costs.
There was no word on when the installation and testing would begin.
——-
NB – COVID UPD
The active case count in New Brunswick stands at 119 with six new cases
reported yesterday.
The cases are spread out over the province with two in the Bathurst region
and one each in the Moncton, Saint John, Fredericton, and Edmundston zones.
Saint John continues to be the hot spot with 71 active cases, Moncton has 27,
with Fredericton reports 16… the Bathurst region is now showing four cases
and Edmundston one.
A flight exposure was also issued for Air Canada flights from Fort McMurray
to Calgary, and Calgary to Toronto, as well as Air Canada flight 89-19 from
Toronto to Moncton… passengers on those flights are asked to self monitor.
Numbers in the former Atlantic bubble… Nova Scotia reported 17 new cases
yesterday bringing them to 127 active cases, Newfoundland/Labrador has
dropped to 30, with PEI still showing four.
—-
NB – HOLIDAY BREAKS SCHOOLS
Education minister Dominic Cardy says he is still considering if the holiday
break should be extended this year to allow more time for students and
teachers.
Cardy told reporters a lot of teachers keep telling him that late November
feels like June as they are worn out running a classroom during the
pandemic. Along with the benefit of further rest the lack of activity in the
facility would decrease the risk of transmission.
Cardy says a decision will be made soon as the break is scheduled to run from
December 18th to January 3rd.
—-