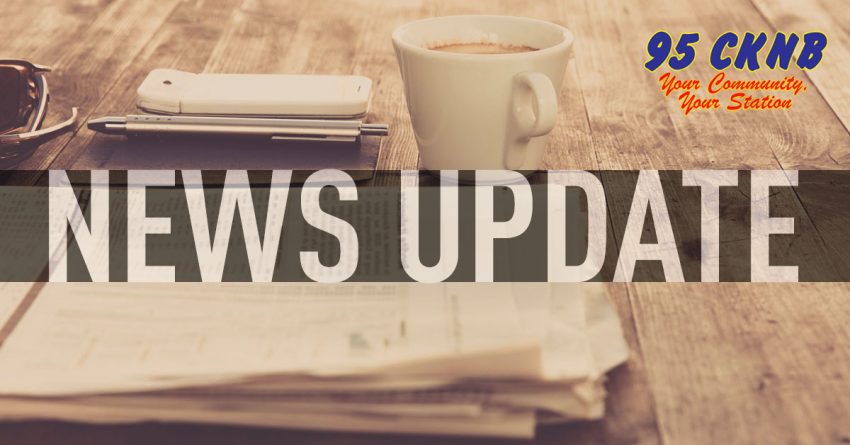 CKNB NEWS UPDATE THURSDAY JANUARY 17 2019
---
CAMP PAY HIKE FINALIZED  RF/TRIB
The Tribune says that Campbellton city council has formalized a pay hike.
The increase will come into effect for councillors and for Mayor Stephanie
Anglehart-Paulin.
Council deemed the raise necessary after the feds decided to tax all earnings
by municipal councils.
That change came into effect on New Years Day.
The pay boost will serve to offset the taxes councillors will have to pay, so
that their final take home amount will stay the same.
—-
*CAMP GETTING A CHECK-UP FROM THE NECK-UP  RF/TRIB
The man responsible for school "hold and secure" situations and a police
response in Campbellton last Friday has been sent for a pysch assessment.
He was eventually nabbed by Quebec police, about 100 kilometers away from
Campbellton.
He also had four guns.
His name has not been released.
—-
*CAMP THEFT  RF/COPS
The RCMP are investigating a break in and theft of a safe from a home in
Caraquet, sometime between December 14th and January 7th.
The safe had personal documents along with Canadian and US cash, including
50-cent coins.
NB/SJ-Oland trial                  (cbc ctv thu.am)
Sgt. Mark Smith, head of the Saint John Police forensic ID section admited on
the stand yesterday he could have done more to protect the Richard Oland
homicide scene from possible contamination.
Defence lawyer Michael Lacy suggested the bloody office was "like a tourist
attraction … in terms of the number of law enforcement people coming and
going. Smith answered there was a lot of people. Most of the officers were
not wearing any protective gear, such as footwear coverings or latex gloves.
He agreed under cross-examination that contaminated crime scenes can destroy
important evidence and increase the chances of a wrongful conviction.
MCTN-New church abuse case                    (CBC wed.aft)
A Moncton woman has filed a lawsuit against the Seventh-day Adventist Church
and her former teacher.
The woman, who is now 58, is claiming sexual abuse by Clifford Wilson while
she was a 13 year old student in his class at the church school in the
basement of a former church at St. George and Dominion Streets in the 1970s.
None of the claims have been proven in court.
Wilson, who now lives in Washington State told CBC he knew nothing about the
lawsuit or the sexual abuse allegations, which he denied.
The suit also alleges the complaints were ignored after they were brought to
the church's attention in 1974.
---
*ALL TERRORIST SUSPECT  RF/GLOBAL
Thirty-four-year-old Rehab Dughmosh admitted in court that she attacked
people inside a Scarborough, Ontario, Canadian Tire store in the summer of
2017 for the Islamic terrorist group ISIS.
Dughmosh had a bag with several homemade weapons, and made her way to the
Cedarbrae Mall.
She put on a black and white ISIS banner and tied a black bandanna bearing
the terrorist-group's symbol around her head.
She then began swinging a golf club at three employees while shouting "Allahu
Akhbar."
Dughmosh also said she was was "disappointed" that she failed to hurt anyone
in her attack.
—-
ALL-Video-Games-Aging                      (wire thu.am)
A new study from researchers at Memorial University in Newfoundland says
video gaming may actually help the brains of people over 60.
The study had participants playing Super Mario 64 for six months. Testing
revealed improvements in how their eyes tracked objects, and increased grey
matter in the hippocampus, a structure related to memory. Memorial's Bejamin
Zendel says the results suggests video games training could be used to
improve the cognitive health of older adults – particularly their memory.
(The Canadian Press)
—-
ALL-U-S on death penalty                      (wire thu.am)
The Trump administration has joined the list of countries denouncing the
death sentence imposed on a BC man in China as politically motivated….a
claim which China dismisses.
The statement from the U-S State Department adds weight to Ottawa's efforts
to intensify international pressure on Beijing to spare his life and to
release two other Canadians detained by the Chinese after the arrest of a top
Huawei executive.