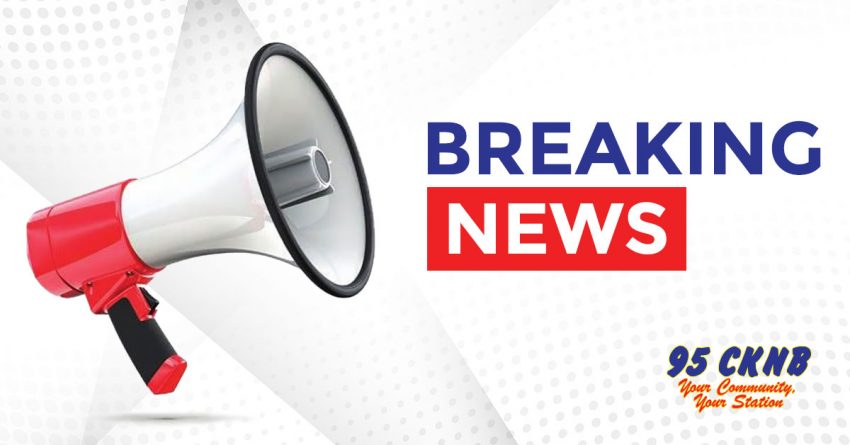 CKNB NEWS UPDATE THURSDAY JANUARY 21 2021
—
CAMP/NB-PRIVATE LONG TERM CARE VACCINE
A private long-term care facility for seniors has yet to receive a timeline
for vaccinations.
Owner of Le Phare, Nick Doucette tells the tribune – much of his staff were
vaccinated on the weekend but he has no idea when residents will get theirs.
Doucette says, he will be contacted when the residents, who range in age from
76 to 97, can be inoculated but no ones answered his question of when that
will be.
He says the residents of the village nursing home less than a kilometer away
received their first dose early this month but believes he since he's a
private facility he's further down the list.
The department of health didn't respond in time for comments.
——–
MIR/CAM/NB – BATHURST FATAL
A 22-year-old man has been killed in a head-on crash north of Bathurst Tuesday
afternoon.
Police were called to Route 11 in Petit Rocher shortly before 4:00pm where
one vehicle crossed the centre line and smashed into a transport truck.  A
22-year-old man from the Bathurst area died at the scene. The truck driver
was taken to hospital with non-life threatening injuries.
Police are still investigating.
——–
NB  – COVID update
21 new cases of Covid-19 were reported yesterday as New Brunswick passed
another milestone with 1,025 cases since the pandemic began.
Public Health says half of the new cases are in the Edmundston/Grand Falls
region, six in the Moncton area; two in Saint John and one each in the
Fredericton and Campbellton health zones.  (still no cases in the Miramichi.
A new outbreak has also been declared at a special care home in Edmundston
where the province's Rapid Outbreak Management Team has now been deployed.
There are now 317 active case of the virus in New Brunswick, including two
people in hospital…one of them in intensive care.
—-
NB – CLOSE SCHOOLS PETITION
A petition started by parents calling on Education Minister Dominic Cardy to
close shcools in declared red zones of the province is around 18,000
signatures and growing.
The petition was started after Cardy abruptly announced a change of policy to
keep schools open, when the province placed the Edmundston-Grand Falls region
in the red alert level earlier this week. Since then the Moncton, Saint John
and Fredericton areas have also gone red with schools in each also remaining
open, except for a few where positive cases have turned up.
The union representing teachers has also come out against the policy change.
Cardy has argued that public health officials believe that even in the red
alert level, schools are the best and safest place for children to be.
—-
NB-COVID criticism
People's Alliance Leader Kris Austin says the move to the red phase in four
regions of the province is causing some confusion.
Austin is on the all-party COVID-19 cabinet committee and until a few days
ago he thought red level of recovery meant lockdown…but it doesn't. He says
it's just a version of orange.
Details of a possible lockdown will be discussed by the COVID committee at
its meeting today. Austin says he's not ready to quit that committee
yet…but tells CBC his support for it is waning because of the lack of
information going to opposition party members and the watering down of
restrictions.
—-