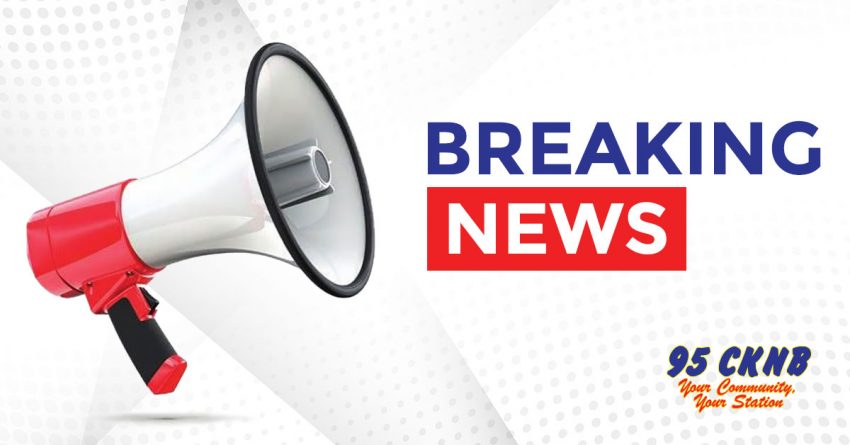 CKNB NEWS UPDATE THURSDAY JANUARY 28 2021
—–
NB/CAM – EDMUNDSTON IDIOTS
Doctors who work in the Edmundston area held a news conference yesterday
urging the public to do more to stop spread of virus in the region.
The area has been under a lockdown since the weekend and is currently home to
nearly half of all the active cases in the province.
Doctors there say they are still seeing patients who refuse to believe in the
existence of the virus and who are refusing to get tested. They say such
dangerous actions could force more health care workers into quarantine and
further stress available resources at the Edmundston Regional Hospital.
——-
NB/CAM – TRAIN DERAILED
There are no reported injuries in connection with a large train derailment
in North-Western New Brusnwick Tuesday night.
RCMP first tweeted about the derailment around 10:00pm last night, saying it
had closed a portion of Route 120 in Saint Hilaire.  EMO confirmed it was
monitoring the situation and said there was no immediate threat to the
public.
CN has confirmed to CBC that at least 22 cars on the train derailed. Local
Mayor, Jean-Pierre Ouellet, says some of the cars were carrying propane but
no leaks had been found.
——-
SJ/NB – OLAND DETAILS APPEAL
Lisa Andrik-Oland has appealed a court decision that would make details of
her domestic abuse allegations against her estranged husband, Dennis Oland,
public.
The allegations of domestic violence are contained in court filings made when
she was granted an emergency intervention order against her husband last
June. While the two sides eventually asked that the order be revoked, media
petitioned the court for the records to be made public and a judge agreed
earlier this month.
However, a publication ban was extended for 14 days to give the lawyers for
the parties time to appeal, which Andrik-Oland now has. She says the details
of the allegations are private and personal – and her lawyers are arguing
that ther release would set a dangerous precedent for violating the charter
rights of victims of intimate partner violence.
——–
-Vaccines
There are concerns Canada may not be able to reach its goal of vaccinating 20
million people with the Pfizer/BioNTech vaccine if Health Canada agrees to
change the dosage on the vials to six from five.
The companies have asked Canada to make the label change in order to fulfill
their contractual obligations, noting their agreements are for doses, not
vials. But special syringes are required to get that extra dose, which have
been difficult to source.
Some European jurisdictions have found they can only reliably get five doses
out of a vial, leaving them short after their vial shipments have been
reduced.
(20)
—-