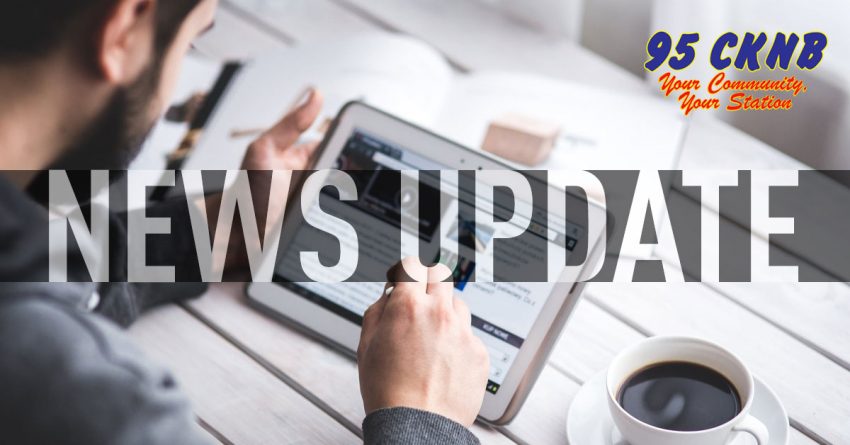 CKNB NEWS UPDATE THURSDAY JUNE 18 2020
—-
CAM – CHAMBER
The Campbellton Regional Chamber of Commerce is calling on the province to
reopen the provincial border.
The Chamber says small and medium sized businesses are suffering under the
ongoing restrictive measures.
The organization is calling on the government to reopen the border to
neighboring communities in Quebec and create a localized, regional bubble
that includes communities like Pointe-a-la-Croix and Lituguj.
In return the Chamber suggests citizens pledge to continue following public
health guidelines such as social distancing, hand washing and wearing a mask.
—-
CAM – REPORT CARDS
Sugarloaf Senior High School students will be able to pick up report cards
and drop of supplies on Friday. (19th).
A release by the school says each grade will be assigned to a section of
doors in front of the school with table set up either outside or between the
doors.
Each station will have report cards, final transcripts, and any bursaries or
scholarships awarded during the virtual ceremony for graduates.
Listuguj students will be able to pick up their information Thursday and
Friday at the Education Complex in Listuguj.
—-
CAM – COVID SAVINGS
The Campbellton Finance and Administration Committee was told at its recent
meeting COVID-19 is actually saving the city money.
According to the Tribune Comptroller Kelly Laflamme told council projections
show there will be lowers costs in several areas such as travel, training and
wages.
She said the projections have been done based on what phase zone-five is in
at any give time and even in the worst case scenario of going back to red
there will be savings.
Laflamme said the city could save between 675-thousand to a million-dollars
depending on the progression of economic recovery.
—-
CAM – ANGLEHART CTV
Campbellton Mayor Stephanie Anglehart-Paulin says she is very disappointed in
Vitalite and says she feels they dropped the ball.
In an interview with CTV the mayor expressed her frustration with the closing
of the Campbellton Regional Hospital amidst the COVID-19 outbreak.
Anglehart-Paulin blamed the spread in the facility on a lack of personal
protective equipment saying staff don't feel very protected with surgical
masks and a lack of N95 masks is a problem.
Vitalite says they are waiting on further test results from staff before
making a decision on reopening the hospital.
—-
NB/CAM – COVID UPD
Public Health announced another new case of Covid-19 in New Brunswick
yesterday.
The new case involves yet another health care worker in Campbellton in heir
twenties. However, Public Health says, while that person was exposed to the
virus while working in the Campbellton Region, they actually live in the
Fredericton region.
There are currently 29 active cases of the virus in the province with four
people in hospital.
——–
NB – Meeting
Mi'kmaw and Wolastoquey (Wul-ah'-stook-kway) Chiefs were disappointed after
their meeting with Premier Blaine Higgs yesterday.
They want an independent, indigenous-led inquiry into the deaths of Rodney
Levi and Chantel Moore at the hands of police…not just the investigation by
Quebec's police watchdog agency.
The Wolastoquay chiefs issued a release afterwards saying they were
disappointed in the Premier's refusal to commit to an inquiry and for
failing to recognize there is systemic bias and racism. Jake Stewart, his
minister of aboriginal affairs, does recognize that.
Premier Higgs says they should first look at how many of several hundred
recommendations from previous commissions and inquiries can be
implemented…but he isn't ruling out an inquiry.
The Premier and chiefs will meet again in two weeks.
—-
NB – VACCINE BILL READY
It was a challenging week for the controversial bill on mandatory
vaccinations, but it has been approved by committee and is heading to
legislature for a vote.
The bill that would remove any non-medical exemptions from vaccinations
meaning children not vaccinated for religious or philosophical reasons would
be unable to attend school.
Education Minister Dominic Cardy is hoping the bill will be voted on this
week and says if passed it would come into effect in 2021.
MLAs have been granted a free vote meaning they don't have to stick to party
lines and its not immediately clear what direction that vote will go.
—-
NB – PACK THE BOOZE
You may soon be able to pack up that half-finished bottle of wine at the
restaurant to take home with you.
According to CBC the province has proposed amendments to the Liquor Control
Act allowing restaurants to re-seal a bottle of wine for people to take with
them.
Part of the changes would also allow people to carry previously opened liquor
from one residence to another and allow restaurants to permanently sell
liquor with take-out and delivery orders.
Another big amendment would allow people to bring their own wine to
restaurants inline with what several other provinces are doing.
—-
NB – CCNB PLAN
CCNB announced training will resume on September 8th at all campuses, but
changes are expected in how its delivered.
Officials say courses will be given in a hybrid model of in-class work and
online training depending on the specific program.
Physical-distancing will be maintained on campus at all time and when not
possible a personal protective mask will be mandatory.
President Pierre Zundel says he would like to reassure students that beyond
the adaptive measures the objective of making sure students are ready for the
labour market remains the same.
—-