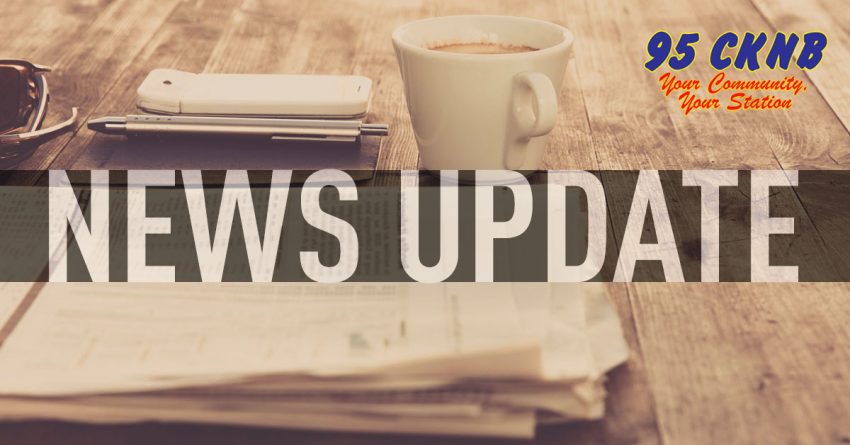 CKNB NEWS UPDATE THURSDAY JUNE 6 2019
—
CAM – CLIMATE ACTION PLAN UPDATE

Representatives from the Aster Group updated Campbellton council on the
Climate Action Plan at the Finance and Administration Committee.
According to the Tribune Sabine Dietz (DEETZ) of Aster told the council its
only a matter of time before parts of the waterfront are underwater due to
rising sea levels.
She went on to say the city can expect more extreme weather events and Aster
is in the process of assessing vulnerabilities and options to remediate them.
A public meeting will be held in the fall and a draft plan will be ready by
next spring.
—- —-
CAM – SALMON FESTIVAL RAMP UP

Were only 18 days out from the Campbellton's Salmon Festival.
The popular comedy show is back at the Campbellton Regional Memorial Civic
Center on June 27th and is headlined by Matt Wright. A Newfoundland and
Labrador, stand-up comedian, writer, actor and director.
The Bash this year is on the 29th and features some big names including Roxy
and the Underground Soul Sound and The James Young Band.
The annual festival runs from June 25th to July 1st. Details and tickets can
be found on the festival website.
—- —-
NB-BEER OUTLETS

Residents of the province will be able to purchase beer in select grocery
stores starting in October.
It says locally produced beer will be available in grocery stores on a
phased-in basis and product offerings are also being expanded to include
ready-to-drink products and an updated wine selection.
Finance Minister Ernie Steeves says NB Liquor is responsibly "adapting and
responding" to consumers' demands.
N-B Liquor says 66 grocery outlets in the province are currently allowed to
sell cider and wine.
—-
NB-Measles vaccine

The government is loosening up restrictions on the MMR vaccine, according to
CBC.
The Central Serum Depot is filling back orders in all regions of the province
and it will be availible again soon at doctor's offices..not just through
public health clinics.
Public Health had been rationing the supply to deal with the ongoing measles
outbreak in the Saint John health region…
reserving shots just for those considered most at risk – infants or those who
had contact with someone with the measles.
—-
NB – NURSE DENIALS

An obstetrics nurse accused of giving women a labour-inducing drug without
following proper protocols has denied all allegations made against her in a
class action lawsuit.
The nurse, identified as Nicole Ruest (ROO'-eh), worked at the Horizon Health
Network in Moncton, which has also denied all allegations of negligence.
The representative plaintiff in the case is Jayde Scott, a mother of twins,
who launched the class-action lawsuit in April.
The 26-year-old Moncton woman was given oxytocin (OXY-toe-sin') through an
I-V, which created a drop in the fetal heart rate of her twin daughters.
—-
NB – CARBON STICKERS PROPAGANDA

New Brunswick opposition leaders are calling new carbon tax stickers on gas
pumps politically motivated propaganda.
The stickers are given to gas station owners showing carbon tax will add up
to 4.42 cents to the price of gas.
Liberal MLA Denis Landry says its a waste of tax payers money, and says the
stickers don't show the whole picture of carbon pricing such as rebates and
the effects of climate change.
Green Party Leader David Coon says it's disappointing that the premier is
falling down the same path as Ontario's Doug Ford.
—-
NB-Fredericton fire update

A body was found early yesterday in a house that caught fire in Fredericton.
The flames were quickly extinguished once fire fighters arrived. Then they
found the body.
Police, fire investigators and the medical examiner's office are determining
the cause of the fire and the death. They haven't said if it's a man or
woman. A neighbour says a young couple had lived there since last fall.
—-
NB-Nurse assaults

The New Brunswick Nurses Union wants more security guards in hospitals to
protect them from assaults by patients.
Nurses Union president Paula Doucet tells CBC thgere's been a growing number
of aggressive patients and visitors assaulting nurses…pointing out there
were 2,000 nurses attacked to one degree or another in New Brunswick
hospitals last year.
She says besides more security guards there also needs to be an educatiuon
program for the public that it's not okay to assault a nurse or any
health-care worker.
—-