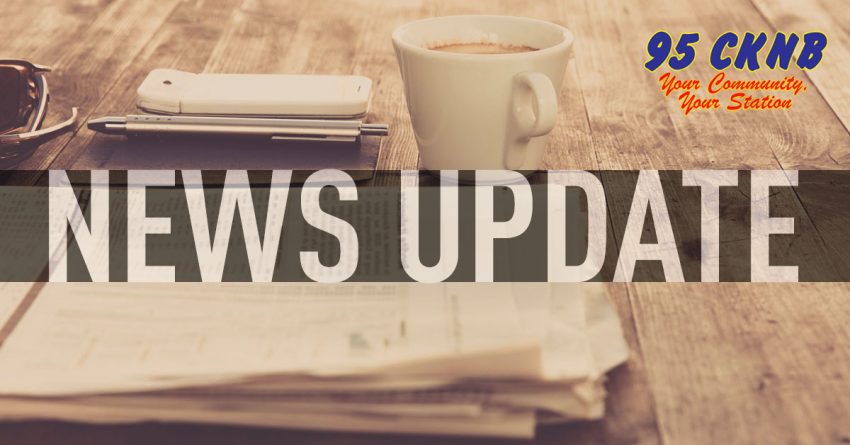 CKNB NEWS UPDATE THURSDAY MAY 14 2020
—-
CAM – COVID TURBINE
Dalhousie town council has been told the hydroelectric turbine could be ready
by the end of the month but they will have to wait to get it producing power.
According to the Tribune clerk-treasurer Gilles Legacy told council at its
recent meeting COVID-19 is causing the delay.
Legacy says under current travel restrictions workers can't be sent to the
turbine manufacteurer's training facility in Ontario without facing a 14-day
quarantine after their return.
He also said workers are a little nervous to travel to Ontario at the moment
as the province has so many cases of COVID-19.
—-
CAM – WILLIAMS OBIT
The Town of Dalhouse is mourning the loss of a man who has become synonymous
with sports in the town… Earl Williams.
Newphew Todd Williams tells the Tribune his uncle was a constant when it came
to ball and hockey, and took great pride in how the town represented itself
in the sports world.
Williams over the years was inducted into both the Dalhousie Sports Hall of
Fame and Baseball New Brunswick Hall of Fame along with numerous other
accolades for his work.
Earl Williams passed away on May 7th at the age of 87.
—-
CAM – CURBSIDE MAYBE???
The recycling sorting facility in Tracadie may be reopening in the next few
weeks meaning curbside pick-up in Campbellton could resume soon.
The Tribune reports officials with the Acadian Peninsula Regional Service
Commission says they should know by the end of next week if their curbside is
reopening.
Recycling from Restigouche is sorted in the same facility in Tracadie meaning
the service could resume as there would now be a place to send the material.
The RRSC confirmed the service was temporarily stopped as it did not have a
place to send the materials, but says once the facility reopens they can
start back up.
——–
NB – COVID SCRIPT
New Brunswick has now gone seven days without a new case of COVID-19.
The number of cases in the province remains at 120 with only two active cases
as 118 are now considered recovered.
Dr. Jennifer Russell, chief medical officer of health says even with the good
numbers and phase 2 underway caution is still needed.
Russell says ss we continue along the road to recovery, we must do all we can
to protect those who are at great risk from COVID-19 by following public
health guidelines.
Nationally we now have over 53-hundred virus related deaths and 72-thousand
cases.
—-
NB-Farmers-Markets
The province is allowing farmers markets to reopen as long as they follow
health measures like physical distancing.
The market operators are being tasked with developing an overall COVID-19
operation plan, and in addition, each vendor must develop an individual
operational plan.
Agriculture Minister Ross Wetmore says the markets are a key part of the
province's agriculture system.
——-
NB – EMPTY MALLS
Some malls started to open yesterday with reports across the province of
eager people lining up to shop, but most realized quickly things aren't
buisness as usual.
According to CBC Fredericton's Regent Mall has 90 retailers with only about
20 open at the start of business yesterday.
Shoppers were also greeted with security guards informing them of physical
distancing, limited numbers in each store, and general rules under the new
normal.
The experience at Champlain Place in Dieppe was similar with only 22 of 90
stores and restaurants open as others work to meet public health measures.
—-
NB – VACCINE BILL
The education minister plans to have the contentious mandatory vaccinations
for school children bill up for final debate and vote later this month.
Dominic Cardy tells CBC the pandemic highlights the importacne of
vaccinations and says he optimistic that will help the passage of the bill
for implementation come September.
Cardy says the bill seems like common sense at this point.
Anti-vaccination activists have been vehmentley opposed to the move
testifying at a three day hearing last year causing some MLAs to say they
were undecided on the initial bill.
—-