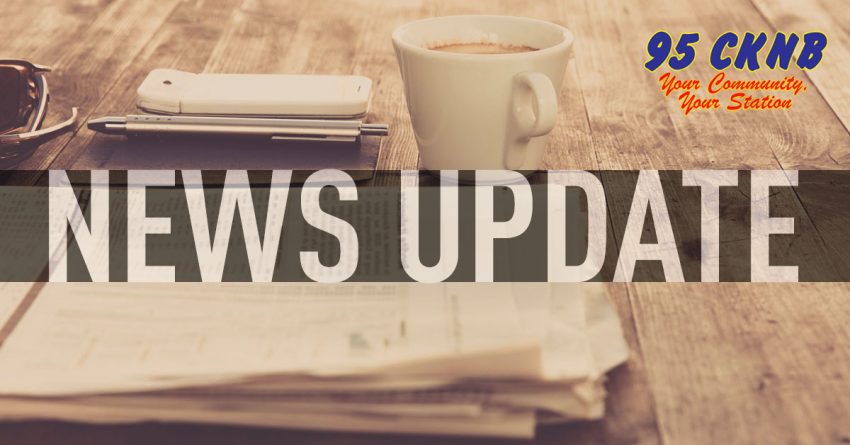 CKNB NEWS UPDATE THURSDAY MAY 30 2019
—-
CAM – NO WORRIES ON WHATS IN THE RIVER
The Department of Environment and Local Government says the pictures
circulating on social media of a dark substance in the Restigouche River is
nothing to worry about.
Erika Jutras, communications officer with the department tells the Tribune a
sample was taken on May 10th. The substance was coming from the A.V. Cell
Pulp Mill in Atholville and contained nothing over the limits of their
operating approvals.
Similar videos circulated in 2016 of the same dark matter and the department
also ruled at that time there was no need for concern.
—-
CAM – SPCA AWARD

The ultimate honor has been bestowed to a local cat lover.
The Resitigouche County SPCA has renamed their Cat Adoption Room in honor of
a long standing volunteer.
Mina Sanders was presented with a plague and the name change at a special
ceremony to rebrand the cat area Mina's House.
Dalhousie resident Sanders has been a volunteer with the SPCA since the mid
80s along with her late husband Joop.
—-
CAM – TEENS TO NORMANDY

Over 150 students from the Anglophone School system will be leaving for
Normandy France today for commemoration of the 75th anniversary of D-Day.
They will be landing in Amsterdam tomorrow to start a trip that will see them
on the same beach where the North Shore Regiment landed 75 years ago for
D-Day.
16 of those students are from Sugarloaf Senior Highschool in Campbellton and
1 from Dalhousie Regional High School.
Back at home, all 35 schools in the ASD-N will be holding assemblies on June
6th.
—- —-
NB/MIR-Fishy days
The second Fish New Brunswick days are coming up this weekend.
People can fish without a license or guide friday and saturday giving first
timers a chance to try their hand at fishing for salmon and other species.
But it will be strictly catch and release, according to the Leader.
Anglers who want to keep any landlocked salmon from 48 to 63 cm, or fork
length, will need a licence with tags. Current bag limits, closures and other
restrictions will also be in place. Access to private and Crown Reserve
waters will require appropriate licenses and the landowners permission.
—-
MIR-First Nation fishing

The Eel Ground First Nation, outside Miramichi, has been granted approval
again this year to harvest thousands of striped bass commercially.
Chief George Ginnish tells the Leader the early arrival of winter last year
limited their catch and they only took about 8,000 striped bass out of the
Northwest Miramichi.  This year they'll again be allowed to take up to 50,000
commercially. The bass fishery also provides food for the 600 members of the
First Nation.
—- —-
NB – NEW HOUSING UNITS

Social Development Minister Dorothy Shephard says a new agreement between New
Brunswick and the federal government will address homelessness and affordable
housing issues.
According to CBC the $300 million dollar plan spans 10 years and will see the
creation of 151 new subsidized housing units in the first three years spread
out over the province.
There are currently about 5,400 people on the waiting list for NB Housing.
The plan also includes 150 portable rent subsidies that will be made
available to people living with disabilities and $20 million to repair low
income housing.
—-
NB – MEASLES
Two more cases of measles have been confirmed in the Saint John area —
bringing the total number of cases to 11 in an outbreak that began 10 days
ago.
Health officials say the latest cases are linked to a previous infection at
Kennebecasis Valley High School.
Nine of the confirmed cases are linked to the school and two others are
linked to the emergency department at Saint John Regional Hospital where the
first confirmed patient visited after returning from travel aboard.
District school officials said yesterday that measles has a long incubation
period and more cases could be confirmed in the coming days.
—-
NB – NO TO PARAMEDIC LANGUAGE CHANGE
A New Brunswick judge has quashed a labour arbitrator's ruling that suggested
bilingual hiring requirements for paramedics should be relaxed.
C-B-C says the court found the decision did not take into consideration the
constitutional language regime particular to New Brunswick or previous court
decisions.
The arbitrator ruled last year that Ambulance New Brunswick's practice of not
filling permanent, full-time positions with unilingual paramedics violated
the union contract and suggested the province relax the bilingual requirement
for hiring paramedics in areas with a lesser demand for second-language
service.
But the court ruled such a move would violate the Official Languages Act and
the Charter of Rights and Freedoms.
—-